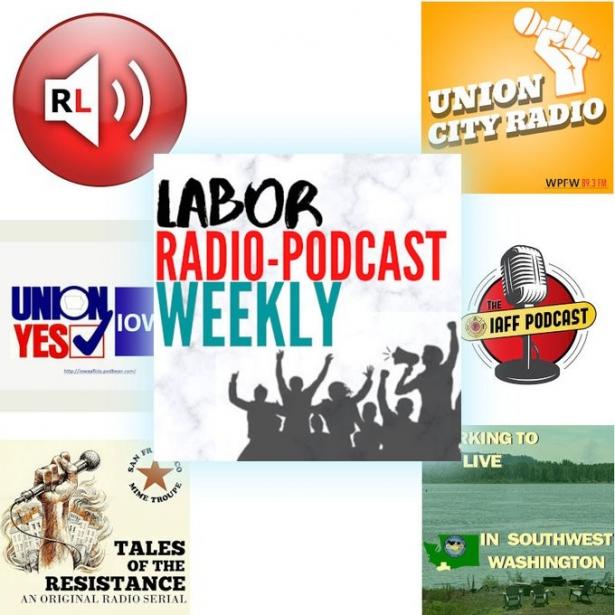 The right-wing has effectively taken over much of the media, from TV stations to radio and podcasts. Fortunately, labor organizers and analysts are creating high quality informative podcasts and news shows.  Below is a list of select labor podcasts. Try them out and share with friends and co-workers.
Black Work Talk, a new podcast from Organizing Upgrade, launched on November 11, 2020. In the first episode, host Steven Pitts speaks with Bill Fletcher. The podcast will "look at struggles to build the collective power of Black workers and challenge racial capitalism." Listen to episode 1 and subscribe to Black Work Talk here. 
Belabored may be one of the oldest labor podcasts, with 209 episodes to date. Hosted by Sarah Jaffe and Michelle Chen, Belabored is hosted by Dissent Magazine and can be accessed here. The podcast features labor news, interviews with activists and scholars, and general commentary about labor and union issues.

Labor History Today features Chris Garlock of the DC Metro Council's Union City Radio, and is co-sponsored by the Kalmanovitz Initiative. "Join Chris for a new episode of LHT every Monday to hear discussions with activists, archivists, and historians on key episodes in labor history and how lessons from the past can help us to better understand our present political dilemmas." 
The Blue Collar Gospel Hour is "a podcast for the 99%, working entertainment, news, music, poetry, art and interviews with interesting people." Listen here. 
America Works is "an ongoing podcast series from the Library of Congress, features the voices of contemporary workers from throughout the United States talking about their lives, their workplaces, and their on-the-job experiences. Drawn from hundreds of longer oral history interviews collected by fieldworkers for the American Folklife Center's Occupational Folklife Project (OFP), America Works is a testament to the wisdom, wit, knowledge, and dedication of today's working Americans. These engaging oral histories, which have are preserved in the American Folklife Center's archive, are enriching and expanding America's historical record." Available here. 
Reinventing Solidarity is a new podcast by the CUNY School of Labor and Urban Studies and its journal New Labor Forum. The podcast features interviews with labor scholars, activists and artists on the front lines for social justice. Listen here. 
RadioLabour features daily newscasts and regular interviews with labor organizers from around the world. Find out more here. 
And so much more! Find a list of over 70 labor and work related news shows and podcasts at The Labor Radio/Podcast Network. They even offer the "Labor Radio Podcast Weekly" featuring highlight clips from various shows. You can help sustain labor podcasts by subscribing and donating.