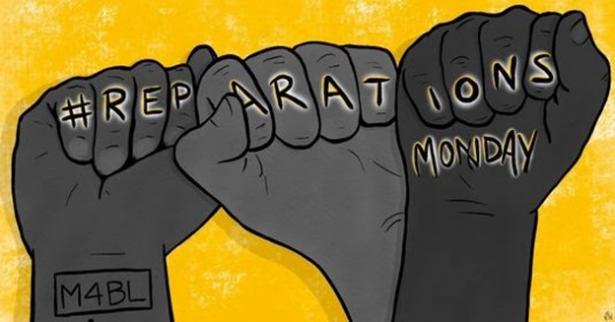 Reparations Monday, M4BL The Movement for Black Lives
The Movement for Black Lives dedicates today — the Monday that lives between Black Friday and Giving Tuesday — to reparations. We call for reimagining relationships, repairing harm, and reorganizing our economies to end the war on Black people.
Giving Tuesday has become a national day for making fundraising appeals and moving money towards nonprofits, but it supports an already unequal system where the organizations with the largest PR budgets — and often the whitest staff — receive the bulk of these donations.
It also entrenches a practice of transactional giving to strategies that have short-term outcomes, rather than building longer-term power and investing in movements to bring about systemic change.
This year, we're doing things differently.
Today, we shine a light on the transformative and healing power of reparations. As stated in our Vision for Black Lives, "We believe it is impossible to achieve equality or to end racial injustice without acknowledging and materially addressing past, and continuing, harms. Without accounting for and repairing the accumulated impact of past harms, we are destined to perpetuate them."
Here's what you can do right now:
Get educated about reparations. Download our Reparations Now toolkit and explore the long history of struggles for reparations for Black people, and what you can do to further this fight.
 

Join the movement. Our movement has made Reparations a pillar within our Vision for Black Lives. Text REPARATIONS to 90975 and join a network of Black-led, Black-facing organizations working towards making reparations a reality.
 

Tell stories. Engage with folks in your community about what reparations really are. Tell your story and why reparations are important to you and what life would feel like when Black people get reparations. Share the message about what reparations are and what they are not.
 

Help pass legislation. On Juneteenth of 2019 (June 19, 2019), the Congressional House Judiciary Committee held a hearing on legislation - H.R.40 - that would establish a Commission to study the question of reparations for Black people in the United States. But there's so much more to do. Call 1-888-659-8549 and we'll connect you to your U.S. Representative. Ask them to support and pass H.R. 40 immediately.

It's time to disrupt. It's time to reroute. It's time to redistribute. On #ReparationsMonday we're asking you to join the conversation. Join the #ReparationsMonday tweetchat today, November 30th 9:30am PST/12:30pm EST with movement partners across the globe. Follow along at: #ReparationsMonday @BlueHeartAction.
 

For #ReparationsMonday we call on you to get educated, spread the word, and join the fight with incredible local organizers and leaders to build Black political power every day.

We're about transforming relationships in the present and future by acknowledging and repairing past and ongoing harm. We're about getting free.

In power and solidarity,

The Movement for Black Lives