What's Between 30 Million Americans and an Eviction Tsunami?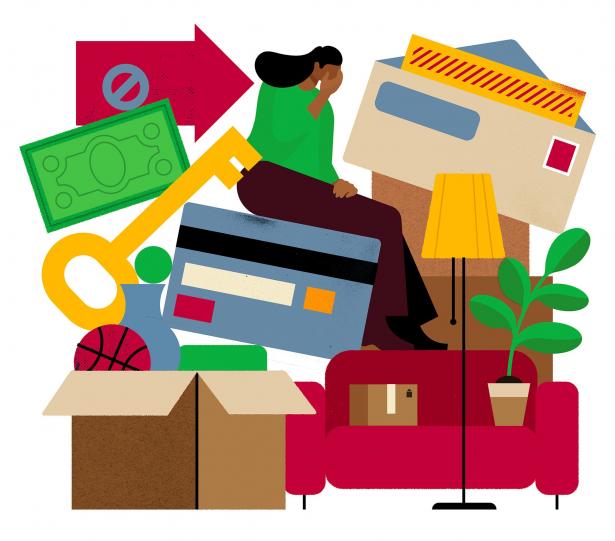 Woody Harrington
We've all been so concerned about the transition on Jan. 20 that many of us have forgotten another critical date for American democracy: Dec. 31. That's when the federal eviction moratorium — which has held the pandemic-related eviction tsunami at bay — expires. After that date, more than 30 million Americans are at risk of losing their homes. Congress must act to stabilize the country's rental market, prevent widespread displacement and curtail the growing domination of housing by big corporations.
More than half of renters pay 30 percent or more of their income on rent, according to the 2019 American Housing Survey, and more than half of lowest-income renter households reported some loss of employment income between mid-March and mid-September. Although CARES money has been flowing to states, which have established various rental assistance programs, all of them are oversubscribed.
"I can't point to a city that says we've got this figured out," Mary Cunningham, vice president for metropolitan housing and communities policy at the Urban Institute, told me. "It's really the role of the federal government to provide. They're the ones with the ability to match the need."

"Cancel rent," the movement calling for rent strikes, is a useful tactic against the most notorious, fee-gouging corporate landlords. But close to half of the country's 47.5 million rental units aren't corporate-owned, as of 2015. These units, typically single-family homes or apartments in smaller multifamily buildings, are owned by individuals with their own mortgages and bills. And the units they rent in their smaller complexes generally cost less. Representative Ilhan Omar, Democrat of Minnesota, introduced a Rent and Mortgage Cancellation bill. But that bill, which proposed government reimbursement for landlords and lenders who agree to adhere to fair practices, has been all but ignored. Congress isn't going to pick up the bag and pay the difference, so widespread canceling of rent is a sure path to displacement: either the landlord will evict, or the landlord will be forced to sell.
Cue the vulture investors who have been circling from the start. Private equity entered the pandemic with more "dry powder" than ever before. That's the industry term for money earmarked for a certain type of investment, like real estate, but not yet invested. It's money waiting for a great opportunity, one that the Trump administration's catastrophic management of the pandemic will surely provide. During the last financial crisis, U.S. Treasury Secretary Steven Mnuchin made millions buying a failed bank that proceeded to foreclose on homeowners using methods that regulators accused of being "unsafe or unsound." Other private equity funds amassed foreclosed homes and created single-family rental home empires. As the home values recovered, private equity cashed out of the companies, reaping maximum profits. Now those rental companies, like Invitation Homes, which has 80,000 houses concentrated in 17 markets, told investors that it hopes to ramp up acquisitions.
As of September, 9 percent of the nation's 48 million homeowners with mortgages were behind on their housing payments, according to the Census Bureau's Household Pulse Survey. By late October, close to 6 percent of those with mortgages were in forbearance. Many are house rich and cash poor. Distressed sales are expected, leaving housing stock up for grabs at a time when most Americans cannot afford to take on new mortgages. Black and Latino people, who disproportionately work in service industries most impacted by the pandemic and who were deprived of generational wealth by racist housing policies, are most at risk.
The easiest way to prevent distressed sales and corporate acquisitions is to empower individuals. One efficient solution would be a short-term universal basic income for everyone who falls below a certain threshold. The $1,200 stimulus check was that. And the $600 weekly supplement to unemployment insurance was essentially that, too. Both were extremely effective. The majority of recipients used some of that money toward rent or mortgage payments. Because the supplement wasn't earmarked for housing, it didn't create openings for landlords or other entities to exploit, and the housing market wasn't adversely affected. In July, the share of apartment households who didn't pay rent increased by only roughly one percentage point compared to last year, from 3.4 to 4.3 percent, according to a survey of 11.5 million units. The problem with the supplement was that it was tied to being unemployed, leading some to turn down low-paying or part-time work that paid less.
Another viable (and more moderate) plan calls for the government to finance 10-year-long low-interest-rate loans to tenants so that they can pay their accrued back rent. The program, proposed by Gary Painter, director of the U.S.C. Price Center for Social Innovation and the Homelessness Policy Research Institute, ideally would be progressively subsidized and negotiated with landlords. That would mean those with lower incomes who rent modest, lower-cost places would pay a smaller percentage of their accrued rental liability than those with higher incomes who rent fancier places. The key would be to make the application as accessible and easy as possible. "Everyone would be giving up something," Mr. Painter told me. "The tenants would have to pay something. Landlords aren't going to be happy because they'd only get a percentage of the rent. But in the long run, if you had a plan, everyone could negotiate accordingly."
Most critically: For those properties that do hit the market, especially hotel and apartment buildings, we need a government-sponsored affordable housing acquisition fund and legislation that gives it first priority to scoop up properties. The cost of not acting is too high. In 2018, there were only 10 million affordable rentals on the private market and almost 18 million households with very low incomes that needed them. Without government intervention, affordable units are prone to be converted into condos, further vexing the rental situation in cities like Los Angeles, which already have low vacancy rates.
Critics and conservatives will cry "moral hazard!" at the prospect of a universal basic income or financing loans to struggling renters. This is the same complaint that was lodged against bailing out homeowners during the 2008 subprime mortgage crisis. The government provided a swift and generous bailout to the banks that caused the crisis. But programs to support underwater homeowners, the Home Affordable Modification Program and the Home Affordable Refinance Program, under-delivered: HAMP permanently reduced mortgages for less than half of the recipients the program was intended to help, and HARP initially only helped about a million borrowers. Because there was so much concern that homeowners would cheat the system, loan reduction and modification applications were prohibitively cumbersome. When homes went to foreclosure auction, vulture investors snagged them up at steep discounts. Those who went through foreclosure not only had their lives upended but they have lost trust in the government and, some studies have shown, have been less likely to vote.
The housing crisis we face now is fundamentally different from the one in 2008, not the result of spurious new financial instruments, but a sort of natural disaster (and home prices have only gone up, not down). In that sense, it's easier, if even more costly, to fix. Renters need an outlay of "federal pandemic insurance," as Mr. Painter likes to call it. While the eviction moratoriums are still in place, Congress has a choice: prepare a rental recovery program that builds trust or allow mass eviction, displacement, foreclosure, corporate consolidation and increased inequality. It is a choice with repercussions not just for individual citizens, but for the survival of a real democracy.
Francesca Mari has written about housing for The New Yorker, The New York Review of Books, and the New York Times Magazine.