Nearly 1-in-6 Restaurants Are Closed, Some Permanently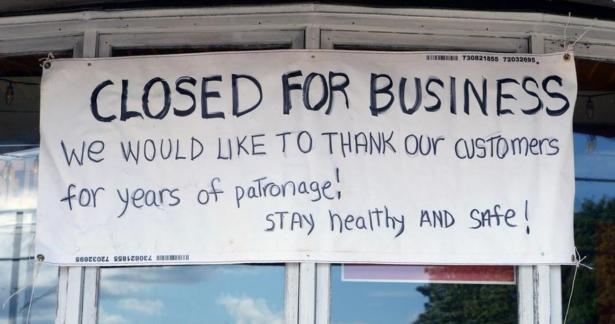 Restaurant closures are growing as the coronavirus outbreak relentlessly pressures the industry's finances, with at least 110,000 establishments either permanently shut down or closed long-term, an industry group estimated on Monday.
The National Restaurant Association said the closures amount to about 17% of all eating and drinking establishments nationwide and that 10,000 restaurants had closed in just three months. The association in a letter to congressional leaders made a case that the industry is in urgent need of assistance in any forthcoming federal relief legislation.
"More than 500,000 restaurants of every business type—franchise, chain, and independent—are in an unprecedented economic decline," wrote Sean Kennedy, the association's executive vice president for public affairs. "For every month that passes without a solution from Congress, thousands more restaurants across the country will close their doors for good."

"The restaurant industry simply cannot wait for relief any longer," he added.
On Friday, the trade group highlighted Labor Department estimates showing that employment gains in the restaurant industry stalled in November, with eating and drinking establishments posting a net loss of 17,400 jobs. This sluggishness followed employment gains in the industry from the late spring and into the early fall.
The association's survey, which polled 6,000 restaurant operators and 250 supply chain businesses between Nov. 17 and 30, also found that 87% of full service restaurants, including independent eateries, chains and franchises, reported an average 36% drop in sales revenue.
Negotiations are underway on Capitol Hill about the possibility of a new coronavirus relief package. A bipartisan group of lawmakers last week put forward a $908 billion framework. Part of that plan is $288 billion in aid for small businesses—including through the Paycheck Protection Program—which would extend to restaurants.
The restaurant association has described last week's proposal as a "starting point," offering some short-term stopgaps. "If this moderate plan represents a 'down payment' for a larger relief package in early 2021, it will provide restaurants with immediate relief to hold on through the most dangerous point in our business year," Kennedy said.
But the group is seeking more in the way of federal help for the industry and has outlined a slate of proposals that it would like to see. The association has also endorsed the Senate version of bipartisan legislation known as the Restaurants Act, which proposes a $120 billion fund to help restaurants through the pandemic.
At least 50 senators have backed the bill. Sen. Roger Wicker, a Mississippi Republican, who is the lead Senate sponsor, sent a Dec. 4 letter to congressional leaders urging them to attach the restaurant bill to any broader virus relief legislation or end-of-year spending measure. The House passed a version of the legislation in October. 
With the coronavirus surging again across the U.S. and hospitals in some places strained by the influx of infected patients, some states and local governments have been again ratcheting up restrictions on restaurant dining, after dialing the rules back over the summer.
In Los Angeles County, a ban on both indoor and outdoor dining has drawn pushback from restaurant owners, and is now the target of a restaurant-backed lawsuit. 
Angela Marsden, who owns Pineapple Hill Saloon & Grill, posted a video on Twitter where she  voiced frustration over an outdoor eating area for a film crew in a parking lot next to where her restaurant, and its similar-looking outdoor patio, is located.
"Everything I own is being taken away from me," Marsden said in the video. "They have not given us money and they have shut us down. We cannot survive. My staff cannot survive."
Washington state Gov. Jay Inslee in Mid-November ordered restaurants closed for indoor dining through Dec. 14, but allowed outdoor dining to continue with restrictions. In New York, Gov. Andrew Cuomo said Monday indoor dining in New York City could be curbed if hospitalization rates there from virus cases don't stabilize.
St. Louis County, in Missouri, has had an indoor dining ban in place since Nov. 17. 
County Executive Sam Page during a news conference on Monday said the county will consider backing off its public health restrictions when a swell in virus cases there begins to wane. "We'll have to wait and see how this week goes and whether or not we're trending in the right direction," he said. "We know that these guidelines are important."
It's not only government restrictions that pose difficulties for the industry. Many Americans who are leery of catching the virus are staying in more. And in states with cold, or dreary winter weather, outdoor dining options are tougher now compared to summer.
But as the restaurant industry and other businesses suffer, Americans are also dying of Covid-19, the highly contagious respiratory disease the coronavirus causes, by the thousands. 
U.S. Centers for Disease Control and Prevention data updated on Monday showed about 15,200 confirmed Covid-19 deaths nationwide in the last seven days, bringing the reported death toll from the pandemic since January to at least 281,253 people.
[Bill Lucia is a senior reporter for Route Fifty and is based in Olympia, Washington.]