labor
Our Hands are Completely Tied': Restaurant Workers Face Difficult Choices as Cases Rise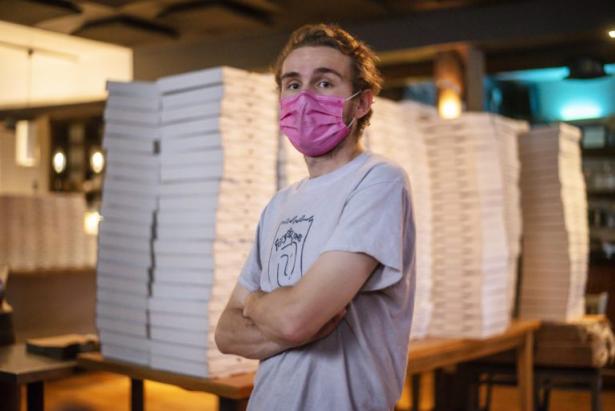 Dan Schloemer, a cook at Pizza Verità in Burlington, which is now closed to indoor dining and only doing take-out,Glenn Russell/VTDigger
Burlington — When Pizzeria Verità in downtown Burlington reopened for indoor dining in August, Dan Schloemer, a worker in Verità's kitchen, worried for his safety. "It was hard having to face the fact that customers had to come back in for business," he said. 
"But it's not like I had a choice," he said. "What am I going to do, like, not work?" 
In an industry dependent on crowds and enclosed spaces, navigating the pandemic can be hazardous. As Burlington's downtown restaurants have struggled to stay afloat, workers say they are facing difficult choices — and dwindling wages.

When Gov. Phil Scott instituted sweeping lockdown orders in response to Vermont's November surge in coronavirus cases, he shuttered bars and limited inter-household gatherings, but left restaurants open for in-house dining. The state has defended the decision by saying contact tracing data shows that restaurants are driving less virus spread than private social gatherings. But that data is limited.
Now that winter weather has meant the end of outdoor dining for most restaurants, it has been left up to businesses to decide whether to continue serving customers indoors during some of the worst weeks of the pandemic, or cut back their services.
"I felt coerced"
"Our hands are completely tied," said Eileen Lynch, a server at Pizzeria Verità. "And it's not just the servers or the kitchen staff. It's the business owners, too. We have to stay open, because the state hasn't closed us. But it's an unstable and unsafe situation."
The day after Lynch spoke with VTDigger, Pizzeria Verità closed for indoor dining, citing concerns about the rising case count.
"We were doing what we could to mitigate the situation," said Leslie Wells, co-owner of Pizzeria Verità. She had installed a new ventilation system in the restaurant, and limited customer capacity. But when cases began to rise after Halloween, she became nervous, and staff members started raising concerns.
"We were listening every week for when the state was going to shut down in-house dining," she said. "It was just pins and needles." 
The state never did. So ultimately, Wells and the management team made the call. "We had some real concerns about our ability to keep staff and customers safe," she said. For now, the restaurant plans to wait out the winter with its takeout business, and hopes to bring back outdoor dining in the spring.
When restaurants do stay open, workers face difficult tradeoffs. 
In May, one employee at Sweetwaters, a bistro in downtown Burlington, was working the morning shifts. The worker, who asked not to be named in order to speak candidly about her situation, would clock in at dawn to do prep work, and left before the kitchen was too crowded. It was for her own safety, she says: she is immunocompromised.
But then, she says, her manager gave her an ultimatum: start working full time at the restaurant, including busy evening shifts, or he would report her for refusal to work, leaving her ineligible for unemployment benefits. "I felt coerced," she said. "He was very aware of my health conditions."  
When she brought the matter to the owner, David Melincoff, he apologized, she said, and was accommodating. But she still resigned, giving two weeks' notice. "I realized that this just wasn't right," she said. 
Melincoff said the story "makes me sad," but that the restaurant had done "everything we could" to resolve the issue, which he described as an isolated conflict.)
One former worker at a downtown restaurant, who spoke to VTDigger on the condition he not be named, said he too quit when his restaurant opened for indoor dining at the end of the summer, due to safety concerns. 
"I didn't feel comfortable doing that, and I had some money saved up," he said. "It wasn't really worth it for me. I thought [reopening] was a dangerous mistake."
A key component of the governor's lockdown order is the ban on household gatherings. This affects the restaurant industry, too: Under the order, restaurants cannot seat people from more than one household at the same table.
That has proven a challenge, some workers say. Before Verità closed, Lynch said she would seat tables of customers clearly from different households — groups of people out celebrating a birthday, or several older couples dining together. When asked, she said, "you would just hear the pause. And then the, 'yeah, same household.'"
"And then, add in that they're probably going to be, the way business has been going, the only tab that breaks $100 that night," she said.
That was one factor in the restaurant's decision to close, Wells said. "You would hear people, say 'oh, I just came in [to Vermont] from this state, or that state," she said. "They weren't necessarily following the rules. Maybe they didn't know what the rules were."
Some restaurants that have remained open say they are finding ways to enforce the rule. Jed Davis, owner of the Farmhouse Group, which runs several restaurants in Chittenden County, has kept his flagship restaurant, the Farmhouse Tap and Grill, open into December.
Guests are "triple-screened" before they eat, Davis said, and asked to sign a paper saying that they hail from the same household. He calls the restaurant open for "locals-only dine-in." Still, he admits, the plan is dependent on the honesty of customers.
Looming layoffs
Faced with cold weather and reduced foot traffic downtown, Burlington's restaurants are scaling back hours and services, whether they're open for indoor dining or not. For workers in the industry, that means fewer tips, dwindling hours, and the looming threat of layoffs. Many have already taken a financial hit this year.
Lynch says her income has changed "astronomically" since the start of pandemic. She estimates that, as a server, her weekly pay a year ago was three or four times more than what it is now.  And now that Verità has shut down its inside dining, there are even fewer hours to go around.
"I'm filing for unemployment again, because the hours that are available don't meet my needs for survival," she said. 
Wages were a serious concern "across the board," says the former Sweetwaters worker. When workers were furloughed in the spring, many got on enhanced unemployment — and often saw an increase in their income. "People in this industry finally had enough money to go beyond living paycheck to paycheck," she said. It was nerve-racking to return to work, where wages were lower and far less certain.
All of the restaurant owners that VTDigger spoke with for this story said they had either reduced hours for employees or cut staff since the beginning of the fall. Melissa Baldwin, the general manager of Leunig's Bistro downtown, said the restaurant was operating with a fraction of the staff it had before the pandemic. Davis said he had done "a round of layoffs" across the restaurants he owns.
The worst may be yet to come. In the restaurant business, January, February and March are the slowest months of the year. At that point, the holiday rush has simmered down, and the weather has turned wintry. 
"Right now, in December, we're doing January-February-March numbers," said Melincoff of Sweetwaters. "So what is March going to look like?"
Lynch said she fears that, without outside support, Burlington's eclectic restaurant scene could look very different on the other side of the pandemic. "In Burlington, there are so many independent, individual-run restaurants," she said. "That's really special."
Wells said she expects those independently owned restaurants, like Pizzeria Verità, to be the hardest hit. "We just run at a much smaller margin," she said, when compared to corporate chains. 
Many restaurants, like Verità, have been surviving off Paycheck Protection Program, or PPP,  loans — but that federal aid money will run out at the end of this month. For restaurants, and their workers, the clock is ticking.
"We're just being left out to dry," Lynch said. "It's like, 'feed 'em until you can't.'"
Katya Schwenk, a native Vermonter, is assigned to VTDigger's Burlington Bureau. She is a 2020 graduate of Georgetown University, where she majored in political science with a double minor in creative writing and Arabic. She was a contributing writer for the Indypendent in New York, an assistant editor at the Boston Review and a writer for the Scoop News Group and Morocco World News in Rabat.