Right-Wing Racist to Head Israel's Holocaust Museum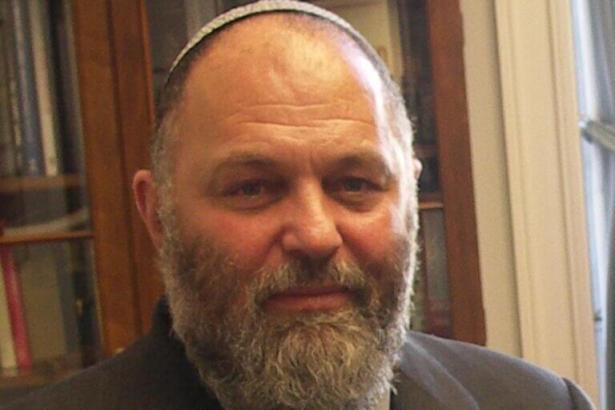 Effi Eitam ,Juda S. Engelmayer/Wikimedia
For nearly 70 years Yad Vashem, the world-renowned Holocaust museum established in Jerusalem, has bolstered Israel's claim to act as guardian and interpreter of the lessons of the Nazi genocide that destroyed much of European Jewry during the Second World War.
Before the pandemic, more than a million visitors passed annually through its doors, and the museum was considered an all but mandatory stop for world leaders visiting Israel. 
Research by Yad Vashem's distinguished historians has guided other museums and research institutes around the world in how they understand and present the Holocaust. The museum stages influential conferences for scholars, and produces key texts on the Holocaust. 

And Yad Vashem plays a critical role in shaping the way the Holocaust is taught in schools in Israel and abroad, as well as to each new intake of Israeli soldiers. 
All of which helps to explain why there has been uproar in recent weeks from a mix of Holocaust survivors, historians and Jewish organizations at the preferred candidate to head the museum when the post becomes vacant at the end of this month.
Israeli prime minister Benjamin Netanyahu has selected a former general turned far-right politician, Effi Eitam, for the role. Eitam, aged 68, lives in an illegal settlement in the Golan and has long advocated the ethnic cleansing of Palestinians from the occupied territories, as well as the crushing of basic civil rights for non-Jews inside Israel. 
When Eitam made his name in politics nearly 20 years ago, leading a far-right party, he represented some of the ugliest trends in Israel's hyper-nationalist politics. Today his views have become mainstream enough to be embraced by a broad swath of Netanyahu's ruling Likud party. 
Political calculations
With Yad Vashem's former chair, Avner Shalev, due to retire within days, after nearly a quarter of a century in the job, Eitam has already won the backing of a special committee vetting senior public appointments. 
All that stands between him and the prestigious position heading the "World Holocaust Remembrance Center" is a vote by the cabinet. Approval has been delayed, but apparently not on ethical or ideological grounds. 
Netanyahu reportedly wants Eitam in place as part of his own naked calculations domestically: he needs to attract more votes from settlers to win the next general election, which could be announced as early as next week. 
Meanwhile, Netanyahu's chief political rival, Benny Gantz, who serves as defense minister in the coalition government, is holding up approval as leverage in the battle over other senior pubic service appointments.
'Mockery and disgrace'
Although Eitam is not seen as a particularly controversial choice in Israel, where he is considered a minor war hero, there has been growing disenchantment abroad and among some of Yad Vashem's staff. 
The museum is in dire financial straits after a near-year of closure because of the pandemic, while lengthy coalition infighting over the budget has denied funding to major public institutions. 
And with private foreign donors responsible for half of Yad Vashem's income, Eitam's appointment could prove disastrous. 
A petition from 750 leading Jewish studies and Holocaust scholars was published last month. Among the signatories was Deborah Lipstadt, who famously defeated a libel action launched by the historian David Irving after she accused him of Holocaust denial.
"Appointing Effi Eitam as Chair of Yad Vashem would turn an internationally respected institution devoted to the documentation of crimes against humanity and the pursuit of human rights into a mockery and a disgrace," the petition states.
Even the Anti-Defamation League, which has largely served as the US Jewish community's "liberal" torch-bearer for Netanyahu's Israel, has pointed to Eitam's "problematic moral record."
That includes an incident in the late 1980s, when Eitam commanded the Givati brigade, in which four of his soldiers severely beat two Palestinian brothers, one of them to death. Eitam was reprimanded by the army chief of staff after the soldiers testified that they were carrying out his orders. 
The military judges who presided over the soldiers' case found that Eitam's "violent behavior became the norm, and was taken as an example by those under his command".
However, that stain did not hinder his advancement to the rank of general.
Palestinians 'a cancer'
Eitam eventually quit the Israeli army, apparently disillusioned by Israel's signing of the Oslo accords. He argued instead that the army could "expel the population there [in the occupied territories] overnight. It's not a problem to do this. We have a problem of having the will to do this. As a nation we are inhibited."  
Eitam's continuing vocal incitement against Palestinians, including as a government minister, has caused the most unease. 
Echoing language used against Jews by the Nazis, Eitam has described Israel's large minority of Palestinian citizens – one in five of the country's population – as a "cancer", adding that "by the time you grasp the size of the threat, it is already too late to deal with it."
On other occasions, Eitam has compared Israel's 1.8 million Palestinian citizens to a "dangerous fifth column" and a "bomb that is going to explode beneath the entire democratic system in Israel".
He has demanded too that the minority's elected representatives be ousted from the parliament: "One day, we will expel you to Gaza from this house."
'Kill them all'
He is no more enamored of the millions of Palestinians in the occupied territories. He opposed the 2005 withdrawal from Gaza. And he has called for ethnic cleansing – and even genocide – to become government policy. 
In 2006 he urged: "Expel most of the Judea and Samaria Arabs [West Bank Palestinians] from here. We cannot be with all these Arabs, and we cannot give up the land."
He has called the Palestinians "dark forces", saying: "We will have to kill them all… I don't mean all the Palestinians, but the ones with evil in their heads."
And he condemned a supreme court ruling in 2005 that banned the Israeli army's regular use of Palestinians as "human shields". He described the practice as "very moral".
None of this damaged Eitam's political career either. In fact, Netanyahu invited Eitam's faction into his Likud party in late 2008. Eitam was later appointed by Netanyahu as his "special emissary" to US campuses under the Jewish National Fund's "caravan for democracy" program.
Ethnic purity
Seen in this light, Eitam's appointment makes more sense. Netanyahu has been cultivating ties with far-right politicians around the world who look to Israel as model of what an ethno-nationalist state – one premised on ethnic peoplehood and purity – can achieve. 
These leaders, many of them known for their racist politics, including for their antisemitism, or historical links to fascist groups, are keen supporters of an Israel that has always declared itself to be a state for Jews alone. 
Israel's passage of a Nation State Law in 2018 underscored to them how it is possible to pass overtly racist legislation, institutionalizing discrimination against minority groups, and remain respectable in diplomatic circles.
They view Israel as a pathfinder both in breaking international law with impunity and in undermining the post-war commitment – or at least lip service – to the principle of universal rights. 
Netanyahu's allies have included US president Donald Trump, Brazil's Jair Bolsonaro, Viktor Orban of Hungary, Rodrigo Duterte of the Philippines, Austria's Heinz-Christian Strache, and Matteo Salvini in Italy. 
But Netanyahu has often struggled with the optics of forging close ties with these leaders, in the face of track records in which they have openly indulged antisemitism or embraced their country's ugly past. 
Joking about Nazis
Those tensions have often been most starkly evident as these leaders have made their way to Yad Vashem, where some staff have balked at the idea of hosting them. 
In one particularly fraught episode in 2018, Austria's chancellor, Sebastian Kurz, made a formal complaint after a visit to the museum, after a local guide noted current attacks on Jewish communities in Austria that were earlier targeted by the Nazis. 
Those attacks, the guide observed, had been led by members of the Freedom party, which was then serving in Kurz's coalition. Yad Vashem was forced to apologize.
Weeks later Hungary's prime minister Viktor Orban visited the museum. He was greeted with protests, including opposition from some staff disquieted by his public praise for Miklos Horthy, Hungary's Second World War leader who allied with the Nazis and collaborated in the murder of the country's Jews.
Soon afterwards, Yad Vashem hosted Rodrigo Duterte, who has favorably compared himself to Hitler.
Immediately after a visit last year, Brazil's Bolsonaro joked that the Nazis had been left-wing: "Doesn't the name of the Nazi party include the word 'socialist'?"
A Yad Vashem staff member told the New York Times in late 2018 that there was mounting anger at the museum "because many of us see a collision between what we believe are the lessons of the Holocaust and what we see as our job, and between the way Yad Vashem is being abused for political purposes."
The Holocaust as a tool
Netanyahu may see Eitam's appointment as an opportunity to decisively refashion Yad Vashem in the image of his own chauvinist politics. That would remove the museum's last holdouts, opposed to his goal of reducing the Holocaust and antisemitism simply to tools that can be exploited to deflect criticism as Israel flouts international law ever more flagrantly and moves towards formal annexation of the West Bank.
Subordinating Yad Vashem to the far-right camp under Eitam would also cement Netanyahu's alliance with the emerging ethno-nationalist bloc of states whose trenchant support will help him weather any of the resulting diplomatic fallout. 
Liberal, universal lessons drawn from the Holocaust – against bigotry and racism – serve only to alienate leaders like Bolsonaro and Orban. Rooting out that tradition at Yad Vashem would ease relations with these far-right politicians.
Such problems have been evident in ties with Hungary. Two years ago a Yad Vashem historian caused a diplomatic incident when he accused a new Holocaust museum in Budapest called the "House of Fates" of committing "a grave falsification of history". 
Afterwards, Israeli media reported that Israeli and Hugarian officials had quietly agreed a "consensus regarding the museum's narrative".
Tensions erupt
Far more publicly, tensions erupted at around the same time with the right-wing Polish government of Mateusz Morawiecki. It planned to amend local law to make it a crime to attribute to Poland any responsibility for the death camps or collusion with the Nazis during the Second World War. 
Apparently under pressure from the US, the law was eventually watered down to become a civil offense instead. Nonetheless, the law has made it especially hard for Polish historians to document or speak about Polish collaboration with the Nazis.
Netanyahu got himself into a tricky diplomatic entanglement, trying to resolve the issue without upsetting the Polish government. He did so with the help of apparent allies at Yad Vashem, not least its chief historian Dina Porat. 
Porat, it later emerged, had secretly assisted Israel's national security council – part of Netanyahu's office – in drafting a joint declaration with Poland that minimized the role played by Poles in the Holocaust.
The document mainly raised concern on the small Israeli left. Tamar Zandberg, chair of the Meretz party, termed it "part of a disgraceful phenomenon in which Netanyahu and Likud have joined forces with anti-Semitic and neo-Nazi parties around the world". 
Porat, it should be noted, has also played a parallel role in instrumentalizing antisemitism to help protect Israel from criticism in the international arena. According to International Crisis Group analyst Nathan Thrall, she helped to draft "a new definition of anti-Semitism that would equate criticisms of Israel with hatred of Jews".
Her work contributed to the later redefinition of antisemitism by the International Holocaust Remembrance Alliance – a definition that has been increasingly adopted in other countries – that switches the traditional focus of antisemitism from hatred of Jews to criticism of Israel. 
No universal norms
Media reports suggest that the reason Yad Vashem's current chairman waited so long to stand down – Shalev is now 81 – was out of the fear that any successor appointed by Netanyahu would be from the far-right and damage the museum's international standing.
But much of the current criticism of Eitam glosses over the fact that his ultra-nationalism accords with the way the Holocaust has been widely viewed – and taught – in Israel for decades. 
In calling Eitam "unfit" for the post, Shraga Milstein, chairman of the Israeli Association of Bergen-Belsen Survivors, observed: "As we know, the Holocaust didn't start with gas chambers. It started with differentiating between people and seeing some people as unequal to others."
That seems a strange criticism of Eitam coming from Milstein, a longtime mayor of Kfar Shmaryahu, a wealthy community outside Tel Aviv. Kfar Shmaryahu, along with hundreds of other communities in Israel, is maintained as an exclusively Jewish community, denying residence to the fifth of Israel's population who belong to its Palestinian minority.
As a self-declared Jewish state, Israel has always rejected equality and universal values – in fact, as part of its national mission to "Judaize" territory, it is constitutionally obligated to discriminate against non-Jews. 
For that reason, Yad Vashem has had to navigate a tricky path between recognizing the universal lessons of the Holocaust and instrumentalizing the Holocaust to provide an aggressively nationalist justification for a "Jewish state" based on ethnic segregation from, and supremacy over, non-Jews.
'Us against the world'
That has been evident in Yad Vashem's support for Israel's school summer trips to Nazi deaths camp in Europe, especially Auschwitz. 
Soon after these trips began in 1988, the liberal education minister of the time, Shulamit Aloni, warned that they would lead to new generations of xenophobic Israelis obsessed with Jewish military might. She said she was repelled by the sight of young Israelis who "march with unfurled flags, as if they've come to conquer Poland".
Idan Yaron, an Israeli anthropologist who regularly accompanies such trips, has said one of the program's chief aims is to increase "the students' motivation to play a significant role in the Israel Defense Forces" – the Israeli army conducting a belligerent occupation of Palestinian territory.
"The moment the trip leads to a feeling of strengthening nationalism and 'It's us against the world,' we achieve the opposite results of those we wanted," Yaron has observed.
Another critic of Israel's approach to the Holocaust is Yair Auron, a professor emeritus at the Open University and expert on genocides. He has accused Israeli academics, including those at Yad Vashem, of averting their eyes from other genocides to prioritize the Holocaust. 
"You won't find any of these [genocides] in the Israeli education system, which is a political system that doesn't want to expose its students to the genocides of other peoples," he has said.
He has castigated Yad Vashem for a "racist" policy that fails to include commemorations of other major atrocities, such as those in Rwanda and Cambodia, and against the Armenians. 
Israel's laundromat
Possibly Yad Vashem's harshest critic in Israel is Daniel Blatman, a researcher at the Hebrew University of Jerusalem and chief historian for the Warsaw Ghetto Museum.
He has described Yad Vashem as "a hard-working laundromat, striving to bleach out the sins of every anti-Semitic, fascist, racist or simply murderously thuggish leader or politician like Hungary's Viktor Orban, the Philippines' Rodrigo Duterte and Italy's Matteo Salvini".
These leaders, he has said, come to the museum to "receive absolution in the name of Holocaust victims in exchange for adding a pro-Israel vote at international institutions." 
Blatman's comments were made before Eitam's selection to head Yad Vashem. If Eitam wins approval, as seems likely, he could enjoy more than a decade in the post remaking the museum in his own image. 
That will compound the racist, chauvinist, militaristic lessons Israelis increasingly draw from the Holocaust. 
It will allow the Holocaust, like antisemitism, to be weaponized against human rights activists and left-wing critics of Israel's policies towards the Palestinians. 
And it will embolden dictators and fascist politicians around the globe who seek to cosy up to Israel. They will be able to secure Israel's absolution from their countries' ugly recent past, and join Israel in glorifying ethnic supremacist policies that could usher in a repetition of the very same crimes the memory of the Holocaust was supposed to proscribe.
Jonathan Cook won the Martha Gellhorn Special Prize for Journalism. His latest books are "Israel and the Clash of Civilisations: Iraq, Iran and the Plan to Remake the Middle East" (Pluto Press) and "Disappearing Palestine: Israel's Experiments in Human Despair" (Zed Books). His new website is jonathan-cook.net.
Support Mondoweiss's work informing readers about developments in Israel/Palestine and related US foreign policy. Your investment in independent journalism helps build the case for change.