labor
Fire NLRB General Counsel Peter Robb On Day One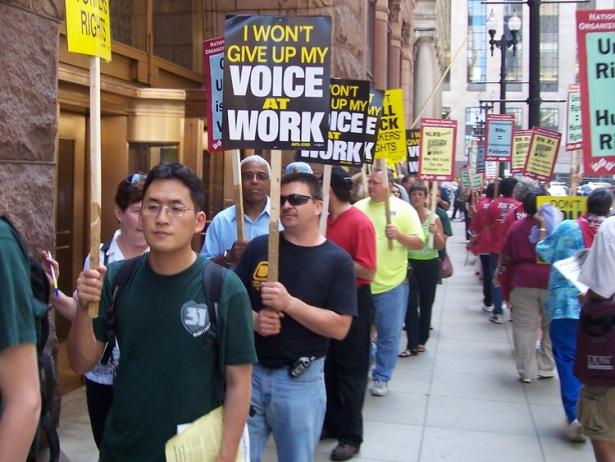 Workers protest outside the Region 13 NLRB office in Chicago in 2006. , Carlos Fernandez
With a new administration set to be inaugurated on January 20th and Democrats in control of Congress, labor unions are expecting change.
President-elect Joe Biden campaigned on being a "union guy" and a friend of workers, and has pledged to be the "most pro-union President ever." He has reason to be. Unions played a key role in securing his victory, with labor-backed Super PAC "For Our Future" spending over $27 million, and UNITE HERE affiliated Super PAC "Take Back 2020" spending over $12 million funding a key field operation that helped secure his win. Unions spent further time and resources securing two Senate seats in the Georgia runoffs. 
Democratic control of the White House and Congress is due to organized labor, and unions want action. With a combination of Democratic control, health and safety crises in American workplaces, and soaring public support for organized labor, there's an unprecedented opportunity to aggressively expand organizing rights. Rhetoric is one thing, and trade unionists are used to unfulfilled promises from Democratic politicians. Backing it up is another -- and there's one measure that will signal that Biden is serious: on day one, he needs to fire National Labor Relations Board General Counsel Peter Robb.

That Robb ever became General Counsel is a travesty. The General Counsel is one of the most powerful positions at the agency, with the power to determine whether to investigate unfair labor practices and significant control over regional offices. His bona fides for the job: busting the air traffic controllers under Ronald Reagan in one of the most devastating assaults on unions since the New Deal. He was a partner at Vermont law firm Downs Rachlin Martin -- which boasts about their union avoidance tactics -- immediately prior to appointment to the position of NLRB General Counsel. Right now, the NLRB works under the legal guidance of a union buster that believes the agency shouldn't exist.
There's a reason securing quick control of the NLRB is crucial. Congressional labor law reform will be a tough fight, albeit a fight that the Painters' union is signaling they're ready to have. Acting through the NLRB -- which has a wide ability to reshape labor law -- gives a route not subject to Senate filibusters. It's unique in that it has primary jurisdiction over the legal interpretation and enforcement of the National Labor Relations Act: although their decisions can be appealed to the Courts (including to the Supreme Court), they're the gatekeeper. There's a lot that can be done with that power. The Trump NLRB has substantially curbed or destroyed long-standing union rights, making already difficult organizing terrain far more difficult.
Biden will be able to quickly reshape the agency if he chooses to do so. He can immediately make lone Democrat Lauren McFarren NLRB Chair, replacing Trump appointee John F. Ring. He'll also be able to fill a Board vacancy left open by Trump, shaving the Republican advantage to 3-2. Full control of the Board will be available by August when union buster William Emanuel's term ends. Democrats will retain control for nearly a full Presidential term due to Trump's failure to fill the current vacancy, giving them ample time to make wide-ranging changes.
But that will do little good unless he gets rid of Robb immediately. Robb's term won't be up until November of 2021, severely hampering Biden's ability to reshape the NLRB and giving a pro-worker NLRB less time to work. They have a difficult task to undo the damage done by Trump, let alone make improvements. Time will be crucial.
There isn't a reasonable legal question about Biden's ability to fire Robb. As discovered by union lawyer Brandon Magner, the definitive case for the President's ability to fire the NLRB General Counsel was made by now-Chief Justice John Roberts during his time as associate White House counsel under Ronald Reagan. Legal sanction from the sitting Republican-appointed Chief Justice is more than enough justification to act, and act quickly. Although it's with little precedent -- Magner points to Truman's sort-of-firing of Robert Denham in 1950 -- acting aggressively to secure Democratic control of the Board is crucial to not only signalling that Biden is serious about union rights, but also to give the Board time to work.
Biden has no excuse to keep Robb through the end of his term. The legal path is clear, and unions that delivered him the presidency are lobbying him to do it. If he fails to act, it'll show that unions should temper their expectations of Biden's lofty promises, and that Biden will likely be more of the same: carefully tinkering around the edges to fix problems in labor law created by pro-business wrecking crews. It's clear that's not enough.
If Biden is serious about making his first hundred days among the most consequential since the beginning of the New Deal, trade unionists should make their expectations known and hold him accountable to them. It isn't enough to say you're a "union guy." Delivering for working people means action -- and firing Robb on day one will show that the tide in the war on workers is shifting.
C .M. Lewis is an editor of Strikewave and a union activist in Pennsylvania.