Global Left Midweek - February 10, 2021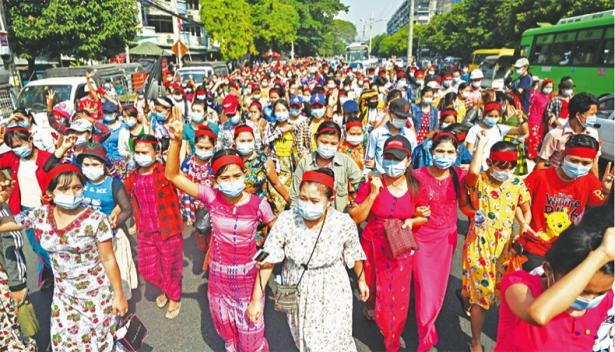 Anti-coup demonstrators in Yangon, Myanmar give the three-finger "Mockingjay" salute. Credit,AFP photo
The Latest: Andrés Aráuz Leads, Faces Runoff  / Al Jazeera (Doha)
A Hinge Election for Latin America  Javier Tolcachier / Pressenza (Quito)
__________
Haiti
The Latest: Opposition Names Replacement for President Moise  Andre Paultre / Reuters (London)
Uphill Fight for Democracy  Mark Schuller / NACLA Report (New York)
__________
Myanmar Streets Filled With Anti-Coup Protesters
Hunger Games — For Real  Heather Chen / Vice (Brooklyn)
Inflamed by Poverty and Coronavirus  Rodion Ebbighausen / Deutsche Welle (Berlin)
__________
Russia: State Repression, Popular Unrest, and No Good Guys
Hari Kumar / The Left Berlin
The Putin class of 'Siloviki' (the so-called 'strong-men') oligarchs is pitted against Navalny, a flag bearer of Western capitalism. Sad to say, there are no simple heroes here. But Navalny has roused a large portion of people to see through Putinism.
_________
Vietnam: A Deeper Look at the Communist Party Congress
Philip Degenhardt / Rosa Luxemburg Stiftung (Berlin)
Nguyen Phu Trong's re-election as the party chief will ensure the continuation of the ongoing anti-corruption campaign, one aim of which is to reorganize the party through building a socialist state based on the rule of law, with top-to-bottom reforms. 
__________
Two EU Left Alliances Comment on the Capitol Putsch
The Left in the European Parliament (Brussels)
Party of the European Left (Brussels)
__________
India: More Lessons From Historic Farmers' Strike
Vaibhav Walunj / Indie Journal (Pune)
The farmers' protest has turned a new page in the history of people's movements. The supporting and opposing arguments about the protest are pivotal for upcoming discourses, for and against the government. 
__________
Google Workers' Unions Unite
Zoe Schiffer / The Verge (New York)
The newly formed coalition, called Alpha Global, is comprised of 13 different unions representing workers in 10 countries, including the United States, United Kingdom, Germany, and Switzerland.
__________
Western Saharan Leader Takes Case to Nigeria
Owei Lakemfa / Vanguard (Lagos)
What does Morocco's attack on Western Sahara mean for the future of the African Union?  Can countries like Nigeria, Egypt and Algeria allow an African country to be colonised?