labor
International Working Women's Day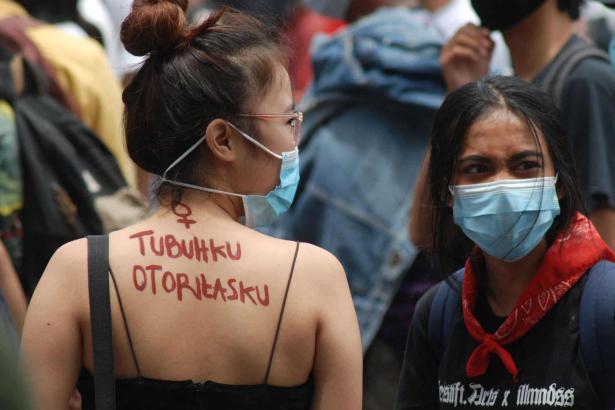 A slogan on an activist's back reads: 'My body, my authority.' Bandung, Indonesia., Timur Matahari/AFP/Getty Images
(1) "The Little-Known Radical History of International Women's Day" (comic), by Eleri Harris. Vox. March 8, 2021.  International Women's Day is celebrated with everything from flowers to breakfast. But the holiday started with a 1907 labor strike.
(2) "International Women's Day around the world – in pictures." The Guardian. March 8, 2021. Photo essay. From Indonesia to Spain, women have been staging events and protests.
(3) "In Honor of International Women's Day," by Susan Pashkoff. International Viewpoint. March 8, 2021. The purpose of this piece to highlight the first wave of feminism and to provide some historical context to the creation of International Working Women's Day in the the period of the first and second decades of the 20th century. While International Women's Day is still celebrated around the world, it is only recently that its socialist roots are being reinvigorated due to a new wave of women's strikes and struggles over violence against women, the struggle for reproductive justice and women's bodily autonomy and the issues surrounding both the economic exploitation of women and the specific conjunction of oppressions that women face daily due to racism, disablism, sexism (and misogyny) and class.

(4) "The Working-Class Origins and Legacy of International Women's Day," by Alicia Williamson. UE Union. February 28, 2014.  This is an older article which also gives the history of the day, and includes the way in which feminists revived the day in the US in the 1970s.