Naomi Osaka and the Power of 'Nope'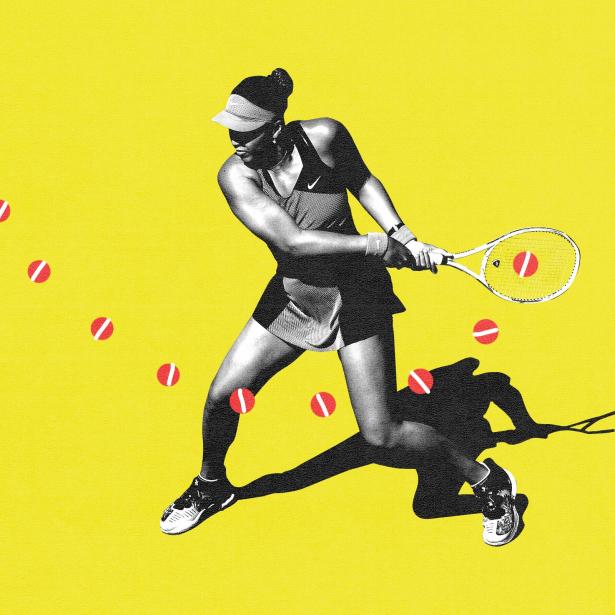 Illustration by Arsh Raziuddin, The New York Times; Photograph via Getty
When Naomi Osaka dropped out of the French Open on Monday, after declining to attend media interviews that she said could trigger her anxiety, she wasn't just protecting her mental health. She was sending a message to the establishment of one of the world's most elite sports: I will not be controlled.
This was a power move — and it packed more punch coming from a young woman of color. When the system hasn't historically stood for you, why sacrifice yourself to uphold it? Especially when you have the power to change it instead.
Women have long functioned as bit players in sports industries designed by and for men. Now Ms. Osaka, who at 23 is the top-earning female athlete in history, is part of a growing group of female athletes who are betting that they'll be happier — and maybe perform better, too — by setting their own terms. Increasingly, they have the stature and influence to do so.

In 2019, the runner Mary Cain, now 25, explained how rather than continue to harm her mental health by competing for Nike's famed track coach Alberto Salazar, she left the sport in 2017 for a few years — and wound up changing it. She is starting a new kind of women's track team, in which the athletes are employees of a nonprofit instead of working for a corporation.
"It makes sense that younger athletes are beginning to stand up for themselves," Ms. Cain told me after Ms. Osaka's withdrawal. "Our expectations have changed."
Ms. Cain continued, "When athletes are not protected, they should be able to make choices that protect themselves. It's like saying you don't want to be with a company that doesn't treat you well."
                                                                      -------------------
I Was the Fastest Girl in America, Until I Joined Nike
At 17, Mary Cain was already a record-breaking phenom: the fastest girl in a generation, and the youngest American track and field athlete to make a World Championships team. Then, everything changed.
I was the fastest girl in America. "Mary Cain!" "There are women here almost twice her age" "being left in her wake." I set many national records. And I was a straight-A student. "C'mon, Mary Cain!" When I was 16, I got a call from Alberto Salazar at Nike. He was the world's most famous track coach and he told me I was the most talented athlete he'd ever seen. During my freshman year in college, I moved out to train with him and his team full time at Nike world headquarters. It was a team of the fastest athletes in the world. And it was a dream come true. I joined Nike because I wanted to be the best female athlete, ever. Instead, I was emotionally and physically abused by a system designed by Alberto and endorsed by Nike. This is what happened to me. When I first arrived, an all-male Nike staff became convinced that in order for me to get better, I had to become thinner, and thinner, and thinner. This Nike team was the top running program in the country. And yet we had no certified sports psychologist. There was no certified nutritionist. It was really just a bunch of people who were Alberto's friends. So when I went to anybody for help, they would always just tell me the same thing. And that was to listen to Alberto. Alberto was constantly trying to get me to lose weight. He created an arbitrary number of 114 pounds, and he would usually weigh me in front of my teammates and publicly shame me if I wasn't hitting weight. He wanted to give me birth control pills and diuretics to lose weight— the latter of which isn't allowed in track and field. I ran terrible during this time. It reached a point where I was on the starting line and I'd lost the race before I started, because in my head all I was thinking of was not the time I was trying to hit but the number on the scale I saw earlier that day. It would be naïve to not acknowledge the fact that weight is important in sports. Like boxers need to maintain a certain weight, or you know everybody always ends up citing the math about how the thinner you are, the faster you're going to run because you have to carry less weight. But here's a biology lesson I learned the hard way. When young women are forced to push themselves beyond what they're capable at their given age, they're at risk for developing RED–S. Suddenly, you realize you've lost your period for a couple months. And then a couple months becomes a couple years. And in my case, it was a total of three. And if you're not getting your period, you're not going to be able to have the necessary levels of estrogen to maintain strong bone health. And in my case, I broke five different bones. The New York Times Magazine published a story about how Alberto was training me and nurturing my talent. We weren't doing any of that. I felt so scared. I felt so alone. And I felt so trapped. And I started to have suicidal thoughts. I started to cut myself. Some people saw me cutting myself and ... sorry. Nobody really did anything or said anything. So in 2015, I ran this race, and I didn't run super well. And afterwards, there was a thunderstorm going on. Half the track was under one tent. Alberto yelled at me in front of everybody else at the meet, and he told me that I'd clearly gained five pounds before the race. It was also that night that I told Alberto and our sports psych that I was cutting myself. And they pretty much told me they just wanted to go to bed. And I think for me, that was my kick in the head where I was like, "This system is sick." I think even for my parents in certain ways, once I finally vocalized to them, I mean, they were horrified. They bought me the first plane ride home. And they were like, "Get on that flight. Get the hell out of there." I wasn't even trying to make the Olympics anymore. I was just trying to survive. So I made the painful choice and I quit the team. "After a multiyear investigation, the U.S. anti-doping agency has banned Alberto Salazar from the sport for four years." "Nike will shut down the Oregon project." "Nike C.E.O. Mark Parker stepping down from the company in January of 2020." Those reforms are mostly a direct result of the doping scandal. They're not acknowledging the fact that there is a systemic crisis in women's sports and at Nike, in which young girls' bodies are being ruined by an emotionally and physically abusive system. That's what needs to change, and here's how we can do it. First, Nike needs to change. In track and field, Nike is all powerful. They control the top coaches, athletes, races, even the governing body. You can't just fire a coach and eliminate a program and pretend the problem is solved. My worry is that Nike is merely going to rebrand the old program and put Alberto's old assistant coaches in charge. Secondly, we need more women in power. Part of me wonders if I had worked with more female psychologists, nutritionists and even coaches where I'd be today. I got caught in a system designed by and for men, which destroys the bodies of young girls. Rather than force young girls to fend for themselves, we have to protect them. I genuinely do have hope for the sport. And I plan to be running for many years to come. And so part of the reason I'm doing this now is I want to end this chapter and I want to start a new one.
                                                                       -----------------
Other big-name athletes are saying no, too. In April, Simone Biles, age 24, left the almighty Nike for a sponsor, Athleta, that she said would "support me not just as an athlete but just as an individual." Her move came after Allyson Felix, a decorated track and field athlete, challenged Nike in 2019 for penalizing pregnant athletes and joined Athleta. (Nike has since changed its policy.)
These women are at once spurring and reflecting a generation that is realizing that even if we are lucky enough to do work we love, saying no can be better than settling. We've seen this with other young celebrities, such as the British actor, writer and director Michaela Coel, who told Vulture that she declined a $1 million Netflix deal when the streamer wouldn't let her retain a percentage of the copyright to her show "I May Destroy You." She fired her agents in the U.S. for pushing the deal, choosing instead the bold path of going agentless in Hollywood.
The power balance has changed — redistributing leverage among public figures, the journalists and publications that cover them, and the companies that they do business with. Social media has provided athletes and other celebrities a direct line to their public, cutting out the middlemen. When Ms. Osaka released a statement explaining her decision and the steps that led to it, she did so on her own platforms.
As the tennis legend Billie Jean King wrote on Twitter, "In our day, without the press, nobody would have known who we are or what we thought." But for a young player like Ms. Osaka, the traditional media is no longer necessary for the world to know who she is and what she thinks.
Indeed, Ms. Osaka's statement, which appeared to be written on the notepad app of her phone, was arguably among the most influential uses of media of her career.
In her post, she referred to her introversion and discomfort with public speaking. "I am not a natural public speaker and get huge waves of anxiety before I speak to the world's media," she wrote. "I get really nervous and find it stressful to always try to engage."
She pointed to the 2018 U.S. Open as the start of her depression, and anyone who watched her at the trophy ceremony then would not doubt how stressful it was for Ms. Osaka, who was 20 years old at the time. There, after she upset Serena Williams in a contentious final, she stood as boos filled the stadium. Ms. Osaka pulled her visor over her face as she cried, and Ms. Williams put her arm around her.
It should come as no surprise that young women athletes are exasperated by what they encounter when they go professional. They came up through an American athletic system that is legally required to treat boys and girls as equals — only to find a pro sports world that still puts men first. (Ms. Osaka is the world's highest-paid female athlete, yes, but she is behind 14 men.)
"It's like there's a magnifying glass on the difference in how we're treated based on gender, and I think because of that, female athletes are looking around and thinking, 'Why should I be treated worse? Why should I be treated differently?'" said Ms. Cain. "It makes us want to speak out that much more because it's not subtle, like we're in different positions or something that could explain the disparity. You realize, 'OK, this is explicit.'"
And it's infuriating. Ms. Osaka, Ms. Biles, Ms. Cain and others are applauded on social media, especially by other women inspired by their willingness to put their own well-being and mental health first, but they also face backlash and skepticism — and risk significant loss of income.
Like many successful athletes, Ms. Osaka gets most of her earnings from endorsements, not prize money or salaries. Her high profile started with her accomplishments on the tennis court, and her talent sustains that profile, but she has grown into a respected and influential brand herself. She has often taken risks with that influence, whether it's wearing masks in support of Black Lives Matter at the U.S. Open last year or pushing back against critics on social media who criticized her for ruining her "innocent" image by posting photos of herself in a bathing suit.
In this case, Ms. Osaka had been willing to pay for her decision to skip media interviews — and accept any fines imposed by French Open officials. She just didn't want to do any talking that distracted from the game.
Anyone inclined to cynicism about Ms. Osaka's concern about the media need only watch a question posed at a recent news conference at the French Open to the 17-year-old tennis sensation Coco Gauff: "You are often compared to the Williams sisters. Maybe it's because you're Black. But I guess it's because you're talented and maybe American, too," a journalist reportedly declared, bizarrely, before asking, "We could have a final between you and Serena. Is it something you hope for? I mean, 22 years separate you girls."
This latest episode is evidence that when athletes such as Ms. Osaka and LeBron James are told to refrain from commenting on racism or politics and instead to shut up and play, it has always included an unsaid caveat: "unless we stand to profit off your voice."
There are ways to improve. As top athletes diversify in terms of gender and ethnicity, sports reporters could stand to do more of the same. And in any case, both parties should treat the occasions when they meet to promote their sport as an opportunity, not an entitlement — and make the most of them.
But most important, traditional power brokers — be they the tournaments, the brands or the media — should realize that looking out for themselves now also involves looking out for the athletes and listening to what they want. Because increasingly, athletes hold the cards.
In the end, Ms. Osaka's abstention has only proved the scale of her influence. If the organizers of the French Open wanted press, they got it.
Lindsay Crouse is an Opinion writer and producer.