Global Left Midweek - The New Municipalism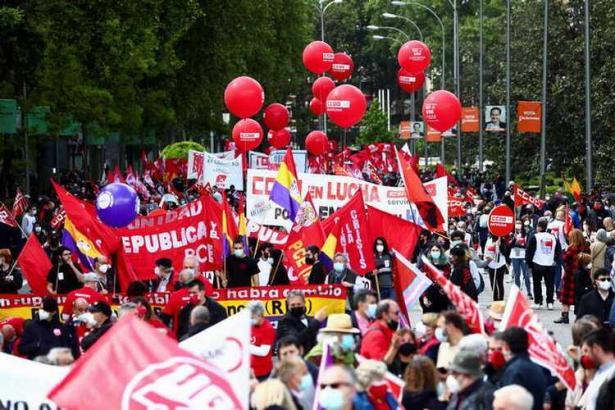 May Day in Madrid, 2021. Credit,Zawya
__________
The New Municipalism – Overview
Lorena Zárate / Minim

For decades now, social movements, communities and activists around the globe have been building practices and narratives on those very messages under the related umbrellas of the Right to the City and the New Municipalism. These contributions seem more relevant than ever, for they provide concrete clues for confronting the current emergency.
__________
Municipalism and the Paris Commune
Ben Wray / Bella Caledonia (Edinburgh)
150 years on, what ideas and strategies can we excavate from the Commune for the present day? Just like in Paris in the late 19th century, in the new mega-cities of the global south production and consumption – worker and citizen – intwine.
__________
Green/Red Win in Zagreb
Paul Stubbs / Tribune (London)
In May's local elections, Croatia's green-left platform won the capital's assembly and its mayoralty. The new government has big plans for a clean, democratic city – but the challenges of building it under assault from the right remain.
__________
Spain: Fearless Cities
Kate Shea Baird and Júlia Miralles / Roar (Amsterdam)
For four years, municipalists held power in cities across Spain. Their successes and setbacks hold important lessons for municipalist activists and organizers today.
__________
Thailand: The New Isaan Movement
Bangkok draws in labour and resources and brain drains the rest of the country, while repressive governance and a reactionary culture of homogeneity is exported out. Today, however, a new, widespread mass movement against Bangkok's hegemony is rising. This movement is built on the concepts of decentralisation, self determination, ecological justice and anti-hierarchy.
__________
Argentina: Union of Land Workers
Juan José Relmucao / NACLA Report (New York)
UTT's grassroots model makes it simple to get involved. Leaders make a WhatsApp group with their customers, UTT periodically sends priced food products in a truck, and then the group coordinates delivery and payment. In the Buenos Aires Metropolitan Area, this model grew until it covered every single district, even those where cars cannot enter.
__________
Berlin vs Housing Profiteers
Andrej Holm / Jacobin (New York)
The popularity of Berlin's campaign to expropriate corporate landlords shows just how few people trust capitalism to provide them with affordable, good-quality homes.
__________
Another Week of Mass Rage Worldwide
Swaziland Pavan Kulkarni / Peoples Dispatch (New Delhi)
Iran Cyrus Yaqubi / Eurasia Review (The Hague)
Palestine  / Roya News (Amman)
UK Jason Farrell / Sky News (London)
Pakistan / Dawn (Karachi)
__________
Nicaragua: Does UNAMOS Deserve Prison?
Yes  Stephen Sefton / teleSur (Caracas)
No  José Luis Rocha / NACLA Report
__________
Report from New Politics 2021 Conference
Transnational Institute (Amsterdam) and The Havens Wright Center for Social Justice (Madison)
The New Politics conference 2021 made a profound theoretical contribution to many of the most pertinent debates facing the left internationally. Over five days, participants explored questions about the state, social class, social movements, political parties, feminism and intersectional politics, eco-socialism, and much more.