books
Solidarity with Silwan: a teacher's perspective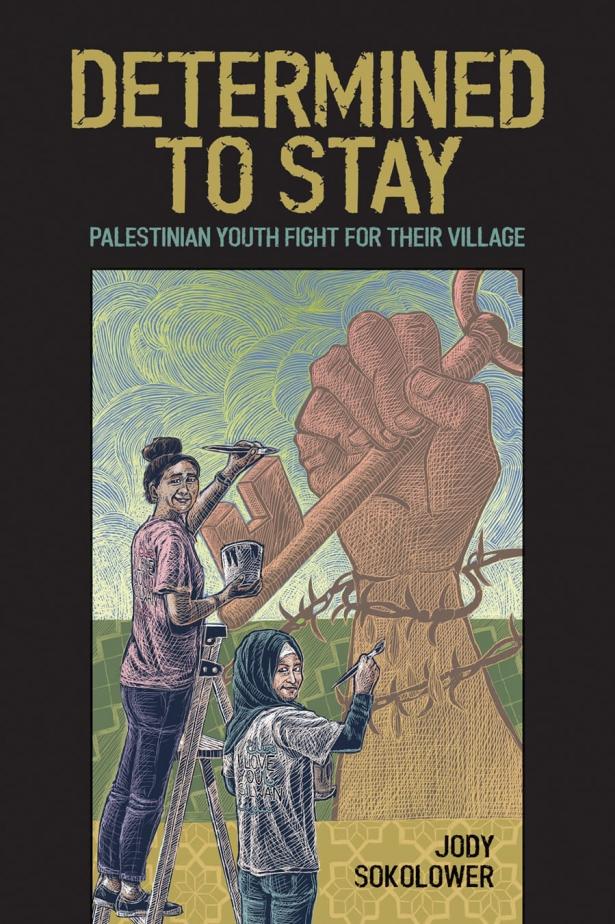 ,
Determined to Stay
Palestinian Youth Fight for Their Village
Jody Sokolower
Olive Branch Press
ISBN: 9781623718886
Twenty years ago, I joined a team of teachers developing and teaching a new 9th grade class, "Identity and Ethnic Studies," at Berkeley High School in California's Bay Area. We never even discussed the possibility of including Palestine or Arab American studies. It was my Yemeni and Palestinian students, in the context of 9/11, who pushed me to realize that ethnic studies had to include Arab American studies, anti-Arab racism, Islamophobia—and Palestine. As I began to bring Palestine into my classroom, I realized how much I had to learn (and unlearn!), what a distorted picture my students had gained from the media, and how few resources there were for teaching Palestine that was accurate, age-appropriate, and empowering.
In 2012, I went to Palestine for the first time. I wanted to see for myself so I could be a better teacher. As for so many visitors from the U.S., it was a life-changing experience. Guided by the Middle East Children's Alliance, where I now work, my family and I visited Bethlehem, Beit Sahour, Jerusalem, Hebron, and Ramallah.
For me, Silwan, a Palestinian village in the shadows of the ancient walls of Jerusalem's Old City, stood out. I was amazed by the vibrant resistance to Israel's never-ending efforts to push all Palestinians out of Silwan and out of Jerusalem entirely. Jawad Siyam, a community leader who started the Madaa Creative Center there, showed me and my family around. We saw children taking turns in the computer lab and drawing in the library; we watched a young hip-hop group rehearse, we talked with women learning to make mosaic table tops. "It's like maklouba," they told us. "You make the whole thing upside down, then turn it right side up at the end." (Maklouba, a traditional Palestinian rice dish, is assembled in layers, steamed on the stove, then inverted onto a platter to serve.)
"Let me show you our newest project," Jawad said. He took us across the street to a small cultural center with a sports field, murals, and a whole schedule of events for the community. We had coffee and pastries in the cafe, sitting at mosaic tables made by the women's program. The coffee, in tiny cups, was thick, sweet, and filled the air with the scent of cardamom.
Two weeks after we got back to the U.S., Israelis demolished the cafe. They said they needed the space for a parking lot for King David National Park, the archeological Disneyland that is the excuse for much of the demolition and displacement in Silwan. I couldn't believe it! Why wasn't anyone talking about this? I was so angry and upset, I didn't know what to do. That anger—and the inspiration of the Silwani community—eventually resulted in my just-published book for youth about Silwan, "Determined to Stay: Palestinian Youth Fight for Their Village."
This morning, I turned on my computer to another outrage. In spite of an international campaign against demolitions in Sheikh Jarrah and Silwan, the Israel backhoes were at it again, demolishing homes and businesses in the al-Bustan neighborhood of Silwan. The grim media images of Israeli forces attacking Palestinians trying to protect their homes reminded me of Sarah, one of the youth I interviewed for my book. She lives in the Wadi Hilwah neighborhood of Silwan, just up the hill from al-Bustan. The patio outside her house overlooks al-Bustan.
"What's your first memory of the Israeli settlers?" I had asked Sarah.
"The day when they demolished our home," she said. "I was little at that time—eight years old. They were standing in front of the door of our home. I went to see, but the house was surrounded by police and their dogs. I asked my older sister what was going on. 'They have come to bulldoze our house,' she said. 'If you don't stop talking, they will hit you.'
"They locked us in a room downstairs, and we could hear them tearing our house apart over our heads. Afterward, I kept dreaming the same nightmare about what happened that day. Sometimes I still see it in my dreams. For a long time, I felt afraid. But I am not afraid anymore."
Thinking about Sarah's experience being repeated over and over by children in al-Bustan, in Sheikh Jarrah, in Batin al-Hawa, makes my blood run cold. There are so many similarities between what youth face in Palestine and what they face in the U.S., particularly for youth who are Native American, Black, or other youth of color. The violence we're seeing in Silwan this week is emblematic of how settler colonialism works. Israel is a settler colonial state, bent on continuing conquest and expansion. Just like the United States. Our children need to know about Palestine, both so they can understand their own situation better, and so they can be part of an international solidarity aimed at creating a world based on justice, peace and sustainability, not conquest and forced removal.
I tried to make those connections for youth—for all of us—in "Determined to Stay." So, for example, I wove in stories of Yacoub Odeh, who was eight years old when his family was pushed out of Lifta, a village very close to Silwan, in 1948. And Corrina Gould, who tells the story of her people, the Ohlone, the Indigenous people of the Bay Area in California, where I live.
Here in the U.S., Zionists and other right-wing forces are fighting tooth and nail to keep Palestine out of classrooms. It's no coincidence that many of those same forces are fighting to keep Black Lives Matter and Critical Race Theory out of classrooms as well. They know how powerful those connections will be for youth who are looking to understand the country they live in and to develop strategies for resistance.
Let's be clear: Banning Palestine from classrooms is an erasure—not as physically violent as bulldozing a Palestinian home, but clearly part of the same strategy. The struggle to bring Palestine into our classrooms is as important to freeing Palestine as going to demonstrations, supporting the boycott, divestment, and sanctions movement, and all our other acts of solidarity.
Jody Sokolower is co-coordinator of the Teach Palestine Project at the Middle East Children's Alliance. Formerly managing editor of Rethinking Schools, Jody is a teacher educator who has taught middle and high school social studies and English. She was lead editor of Rethinking Sexism, Gender and Sexuality and editor of Teaching about the Wars in the Middle East.