labor
17,000 University of California Researchers Could Soon Win a Union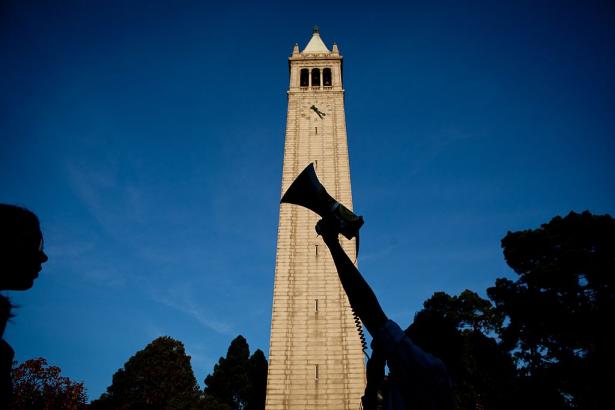 A protest on the University of California, Berkeley campus in November 2011. ,(Max Whittaker / Getty Images)
In late May, student researchers from across the University of California (UC) system delivered over 10,000 signed union authorization cards to the Public Employment Relations Board (PERB), representing a unit of 17,000 workers. If they win their union, the total number of union members in the United States would increase by 0.1 percent.  
Jacobin's Oren Schweitzer sat down with KDan Lee, Sierra Dodd, and Tanzil Chowdhury, student researchers in the UC system and worker-leaders in the SRU-UAW campaign, to talk to them about their unionization effort.
---
OS

What sort of work do you do as student researchers?
KL
I do neurobiology research. I'm interested in figuring out circuit mechanisms by which mice learn to form good and bad associations with smells. On a day-to-day basis, what that looks like is I build different behavioral setups using simple electronics and image neuroactivity using a two-photon microscope. Then I get data, make figures, etc.
SD
I study blackhole accretions. I study how blackholes feed, essentially, using magnetohydrodynamic simulations.
TC
I'm working on the growth and characterization of semi-conducting nanowires. Specifically, we're looking into replacing the platinum catalyst in hydrogen fuel cells to make them more efficient and cheaper.
OS
Why are you unionizing?
TC
We are workers, and we're not treated particularly well. In fact, we're not really treated as workers by the university. What that results in is very low pay, no real grievance processes, lots of issues of harassment, general affordability problems — the list kind of goes on and on. A union will help us resolve all those things by allowing us to collectively bargain for more rights.
OS
About 40 percent of student researchers in the UC system are international students. How does this fit into the union campaign?
KL
I'm an international student researcher myself. In terms of how they're considered in the unit, there's absolutely no difference whether you're an international researcher, you're on a visa, or you're a domestic researcher. The fact is, we're all workers, working for the same employer, and when it comes time to bargain, we're going to be in this together.
There are certain things that are important to international student researchers specifically, like visa protections and work opportunities after we graduate. Historically, the teaching assistants' involvement in the larger [United Auto Workers, UAW] organization has been a really great platform for us to exercise political power, even though we can't vote in elections.
For example, through the Optional Professional Training (OPT) program, international students can work after graduating. I was part of it. A lawsuit was brought up to challenge this program, arguing that it was causing job loss for Americans (which was actually not the case, if you look at the data). I was really freaked out about it at the moment.
I learned retrospectively that UAW was one of the political voices that defended OPT. As a result, OPT stayed, and I got to work for two years before I started my PhD program. That's just one of many things that we as international student researchers can really benefit from. Being part of this larger organization that has a lot of political power.
OS
There had been talks of unionizing the student researchers for a couple years. Why did you decide to initiate the campaign during a pandemic? What has it been like to organize during a pandemic?
SD
It wasn't until 2017 that student researchers at the UC had the right to form a union. In 2017, a law was passed that allowed us to be classified as employees. The UC administration had opposed this law.
After its passage, a group of student researchers began the process of forming a union. It was kind of the quickest we could get going, and it happened to coincide with the pandemic.
TC
It's not easy organizing during a pandemic, especially when our organizing model is all about one-to-one organizing, talking to coworkers. When you're not physically in the same space as your coworkers, that's much more difficult.
From the organizing I've done, and the organizing I've seen from others, it was a lot of being willing to send out a few awkward emails or texts to make sure that you're actually communicating with someone. It's going and meeting up safely with them in some outdoor space to make sure you can get a union card signed. I think that now that things are starting to go back in person, our momentum is only going to increase.
KL
Had it not been for the pandemic, we would have walked through labs and offices and talked to our coworkers that way. The pandemic forced us to rely on existing organic communities. Let's say Tanzil talked to me about the union — then he would ask me to talk to my colleagues. Then I'd talk to five of my colleagues, and those colleagues would talk to five of their colleagues. It really grew in this exponential way.
Something like a thousand people were involved in the card-getting process. A thousand different workers were involved in talking to their colleagues about the importance of coming together to form a union. That's only going to benefit us later, because that is what builds a strong union. The more people that are involved, the stronger we are.
OS
How has the UC administration responded to your organizing drive?
TC
UC initially was shocked at how quickly we were able to organize. They were laying low and not saying much. There were a few emails and notices they sent out, warning students about the union or whatever, but for the most part, they didn't really interact at all. I think that they were expecting that the pandemic would slow us down to a point that they didn't have to worry about it yet.
When we submitted all those cards for verification, they seemed shocked by it, which is always good. We have to keep them on their toes if we want to win.
I imagine that going forward it will become a bit more confrontational, but we'll see. The ball is in their court at the moment. Once the verification of our cards goes through, it's up to them to respond. I would hope that they choose to recognize us voluntarily, but being realistic, I don't think it will be that easy. We're prepared either way.
OS
How has the support from UAW 5810, which represents UC postdocs; 2865, which represents UC teaching assistants; and other unions on campus helped your campaign?
KL
I was actually involved in 2865 and was on the executive board as a trustee for a bit. A lot of other organizers that started off the campaign at the beginning were members of 2865 because sometimes we teach, sometimes we're student researchers. There was a lot of overlap in the unit.
Having that institutional knowledge of how to have a good organizing conversation and having that institutional community — I had mobilized people in my department previously for other stuff like Cost of Living Adjustment–related rallies — really helped us get things done and talk to our colleagues fast. I noticed that the departments that had more involvement in 2865 were often the departments to get the cards out real fast too.
Local 5810 also helped us because they had a lot of information about where people are at in terms of labs and estimates of which labs have how many graduate students.
TC
It's important to keep in mind, as KDan was saying, you'll be an instructor at some point, and then you'll be a researcher the next semester. The reason is because historically, the state did not want us to unionize and this is how they divided up our power.
It's important to recognize that from the researchers to instructors to the postdocs, all of our interests line up. We all want effectively the same things, and the more people you have willing to stand up and fight for these things, the stronger that fight is going to be.
OS
As you mentioned, a few of the student researchers are in the bargaining units for other unions. How do you think that experience has contributed to this organizing effort?
KL
For me, it was really frustrating and infuriating to see how late pay was handled differently for teaching assistants (TAs) versus student researchers. With TAs, if you get paid late, we file a grievance. That scares the university, and they pay you right away. They make sure that you get the money. It doesn't matter how — they'll make it a priority.
With student researchers, because we don't have a grievance process, we'd be like, "Hey! You're paying us late!" and they'd respond, "Yeah, I'm sorry." That was kind of it.
We organized some collective actions in those departments where we were able to get remedial pay until they figured stuff out. That was just one example where I saw the discrepancy between having a union and not having a union. Having enforceable rights versus having perks that were at the mercy of your division coordinator and your principal investigator [direct supervisor].
I saw that as one of the reasons why we should unionize, because it was very obvious to me that we weren't going to have rights until we did.
OS
The campaign seems to prioritize being democratic and participatory.
TC
On an institutional scale, whenever you're building up a strong, democratic culture, it makes people invested in the work that's being done. If it was just some dude from the UAW from Michigan who came down and told us exactly what to do, I don't think there would be nearly as much excitement or investment on behalf of the organizers.
The fact that we know that the union is us, that we collectively decide what we want to do, and everyone has a say in the direction of the union, makes people want to attend meetings and want to be part of that decision-making process. Our statewide organizing committee meetings are pushing up on fifty, sixty people coming to every meeting. It's a pretty amazing thing.
KL
In terms of getting the cards, it was always remarkable to me how big of a difference it would make when you did the walkthrough with someone that was from that floor. It doesn't matter if the person actually knows everyone on the floor. If a person they've seen before walks up to them and says, "Hey, I'm so and so, I work on this floor. Here's information about organizing to form a union," they're way more likely to listen to you. That level of trust and familiarity at the workplace is one of the reasons why it was so successful and why we have a supermajority filing.
OS
Over 10,000 student researchers have signed cards. I assume that most of the student researchers will not be going on to become faculty but will enter various industries and workplaces — some union, some not. How do you hope to bring the lessons from this campaign into your future jobs?
SD
On an individual level, I hope to continue to be an active unionist. As I go through a postdoc and then maybe a faculty position, worker power is always important. Whether that's myself as a postdoc or supporting grad students and undergrads looking to form different unions, I can definitely bring that commitment going forward.
TC
I'm not entirely sure what I'm going to do after this, but if I end up becoming faculty, I know that I'll take the organizational skills there, like Sierra was talking about. But on top of that, I would hope to be a faculty member that's on the side of students and organizers. Unfortunately, some of the faculty we have are not sympathetic to our cause.
If I get a job in the private sector, I'll most likely be working in some sort of tech or engineering job, and unionization rates at those jobs are very, very low. The sort of training we get on the ground here is what will help spread the labor movement across the country.
KL
From a more self-serving perspective, I think I have learned more about how to effectively manifest change and effectively communicate with other human beings from organizing than I have from being a student researcher. The kind of skills that you practice and develop having organizing conversations is invaluable, and it's given me a lot of confidence that I can do a lot more than just science.
Prior to being involved in organizing, I was like, "I have to do science, because what else can I do? That's the only thing I know how to do." But organizing has really taught me that I have other skills. I can talk to other human beings and form a connection. I can run meetings. I can figure out power structures and think about that critically.
So I have confidence that wherever I go, I'll be able to. If there is change that needs to be made, I have the tools to really effectively work toward that.
OS
How do you hope to build working-class power across the UC system?
TC
The most immediate answer is continuing this specific fight. We're hopefully going to have our cards verified soon, and we'll then have to deal with whatever UC's next move is. We have to make sure that people understand this is an ongoing struggle. We might get recognized by UC. We might get a contract. And that contract will hopefully be very favorable to us.
But there's always more to be won. The only way that you can keep that up is if you maintain a level of participation. You have to keep people excited. You have to show them that this is not a one-time event, but a process that will hopefully lead to the best situation that they can find themselves in as workers.
We need to make sure that these connections we've built up on a one-to-one level and all the data we've collected don't go to waste. We can't let those things wither away.
KL
On the practical side, I think that we have a lot of power when we're united in posing a credible strike threat. We're fortunate in that TAs, student researchers, and postdocs will be negotiating a contract hopefully at similar times, depending on what the verification process with PERB is like.
If all of us pose credible strike threats, we can really shut down the University of California system. That provides a lot of leverage for us to win things across a broad spectrum of workers.
TC
One of the things that has been made very clear to me as part of organizing with this movement is that I feel like I'm in the middle of something historical. This is a historic event, in that this is one of the single biggest union filings that the US has seen in a very long time.
It's also simultaneously a connection to the present, the past, and the future. The past, in the sense that there's this really beautiful tradition of workers fighting for their rights and fighting back against those who try to take those rights away from them. I can see myself as part of that. I can place myself in this long historical development. I can also see that the work I do will hopefully lay another brick in that wall and make it so that people who come after me will continue that fight.
KL
I just had this beautiful imagery of Sierra being a professor at one of the UCs many years from now and her telling some of her students, "You know you're part of a union? I was part of that."
It is really historic. I feel very emotional whenever I think about the thousands of people that put so much time and effort into this despite being in a pandemic, despite having really high expectations to put in a lot of work in the lab. Without those sacrifices, we wouldn't be here.
ABOUT THE AUTHOR
Tanzil Chowdhury is a second-year graduate student research assistant with UC Berkeley and Lawrence Berkeley National Lab.
Sierra Dodd is a third-year PhD at University of California Santa Cruz in astronomy and astrophysics.
KDan Lee is a fifth year in biological sciences at the University of California San Diego.
ABOUT THE INTERVIEWER
Oren Schweitzer is a member of Yale Young Democratic Socialists of America.
OUR NEW ISSUE, "THE WORKING CLASS," IS OUT IN PRINT AND ONLINE SOON. SUBSCRIBE TODAY TO GET IT.