Imagine a New York City Not Dominated by Real Estate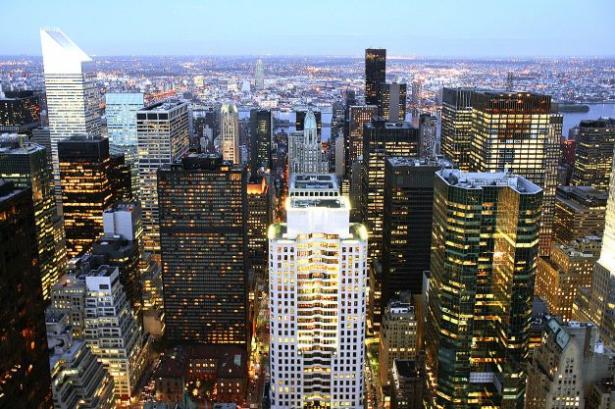 The East Midtown skyline in New York City in 2011.,Dimitry B. / Wikimedia Commons // Jacobin
"Zoom showed society a different way of relating and working. . . . Are those people going to come back from the Hamptons, from Aspen, from Florida? . . . If you were to see a 15 percent decline of people coming back to New York City, that would have a devastating impact . . .
To my private-sector friends, I say, you have to be part of this. . . . Say to your workforce, 'By Labor Day, everyone is back to the office.' We need that volume to support the restaurants, the shops, the services. . . . It's not just about your business. It's about all the spin-off economic activity that your workers bring to the surrounding community."
You probably missed Andrew Cuomo's July 28 remarks to the Association for a Better New York, one of his last gubernatorial acts before announcing his long-overdue resignation. Cuomo has resigned as governor (I know I just wrote that, but it's fun to repeat it), but the speech was a revealing sign of how deeply concerned New York's political and economic elite are about the economic impacts of remote work — and how few solutions they have beyond forcing people back into offices they no longer need.

Manhattan skyscrapers may not go the way of Borders bookstores, your local newspaper, and other businesses ruined by online alternatives. But it's clear that Zoom poses a major threat to commercial real estate developers, who have seen New York City property values almost triple over the last twenty years. That in turn is a major problem for cities like New York that have become dangerously dependent on rising real estate costs as their primary engine of economic growth and tax revenue.
Of course, this urban model has led to ever-rising rents that have driven ordinary New Yorkers into poverty and displacement. So a crisis for real estate is also an opportunity for socialists to put forward a different vision for the city's future, one that looks to serve the people actually living here instead of trying to replace them with higher-paying customers.
Not Going Back
The picture for New York City's commercial real estate sector — hotels, retail, dining and entertainment, and, above all, offices — is ominous. It seems very likely that a lot of workplaces will continue to allow many employees to work remotely at least part of the week. With fewer employees in a centralized work location each day, companies will seek to consolidate their office spaces to save money on rent.
Already, the New York Times reports that vacancy rates in Manhattan's Financial District and Midtown — the two largest business districts in the country — have doubled since the start of the pandemic, and have risen 20 percent even since the start of this year. Those vacancy rates should only rise in the coming years, since another 14 million square feet of office space is currently under construction.
Few Jacobin readers will shed a tear for these office towers' owners, but taxes on commercial property account for roughly a fifth of New York City tax revenue. Because changes in property values are gradually phased into taxation, the rise in office vacancies may not immediately impact city coffers. But if commercial property values plummet, a major hit to city revenues will come down the line.
One glimmer of hope for office building owners, as Samuel Stein noted recently in Jacobin, is the irony that the tech industry giants who have benefited greatly from remote work have also been renting and constructing lots more office space. The problem is that many of these firms are at the forefront of private-sector companies responding to employee demands for permanent shifts toward at least partially remote work. As tech companies become a larger portion of Midtown and downtown office spaces, their work culture, including low office density and working part-time at home, will likely exert a greater pull on nearby employees working at banks or law firms.
"What bosses need to understand is that this experience we've all lived through has had as big an impact on how we think about life as any other world event in history," says Jared Spataro, an executive at Microsoft, which has announced that most workers can continue working remotely as much as half their time. "If you then go try to run a company like it's 2019, workers might say, 'I've changed, but you haven't? Then I think I have to go make a change.'"
Spataro and other tech executives probably aren't moved by Andrew Cuomo's plea for businesses to force employees back into full-time work for the sake of the local economy. Nor do they seem to have been impacted by Mayor Bill de Blasio's decision in April to force city employees back into Manhattan offices, a move that was supposed to "send a powerful message about the city's recovery."
Rather than squarely facing the inevitable changes remote work will bring to a city built around enormous towers of cubicles, Cuomo and De Blasio seem to be hoping that New Yorkers will be so eager to "return to normal" that they'll willingly go back to hellish commutes that the last eighteen months have proven to be largely unnecessary. But trying to get millions of workers back onto crowded subways and into crowded offices, even as COVID cases are dramatically rising, makes it less likely that there will be a return to normal anytime soon.
The Food and Drug Administration (FDA) is expected to give final approval to the Pfizer vaccine next month, which will likely accelerate vaccinations and give local agencies more authority to impose vaccine requirements. But don't expect New York's political class to wait until November, when these changes have had a chance to make an impact — just as De Blasio has refused to allow a remote learning option this fall even though students under twelve are ineligible for the vaccine. In what has become a numbingly familiar story over the course of this pandemic, these Democrats are loudly lecturing vaccine deniers about the dangers of the Delta variant — while pushing for a premature full reopening that flies in the face of science and basic public health concerns.
More of the Same
In the face of an unprecedented technological challenge to New York City's core industry, the local planning elite are urgently calling for more of the same.
"The city has to attract people for reasons other than coming to the office," says Kathryn Wylde of the Partnership for New York City, a business association founded by David Rockefeller. "The possibility of remote work means that NYC must compete harder to attract and retain residents — particularly educated and higher-income residents — than ever before," says the conservative Manhattan Institute's Arpit Gupta. New York City is "in an international competition" for high-income remote workers, according to Cuomo, and it can win by reducing taxes and getting tough on crime and homelessness.
This is classic neoliberal urbanism, viewing cities not as communities but as sports teams competing to bring in high-priced free agents, and seeing many of the poor and working-class people who actually live there as a major problem to be solved (preferably by disposing of them). None of this should be expected to change under De Blasio's likely mayoral replacement Eric Adams, whose dedication to more policing and tax breaks for real estate developers is ironclad.
Stein expects Adams to use the commercial real estate crisis to call for even more "tax credit and tax abatement strategies," including the notorious 421a tax exemption that was supposed to boost affordable housing but instead has been a $1.7 billion giveaway to luxury developers. "Those programs tend to have a self-reinforcing logic," says Stein, "where, when times are bad, they say, 'We need these breaks, or else we can't afford to continue operating.' And when times are good, they say, 'It's too expensive to operate without these tax breaks.' So any kind of real estate policy that costs billions of dollars in good times or bad times is trouble."
Nowhere Near "Back to Normal"
Who is going to fill those new office buildings? We may not like neoliberal policies that seek to get rich people to live in New York through the promise of low taxes and brutal policing, but at least we can understand their logic. But what do tax breaks and homeless sweeps have to do with getting people to unnecessarily commute every day to centralized business districts? By pushing for a return to full-time office work, Cuomo and De Blasio are essentially calling on the public and private sectors to subsidize the real estate industry with artificially high rents — and millions of unnecessary hours spent by their workers in crowded and contagious cubicles, trains, and buses.
The good news, as Stein notes, is that these major questions about the future of New York City are arising at a time when "working-class communities are saying, 'We're not going to take the status quo of massive corporate giveaways to build things we can't afford in our neighborhoods and just be told to be satisfied because it brings more revenue into the city, which eventually comes back to us in the form of programs.'" Recent years have seen the election to the state legislature — and soon the New York City Council — of socialists who campaigned on strengthening tenants' rights and public land use policies; growing fights against gentrifying rezoning plans; and the historic 2019 victory that stopped the massive giveaways to Amazon for its second headquarters.
At a time when even Andrew Cuomo is asking business leaders to chip in extra for the sake of the greater good, the Left can argue that we'll take these corporate contributions in the form of higher taxes that can be democratically allocated, rather than artificially high rents to prop up wealthy real estate titans. And Cuomo's replacement, Kathy Hochul, can sign the Housing Our Neighbors With Dignity Act passed by the legislature in June, which would allow New York state to finance the conversion of vacant hotels and office buildings into affordable housing.
Just as important as these legislative solutions are the many labor fights over remote work in the coming months and years. At the heart of the commercial real estate crisis, after all, is the reluctance and, at times, refusals of employees to return to workplaces they view as unsafe, unnecessary, or both.
The gap between workers whose jobs can and cannot be done from home has put workers on opposite sides of wide gaps in income and mortality during this pandemic, and there may be similarly bruising fights to come between a building's office workers who want to continue remote work and its maintenance and cleaning workers who fear being laid off.
It's a complicated picture. But what should be clear is that we're nowhere near "back to normal," and that's especially true for the office towers that have long defined New York City's skyline and economy.
None of this is just a New York story, of course. Stein writes in Capital City: Gentrification and the Real Estate State that, around the world, real estate makes up an astonishing 60 percent of the world's hard assets. But that only increases the importance of whether New York City's growing socialist movement can wrest control in the coming years away from the developer kings that have long been in charge. To paraphrase a song from the dawn of this dying era, if we can take it here, we'll take it anywhere.
[Danny Katch is the author of Socialism . . . Seriously  - A Brief Guide to Human Liberation.]
OUR NEW ISSUE, "THE WORKING CLASS," IS OUT IN PRINT AND ONLINE NOW. SUBSCRIBE TODAY AT A DISCOUNT TO GET IT.