Photo Reflects Devastation of Palestinian Economy as Gaza Workers Struggle for Work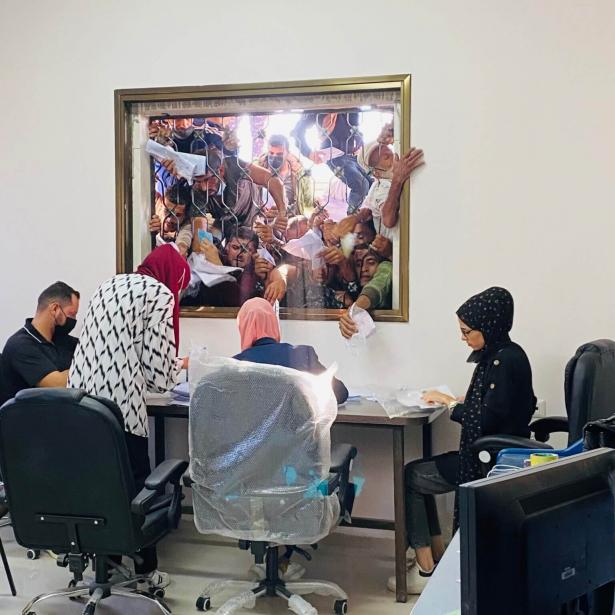 Palestinians rush to submit applications for work permits at the Chamber of Commerce in Gaza City after an inaccurate announcement was made to social media that Israel would be processing new labor permits, photo: Fatima Shurrab
When I first saw the image above, I thought it was a painting. Don't be fooled by the dynamic light, the chiaroscuro that amplifies the anguish. This is a real photo of real people fighting one and another at a service window of the Chamber of Commerce in Gaza City. The photo was taken earlier this month shortly after an announcement was made on social media that the chamber would accept applicants for work permits to Israel. Within an hour, the streets around the different branch buildings were flooded with tens of thousands trying to push their way to entrances. 
The photo was taken on October 7, 2021, by Fatma Shurrab, an accountant who was working in an adjacent room when she heard a roar that she described as a stampede. 
"It is a scary image, terrifying for me not beautiful at all, watching my people, brothers, and relatives, hanging on the space above each other like they are running from a monster, running away from death to the window of life," Shurrab later told me. Her image circulated widely on social media in Gaza, with many commenting on the visual encompassing the desperation many Palestinians feel in Gaza where unemployment has skyrocketed over 50%. According to the latest update from the Palestinian Central Bureau of Statistics, there are 521,000 Palestinians in Gaza looking for jobs. 
"If this situation keeps on for the upcoming years, we do not know how people will live," Labor Captain Sami Amassi told me when I asked him about the storm outside the Chamber of Commerce.
Amassi said over 250,000 people registered on the first day alone. The assemblage in the streets caused a bit of uproar in Gaza. Amassi chided the chamber of commerce for inflating the hopes of tradesmen eager to find employment in Israel. He said permits were for merchants not day laborers, meaning most of those fighting one and another to reach the wood-framed window had no shot of ever getting a job in Israel. Palestinian business owners who import or export products are the only group able to benefit from this round of applications.
"Palestinian workers in Gaza live miserable conditions," Amassi told me. "All the extra files will not even get looked at."  
Israel's military coordinator for the Palestinians, COGAT, confirmed last week the permits were for traders. Already 7,000 have permits. This call brought the total to around 10,000.  "The decision to increase the quota of merchants was made by the political echelon following a security assessment on the matter," COGAT said in a statement. 
In late 2019 only 5,000 workers were allowed to enter Israel from Gaza. That number was supposed to rise to 15,000 in 2020 but the pandemic tightened the borders. By comparison than 120,000 workers from Gaza were allowed to enter Israel for work before Hamas came to power in 2007. Before that year, according to older people I spoke with who worked in Israel decades ago, in the 1980s and earlier, it seemed like anyone could get a work permit if they filed out the paperwork. The Israeli human rights group Gisha reported in the year 2000, half a million exits by workers from Gaza to Israel were recorded each month at the Erez checkpoint.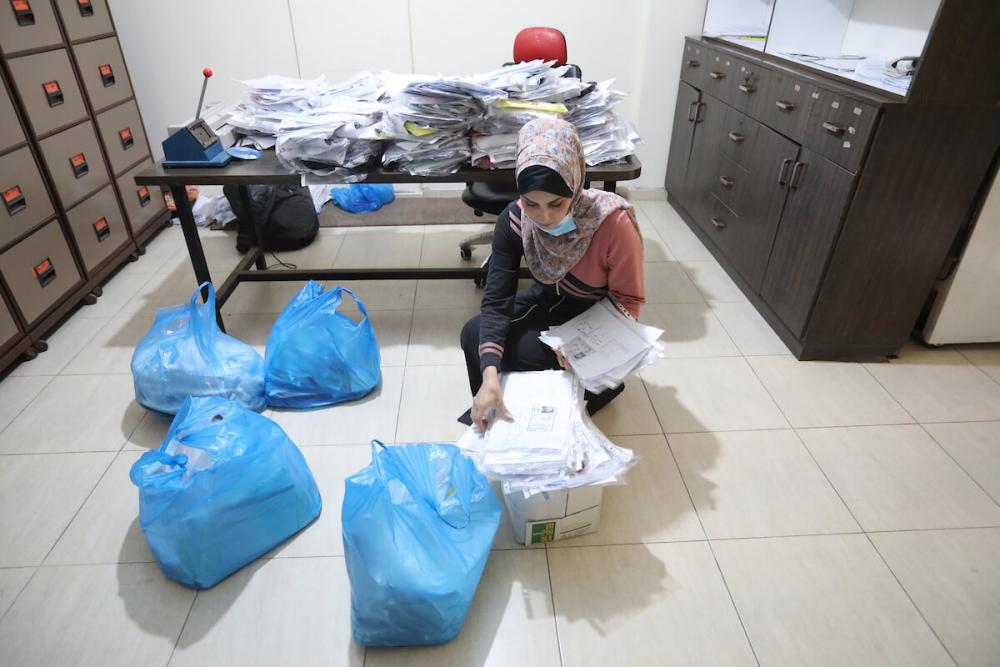 I tracked down a couple of men who attempted to submit a permit application with the mob. I first met up with Ahmed Abu Zaid in the Shuja'iyya neighborhood, one of the most densely populated areas in Gaza. He sat on a plastic chair with his two sons jumping onto his lap while we spoke in front of the home he shares with his uncles and their families. 
"It is not a secret that the future seems bleak. It will be very hard under these circumstances," he told me as he brushed the hair of one of his sons. "I'm 32 and all I'm thinking about is how to give them fair opportunities," he said motioning toward his kids. "Will I be able to educate them and prepare them for the unfair conditions they will meet inside this besieged home?"  
Ahmed used to own a home goods shop. The business was run by the whole family. They used to import products from Egypt before 2007 when the siege began isolating Gaza from the outside world. The store finally shuttered in 2014 after it sustained damaged beyond repair from a major escalation between Israel and Hamas that summer. 
"I wish we could work in Israel and the West Bank like our fathers did, who could work daily there," he told me. Off of their earnings, "they built homes and bought land." 
"Working is a blessing I wish I even have a permanent job in Gaza but show me where?" he asked.
Once considered recession-proof professions in Gaza are now hard to secure. Another person who was in the wave of applicants at the Chamber of Commerce, Yahia Monzer, 24, is a lawyer. He was seeking a permit as a day laborer. 
"I have a very good license, but for two years now I have not worked a single day," he told me. "If I lived in a free country, I would have a law practice and clients, but Gaza has thousands of jobless professionals like me."
He explained to me that he feels it is impossible for him to establish adulthood without any prospect for income. "I need to get married and have a family, how should I do that while I can't buy my food?"
"I'm ashamed of myself to say that, but these are the condition that occupation and siege put us in," he said.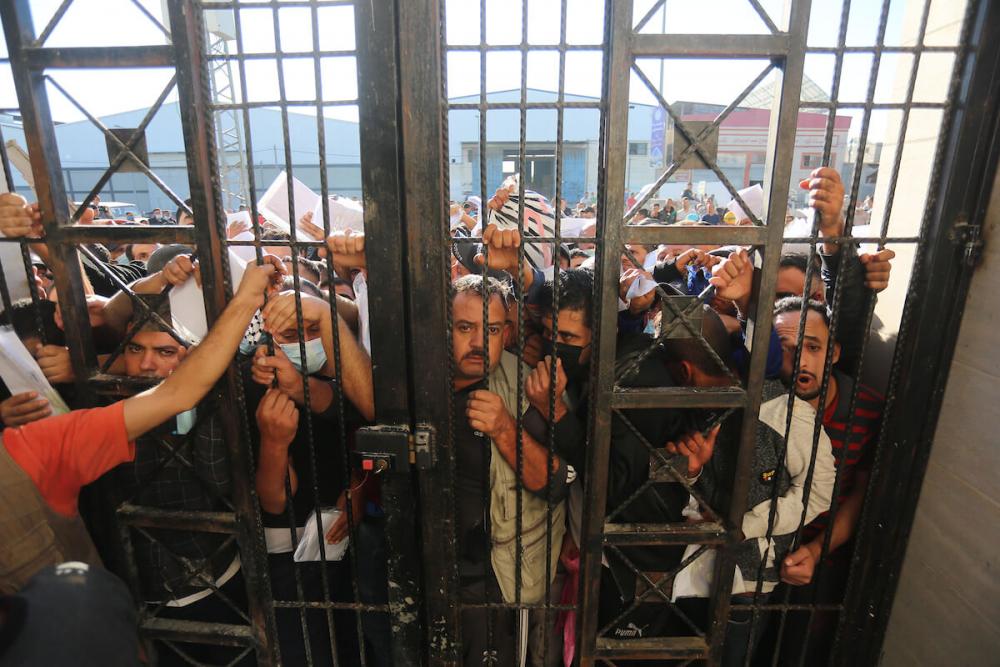 The Palestinian economy churns off of foreign aid. Although manufacturing and agriculture sectors were once sizeable employers, when shutdowns began during the pandemic, it devastated what production was left. Most families were already on food assistance. Then, when the borders closed to workers because of the coronavirus, over 230,000 Palestinians from Gaza were laid off from work inside the West Bank and Gaza, and another 34,000 who crossed into Israel or the settlements each day also lost their jobs.
In Gaza, the average daily wage is about $18. In the West Bank, it's $37, and in Israel and the settlements, it's $78, according to the UN agency for trade and development, or UNCTAD.
During the pandemic, the West Bank experienced a more moderate unemployment rate of around 18.2% by November 2020, as opposed to Gaza's 50% unemployment. There is some smoke and mirrors to the numbers. Even with lockdown policies, Palestinians in the West Bank still worked inside of Israel for most of the pandemic, and that "obscured" what was happening to the Palestinian economy.
UNCTAD found "without employment in Israel and settlements," the West Bank's unemployment "would have been higher by about 16 percentage points, much closer to its extreme levels in Gaza."
Updated: November 1, 2021 9:20 a.m.
---
Tareq S. Hajjaj is the Mondoweiss Gaza Correspondent, and a member of Palestinian Writers Union. He studied English Literature at Al-Azhar university in Gaza. He started his career in journalism in 2015 working as news writer/translator at the local newspaper Donia al-Watan. He has reported for Elbadi, the Middle East Eye, and Al Monitor.
Mondoweiss is a nonprofit news website dedicated to covering the full picture of the struggle for justice in Palestine. Funded almost entirely by our readers, our truth-telling journalism is an essential counterweight to the propaganda that passes for news in mainstream and legacy media.
Our news and analysis is available to everyone – which is why we need your support. Please contribute so that we can continue to raise the voices of those who advocate for the rights of Palestinians to live in dignity and peace.
Support Mondoweiss from as little as $1. Thank you.