labor
Graduate Workers Win Union in Card Count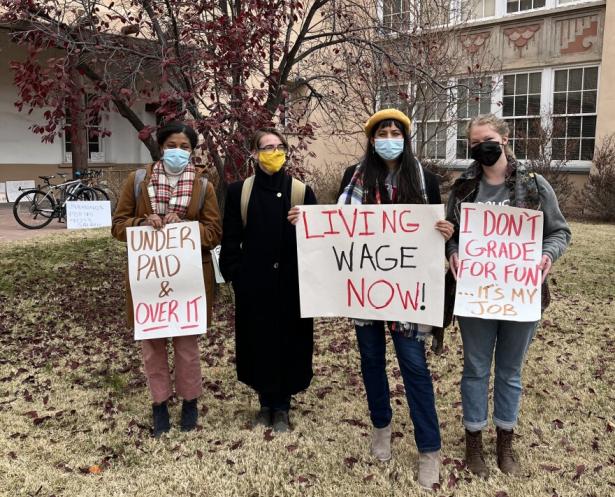 Graduate assistants during the occupation of UNM's Scholes Hall December 7th. They worked from the administration building to demonstrate their labor to university President Garnett Stokes and others. ,Samantha Cooney
It's official: graduate student workers at the University of New Mexico have the right to demand school officials come to the bargaining table.
New Mexico's statewide labor board counted 887 cards signed by UNM graduate students expressing their wishes to join United Graduate Workers (UGW-UE). That represents 57.3% of the 1,547 graduate workers in the bargaining unit.
That total is also far beyond the 50% plus one legal majority needed to certify the union as the exclusive representative of graduate workers in negotiations with UNM.

New Mexico Public Employee Labor Relations Board Director Thomas Griego and his legal assistant, Matthew Huchmala, counted the cards beginning at 10:30 a.m. on Friday.
Griego counted the physical cards while Huchmala counted digital copies, and they checked them against a list of every worker in the bargaining unit created by UNM.
"This is gonna take a while," Griego said about 16 minutes into the count, "We have so many cards, maybe two people will get it done all of today."
The card count lasted much longer than expected, and tensions ran high as everyone in the room got tired, said Samantha Cooney. She's an elected bargaining committee representative from the UNM's College of Arts & Sciences, and she observed the card count at the labor board's office in Santa Fe.
They were scheduled to complete the count at 2:30 p.m. but did not finish until about 4:45 p.m. Griego did the final count by hand, one-by-one.
Cooney, a doctoral student in political science, said the long hours of the count are a testament to how many members they have in their union, and that members got really excited when Griego reached a majority of cards.
"They can't take that away from us," she said. 
As of press time on Friday, a UNM spokesperson had not responded to a request for comment on the results.
The union's next step is training elected representatives for bargaining and then bargaining with UNM administrators, Cooney said.
"We want to make sure our members have a contract that represents their needs and our union," she said. "Our entire membership is extremely excited about this and we look forward to joining UNM admin at the bargaining table and finally being able to have a say in how we can make UNM a better place for everyone."
Objections to the check
Dina Holcomb, UNM's contract attorney, spoke against the card check.
Once the count was done, Holcomb said she didn't want to sign the document certifying the card count because UNM "objects to the whole process." UNM administrators still don't believe graduate students are employees, Cooney said.
Another UNM lawyer signed it but wrote next to his signature, "without waiver," meaning UNM reserved the right to challenge the count later on.
Holcomb also challenged 73 of the cards, some on the grounds that the signatures did not match the names on the list. Griego rejected 72 of those challenged cards and accepted one. That one challenged card accepted by the union and UNM is included in the final count.
Appeal pending in state court 
Holcomb and one of UNM's staff attorneys Kevin Gick are appealing to the Second Judicial District Court, arguing the board's rulings so far have been incorrect and overbroad, and the case could pave the way for unions to form at all research universities in the state. That would include New Mexico State University, where graduate workers are also trying to form a union to fight for labor rights.
UNM's position is that because New Mexico has never conducted a card check before, it would have no way under the board's rules to appeal, therefore its decisions in the case counted as a "final order."
But Stephen Curtice, an attorney for the union, argued that the union only ever asked for certification, which had still not occurred at the time of the appeal, and so the appeal was premature.
He also pointed out that the labor board has already certified at least one bargaining unit through card check: a union representing Bernalillo County workers in October 2020.
Judge Denise Barela-Shepherd has yet to rule on the union's request to throw out the appeal. Curtice on Dec. 9 asked Barela-Shepherd to set a date for a hearing but as of press time Saturday, no date had been set.
The labor board's directors met in closed session for 45 minutes on Dec. 7 to discuss the UNM appeal of their decisions in the case, according to minutes of the meeting. When they returned to open session, they unanimously voted to affirm the card check, rejecting the argument that it shouldn't have happened until the court appeal is concluded.
Austin Fisher is a journalist based in Santa Fe. He has worked for newspapers in New Mexico and his home state of Kansas, including the Topeka Capital-Journal, the Garden City Telegram, the Rio Grande SUN and the Santa Fe Reporter. Since starting a full-time career in reporting in 2015, he's aimed to use journalism to lift up voices that typically go unheard in public debates around economic inequality, policing and environmental racism.