labor
Weekly Toll: The Last Shift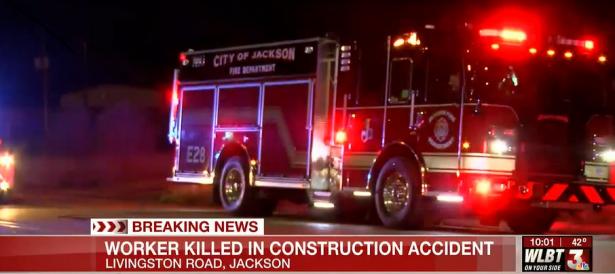 Worker Killed in Construction Accident,NLBT 3
This week: Trench collapse, fires, shootings and stabbings, vehicle-related incidents, logging. Never short of different ways for workers to die on the job. On average, almost 100 workers are killed every day in the United States due to traumatic injuries suffered at work.   Ten times as many die from occupational diseases, many due to exposure to hazardous substances many years before they died, or from COVID-19 acquire at work.  The few narratives below (gathered from almost 100 Google News searches) do not come close to capturing the full toll that work takes on the working people of this country — even in normal years, much less during the COVID pandemic. Nevertheless the accounts below gave you a taste of the preventable carnage occurring in workplaces across the country every day. 
Sullivan County firefighter dies in line of duty
FORESTBURGH. NY – A Sullivan County firefighter died Saturday after fighting a fire at a bungalow colony in the Town of Thompson. Forestburgh Fire District officials announced that Assistant Chief William Steinberg passed away. The department was called in by the Monticello Fire Department under mutual aid to a structure fire at 65 Rockridge Road in the Town of Thompson. Steinberg collapsed, went into cardiac arrest, was treated on scene, and was rushed to Garnet Health Medical Center Catskill, where he passed away.
OSHA investigating death at Grand Island JBS plant
GRAND ISLAND, Neb. (KSNB) – The federal Occupational Safety and Health Administration (OSHA) is investigating the Friday death of a worker at the JBS Swift meatpacking plant in Grand Island. Hall County Attorney Marty Klein confirmed to Local4 late Saturday that a 48-year-old man died Friday afternoon at 3:25 after an accident at the plant. Grand Island police said 48-year-old Esteban Mantilla of Grand Island died at the hospital where he was taken after he was hurt Friday afternoon. JBS Swift employs about 3,600 people at its Grand Island plant. An international company based in South America, its subsidiary, JBS USA, is headquartered in Greeley, Colo.

Migrant farmer hit by tractor, killed while walking in driveway
SANILAC COUNTY, MI — A 38-year-old migrant farm worker was killed after being struck by a loader tractor Sunday evening, according to a news release from the Sanilac County Sheriff's Office. Sanilac County dispatch received a 911 call at 6:49 p.m. that a farm employee was run over by a loader tractor at a farm in the 3000 block of North Decker Road in Evergreen Township. Deputies on scene were assisted by the Michigan State Police, Kingston Police, Cass City MMR, Lamotte Township Fire Department and Argyle Township Fire Department. An initial investigation revealed that a 25-year-old male migrant worker from Mexico was traveling westbound in the farm's driveway in a loader tractor when he struck a 38-year-old male migrant worker walking in the driveway, according to police. The 38-year-old male was pronounced dead on scene.
Cracker Barrel shooting: Worker killed in robbery hailed as 'hero' for protecting co-worker
Houston, TX — A manager at a Cracker Barrel near Houston was fatally shot early Saturday as she came to the aid of a co-worker who was being robbed while she entered the location, reports said. Robin Baucom, 59, a grandmother, had worked in the restaurant for more than three decades. The scene unfolded quickly. A car pulled while another employee was entering the store before business hours, and someone jumped out of it and tried to take the employee's purse, the Star-Telegram reported. Baucom, who was inside, sprung into action and tried to open the front door, so the co-worker could enter. The suspect apparently followed the first employee inside, and when Baucom attempted to push the suspect away, she was shot in the chest, the paper, citing KTRK, reported. She was rushed to the hospital in critical condition where she died, authorities said.
Man dies after shooting inside West Long Beach bar
Long Beach, CA — A customer shot and killed an employee at a bar during an argument in West Long Beach on Sunday night, Jan. 16, and then fled, police said. The employee and the customer got into an argument inside of the Crow's Nest in the 1900 block of West Willow Street, with the customer shooting the employee multiple times at around 10:15 p.m., according to police. The employee died at the scene. The customer, a man, fled on foot. The employee's identity had not yet been released.
Amtrak conductor killed in apparent fall from train
WESTERLY, R.I. — An Amtrak conductor died Saturday after apparently falling from a train while preparing for a station stop. WJAR-TV reports the 26-year-old woman was found dead along the tracks near the Westerly station after Northeast Regional train No. 163, bound from Boston to Washington, stopped because other crew members realized the conductor was not responding on her radio.
Syracuse gas station employee shot and killed Sunday morning
Syracuse, NY — police say a 32-year-old gas station employee was shot and killed Sunday morning. Syracuse.com reports the man was working at the Blue Star Gas station on South Salina Street. The shooting occurred at about 8:45 a.m. The victim was pronounced dead at the scene. His name has not been released.
Police identify child, maintenance worker killed in North Austin crash
Austin, TX — Police have identified the child and man killed Tuesday morning in a North Austin crash. It happened at around 10:30 a.m. near the intersection of Scofield Ridge Parkway and the southbound MoPac service road. The Austin Police Department says a vehicle was traveling southbound on the MoPac service road when it left the roadway and struck a maintenance worker — identified as 40-year-old Cesar Ramirez- Hernandez. He was pronounced deceased at the scene. Investigators say the vehicle continued southbound and stuck a cement drainage ditch, causing the vehicle to flip. The back passenger of the vehicle — identified as 3-year-old Amira Owens — died at the scene.
Security guard killed while working at Phoenix apartment complex Friday night
PHOENIX, AZ — A man working as a security guard was shot and killed Friday night at a Phoenix apartment complex. At about 10:30 p.m., police were called to the area of 7th Street and Bell Road for reports of a shooting. When officers arrived they located a victim that had gunshot wounds. He was pronounced dead at the scene. He has been identified by Phoenix police as 38-year-old Douglas Brandell.
1 dead in industrial accident in Long Beach
Long Beach, CA –A man was killed after an industrial accident near the Port of Long Beach on Saturday afternoon, according to the Long Beach Police Department. The accident was reported at about 3:45 p.m., when authorities were called to the 300 block of Mediterranean Way, police spokesperson Allison Gallagher said in an email. 64 year-old Chulaih Ang was pronounced dead at the scene by the Long Beach Fire Department, Gallagher added. He was struck by a vehicle near a container terminal at the port
L&I investigating after logger killed near Castle Rock on Monday
Castle Rock, WA — The Washington State Department of Labor and Industries is looking into a logger who was killed while working near Castle Rock on Monday. Labor and Industries spokeswoman Dina Lorraine said the logger worked for Brindle Technical Logging Inc., a small company registered out of Mossyrock, Washington. Lorraine said L&I has opened an inspection to determine what caused the employee's death. Brindle Logging manager Jerry Brindle confirmed Wednesday L&I was looking into the incident but declined to comment until the investigation was completed. The name of the person killed has not been released.
Croft House Employee in Hancock Park Stabbed to Death
Los Angeles, CA — A Croft House furniture store employee was stabbed to death in the Hancock Park area of Los Angeles on January 13.The victim has been identified as Brianna Kupfer, according to various local media reports. The Los Angeles Police Department (LAPD) say that she was alone in the store when the suspect attacked her. A customer later found Kupfer and called 911.
Death at northern panhandle mining prep plant under investigation
BENWOOD, W.Va. — A coal mining-related death is under investigation in Marshall County. According to the governor's office, Jeffrey Phillips, 44, a worker for contractor NextGen Industrial Services, fell to his death Friday morning at Ohio County Coal Company's Ohio County Mine, located in Benwood in Marshall County. Phillips was working above a belt line in the prep plant when he fell approximately 30 feet. He was pronounced dead at the scene.
St. Louis firefighter who died battling house fire identified
ST. LOUIS, MO – A St. Louis firefighter died while battling a fire Thursday. The fire department received a call around noon for a fire at a two-story brick building in the 5900 block of Cote Brilliante. Firefighters were able to knock out the fire on the first floor and made their way to the second floor. The fire got too intense and firefighters had decided to get out.As they were backing out, the roof collapsed, burying two firefighters. One of them was trapped under a "tremendous amount of debris" of heavy timber and bricks and took "the brunt of the collapse to his person." The firefighter was later identified as Benjamin "Ben" Polson.
Farmer dies after falling in grain bin while trying to unclog it, Missouri officials say
Wentzville, Missouri — A farmer died after he became trapped in the grain bin he fell into, Missouri officials say. Paul Hepperman, 75, was trying to unclog a grain bin when he fell in Friday, Jan. 14, KTVI reported. Hunters later found his body in the grain bin. Those hunters then went to the home on the property north of Wentzville, notified Hepperman's wife and called for help that morning, according to the St. Louis Post-Dispatch. Paramedics with the St. Charles County Ambulance District responded to the call and tried removing grain from the silo, according to a tweet from the department. "After an extensive effort, the individual was located, but unfortunately pronounced deceased on-scene," authorities said.
Trucking contractor killed in accidental fall.
Pueblo, CO — A freak accident led to the death of a truck driver who was in Pueblo at the EVRAZ Rocky Mountain Steel Mill on Jan. 4 to pick up a load for transport. The victim was identified as James Fiddler, 55, of Tennessee, according to Pueblo County Coroner Brian Cotter. Fiddler was at the mill picking up a load when he fell off the semi-truck bed, according to Eric Ludwig, president of the United Steelworkers 2102 Union in Pueblo. The recent incident at EVRAZ marks the second accident involving injuries at the mill in less than a year. On May 29, an explosion in the arc furnace sent eight employees to the hospital for treatment.
Utah construction worker dies after falling 40 feet from scaffolding
PARK CITY, Utah (ABC4) – A Provo man died after officials say he fell 40 feet from scaffolding while working in Park City on Friday. On the afternoon of Jan. 7, Park City Police officials were called to a construction site in Silver Creek Village on a report of an industrial accident. After arriving on the scene, deputies tended to a worker who had fallen 40 feet off of scaffolding. Sheriff's Lt. Andrew Wright identified the man as Jose Lopez-Cardenas.
Coroner identifies construction worker killed in accident
JACKSON, Miss. – Emergency crews recovered a body after a construction accident in Jackson. The incident occurred on Stonewall and Livingston Road in Jackson at the development site of The Village at Livingston. Assistant Fire Chief Patrick Armon says he was first contacted about the accident around 5:45 p.m. but says it may have happened before then. According to Cleotha Sanders, Division Fire Chief with the Jackson Fire Department, workers were doing dirt work and one of them became trapped 20 feet below ground. Hinds County Coroner Sharon Grisham Stewart identified the worker as 33-year-old Matthew Miller.
1 miner killed, 1 injured by falling tree
FRANKFORT, Ky. — One mine worker was killed and another injured by a falling tree at an eastern Kentucky surface mine, officials said. Cecil T. Collett, 32, of Dryden, Virginia, was driving a pickup truck at the Colmar mine in Bell County on Tuesday when a tree fell from the high wall above the roadway and struck the vehicle as it passed, a statement from the Kentucky Energy and Environment Cabinet said. Collett and his passenger, Joshua Pendleton, 45, of Ewing, Virginia, were both taken to a local hospital. Collett was pronounced dead and Pendleton suffered a broken hip and pelvis, the statement said. All mining operations at the site owned by Nally & Hamilton Enterprises Inc. of Bardstown were shut down and will continue to be suspended Wednesday while an investigation continues, state officials said.
Barstow firefighter dies a month after being struck by vehicle at accident scene
Barstow, CA — Gov. Gavin Newsom has ordered state Capitol flags to be flown at half-staff in honor of a Southern California firefighter who died more than a month after being struck by a vehicle at an accident scene. Barstow Fire Protection District Engineer David Spink, 56, died on Jan. 9 from injuries suffered Dec. 5 when he was struck while providing care for victims of a traffic collision on Interstate 15 in Barstow.
Murder charge added after motel maintenance worker dies
Paducah, KY — A maintenance worker at a local motel has died after Paducah Police said another man staying at the establishment assaulted the worker, authorities announced on Wednesday. George E. Brown, 34, is now charged with murder in addition to first-degree assault after Timmy L. Burton, 60, died at a local hospital on Tuesday. According to Paducah Police, Burton was a maintenance worker at the Deluxe Inn on Broadway Street. Police were called to the motel last Thursday and found Burton unconscious in a hallway with multiple head injuries. Police said Burton never regained consciousness and was removed from life support Tuesday morning.
Contractor fatally struck by 18-wheeler while crossing NE Harris County highway
HOUSTON, TX – A litter contractor who was crossing a highway in Crosby Thursday afternoon was killed after being struck by an 18-wheeler, according to the Harris County Sheriff's Office. It happened around noon at U.S. 90 eastbound at FM 2100. Deputies said the worker was pronounced dead at the scene, and the big rig driver remained behind to speak to investigators.