Media Bits and Bytes - February 8, 2022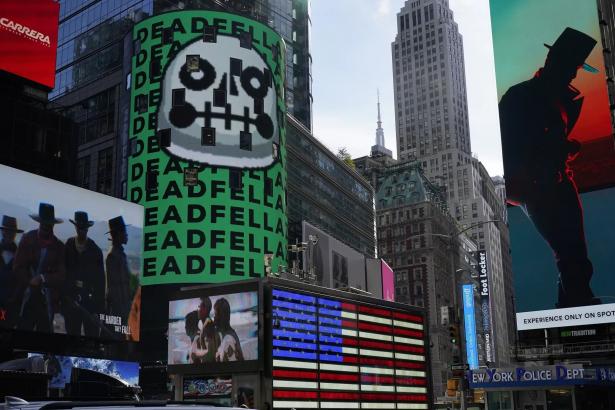 An NFT, or non-fungible token, is displayed on a billboard in Times Square. Images of NFTs were displayed on billboards throughout Times Square during NFT.NYC, a conference for all things related to NFTs. Credit,Seth Wenig/AP
Platforms, Publishers and Responsibility
By Mathew Ingram
Columbia Journalism Review
Spotify's acquisition of the Joe Rogan Experience is a clear editorial choice the company has made, just as the New York Times or the Washington Post choose whom they give a column to. 
By David Bauder
Associated Press
The abrupt ouster of CNN chief executive Jeff Zucker because of a workplace relationship has left some prominent employees feeling angry and uncertain about the direction of their network at a pivotal moment.
By Laure Muselli, Mathieu O'Neil, Fred Pailler and Stefano Zacchiroli
ALAI
Where does the free software movement stand today? It has been coopted, integrated and taken over by the Silicon Valley giants, Google, Apple, Facebook, Amazon and Microsoft (GAFAM or the Big Five), to the point that 'open-source' software — a term the industry adopted to talk about free software without mentioning freedom — is now at the heart of the digital economy.
By Kevin T. Dugan
New York Magazine
With a single earnings report and a disastrous conference call, Mark Zuckerberg wiped out $240 billion in value from his company. Meta's was the largest one-day loss by a U.S. company ever, and the ripple effects were closer to tsunamis throughout Silicon Valley. 
By Ernesto Falcon
Electronic Frontier Foundation
Gigi Sohn's FCC nomination is stuck at the Senate Commerce Committee over apparent reluctance from the committee leadership to challenge Comcast- and AT&T- generated opposition.
Beloved, iconic, thoroughly memeable — in hindsight, it was only a matter of time before Wordle was bought up by a media giant.
You can explain why Web3 is a fundamental remaking of the internet, and some people will take you very seriously. And you can argue that it's an MLM scheme built to enrich people who are already rich, and find plenty of people nodding along.
Nauseating Politics and Nauseating TV
By Daniel Fienberg
The Hollywood Reporter
Rudy Giuliani apparently was one of this season's first eliminated 'Masked Singer' contestants, prompting a couple of judges to walk off the stage, offended — but why does this sort of thing keep happening?
Since its launch in 2019, Know Your Enemy, which bills itself as "a leftist's guide to the conservative movement," has become the go-to resource for political junkies and history buffs trying to get a grasp on the protean history of the American right. 
By Casey Newton
The Verge
Today, let's talk about the very different reactions that two different types of fandoms are having to blockchain-based products — and whether that tells us anything about what average people might actually want out of crypto. The fandoms are gaming and music.