Global Left Midweek – The War Debate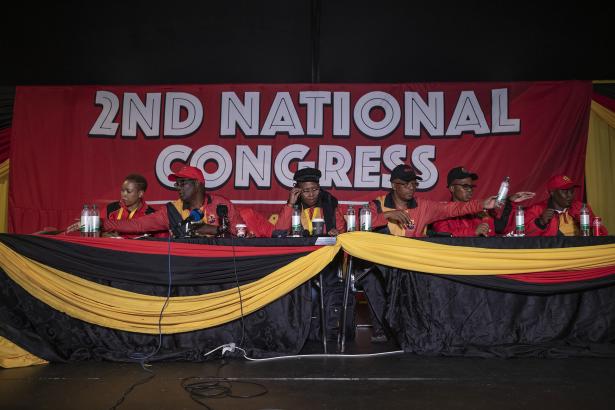 From left, the newly elected Saftu leaders are Luzipo Nontembeko, Zwelinzima Vavi, Ruth Ntlokotse, Thabo Matsose, Mosima Maredi and Lecogo Motshwari. Credit,Ihsaan Haffejee
__________
Serious Debate on the War
[Moderator's note: Left politics and peace movement forces are sharply divided over how to interpret and respond to Putin's blitzkrieg in Ukraine. As always happens in war, lines of demarcation are carved deep, and reason often falls into disuse. These essays offer different takes, some historical, some practical. We are not calling for finding a middle ground. Our goal is to strengthen our ability to think critically, and get to the real politics in a complex and urgent historic crisis.]
If Ukraine Can't Win...    Joan Pedro-Carañana / excerpted from Rebelión (Madrid), translated by Portside [read the full original in Spanish here]
There is no doubt that serious debate is healthy and necessary, but, often, it has not been so much fraternal debate as it has been about lecturing the other side on what to do. What's more, empathy, serene dialogue and analysis of the facts have been replaced by aggressive rhetoric against straw men, which have been used in the struggles to achieve hegemony by one side on the left over the other. 
Santiago Alba Rico published (an article) entitled Ukraine and the left. (Portside note: read the article in English here.)  [...] I had the pleasure of interviewing (Alba Rico) extensively in 2018, (but) I believe that his analyses of international conflicts are of limited value and even wrong. […] 
Alba Rico's article proposes a lesson on what the left "should" do or what we "must" support and condemn. Undoubtedly, we must consider what to do, but there are already proposals from people involved in one way or another in the conflicts - especially in grassroots organizations - that remain invisible. It is elitist and it may even be authoritarian to say what needs to be done when there are those who have organized themselves and taken the time and effort to think collectively about how to act. [...]
Alba Rico criticizes the left (tendency) he calls "Staliban" for its support for, or whitewashing of, Putin. Again, it is true that this left exists, but so much a minority that it is important to know that elsewhere there are positions from the left that are of interest and that differ from those of Alba Rico. For example (...) authors and activists such as Johan Galtung, Fernando Montiel or Vicenç Fisas have made concrete and viable proposals before and during the war that are barely discussed. Why not discuss them? It would allow us to make more progress in the knowledge and construction of the long road to a just and lasting peace. [...]
Peace can be built - always with immense difficulties - from the realist recognition of the limitations to peace imposed by geopolitics and, at the same time, from the values of peace itself, equality and justice. From this position and following what was written by José Luis Villacañas, it can be concluded that Putin cannot be allowed to win this war, although, at the same time, the Russian dictator will not allow himself to lose it. There is no zero-sum option in which the winner takes everything. Ukraine cannot win and, although Russia can devastate Ukraine, it has to face the response of the US and Europe. In the event of nuclear escalation, there is only the possibility of mutual destruction. Therefore, the most reasonable option is for both of them to gain and lose something for the benefit of all. [...]
__________
Responding to Chomsky's Critics
Jeffrey Sommers / CounterPunch (Petrolia CA)
In May of this year, four economists from Ukraine working in the United States took umbrage with Chomsky's comments on the war, or at least what they assumed were the ideas he expressed. They held some of his statements to be either inaccurate, or irrelevant to the conflict and/or giving succor to Russia's war effort. Here are some responses, including Chomsky's.
__________
LGBTQ in Africa
__________
Resistance and Repression in Ecuador
Al Jazeera
Ecuadorian Indigenous leader Leonidas Iza has been released from detention, less than a day after he was arrested on what the interior ministry described as suspicion of "sabotage" amid nationwide anti-government protests that have sprawled across the Latin American country.
__________
Is the Military Losing in Myanmar?
Anthony Davis / Asia Times (Hong Kong)
As unsealed rural roads turn to mud and low rain clouds constrain air operations, the coming months will inevitably hamper army operations while favoring guerrilla forces that a year ago were in their infancy but today in many areas are relatively well established.
__________
Parties in International Dialogue
__________
Aleida Guevara Speaks
Aleida Guevara / Progressive International 
The daughter of Che Guevara: "Solidarity does more than make you grow as a human being by feeling useful to another, it also allows you to grow by learning ancestral wisdom. Learning about the need for love, understanding and respect between human beings. If we don't have that, we can't change this world, and we need to change this world. We can't go on living like this."
__________
2022 South African Federation of Trade Unions Congress
Hope   Stephen Faulkner / Daily Maverick (Johannesburg)
 
Turmoil   Magnificent Mndebele and Sazi Bongwe / New Frame (Johannesburg)
__________
Fighting for Food Sovereignty in Palestine
April M. Short / Socialist Project (Toronto)
Community-led initiatives related to land and food justice in Palestine today are aimed at reconnecting people with the land and encouraging them to economically support locally grown food. These efforts seek to support food sovereignty through community-led food and agroecology projects in response to the degradation of land, culture, and ways of life by Israel.
__________
Political Education in the 21st Century
Laurence Cox / Waging Nonviolence (Brooklyn)
Right now, a pan-European alliance of activist training groups and academics is working on a project to deepen strategic thinking and the capacity for alliance-making between social movements across many different countries.