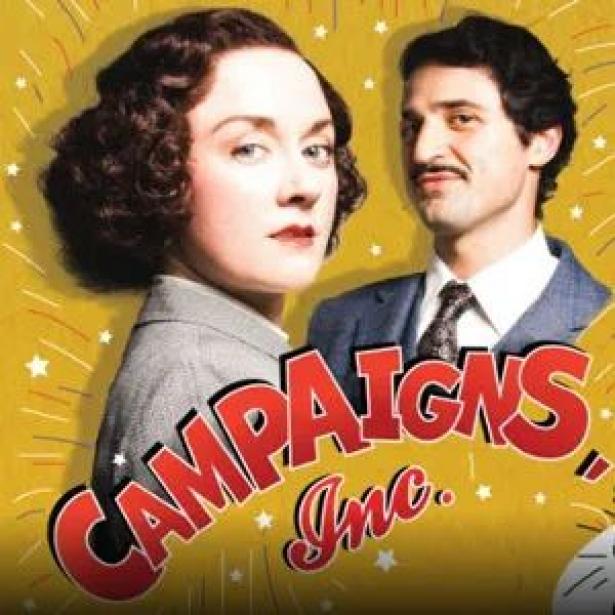 (Rating: 4/5 stars)
"Campaigns, Inc." continues thru September 18th with performances as follows:

Wednesdays  7:30 p.m
Thursdays  7:30 p.m.
Fridays  8 p.m.
Saturdays  4 p.m. and 8 p.m. ( except 813-no 4 p.m.)
Sundays  2 p.m.
Tickets range from $42- call box office or visit website to get yours- you do not want to miss this powerful experience
Website: www.timelinetheatre.com
Box Office: 773-281-8463  ext  6
Fake News! Over the past 5 or 6 years, this term has become a focal point in the world of politics. Would you believe that this rather new expression has been around since the 1930's? Well it has! In the World Premiere of Will Allan's "Campaigns, Inc." onstage now at Timeline Theatre we learn about Leone Baxter and Clem Whitaker and the company they formed called Campaigns, Inc." Let's look at the times and the set-up.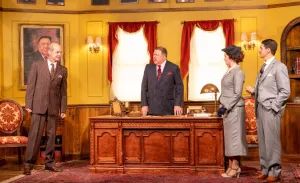 First of all, Timeline is back home at 615 Wellington ( no longer the church) and the director of this roughly two hour political comedy, Nick Bowling is at his best. They have always used the small stage to its full advantage and once again Sydney Lynne has designed a set that is both movie theater, Hollywood set, Governor's office and even the President's home. All of this on a stage that is about as intimate as one can get. When you enter the theater and take your seat, you will see a huge screen with ld movies on it. Yes, some newsreels, but mostly stars of the era such as Clark Gable, Mary Pickford, Douglas Fairbanks, Charlie Chaplin and of course little Shirley Temple. It is like taking a step back into time…a giant step for some and an even more gigantic leap for others.
The story is about the Governor's race in 1934 where the incumbent Frank Merriam ( a powerful performance by Terry Hamilton) fears losing to author Upton Sinclair (deftly handled by Anish Jethmalani).  George Hatfield ( Mark Ulrich) is Merriam's Lt. Governor. This character is a "yes man" all the way and is one of the strongest comic touches. Film star Charlie Chaplin ( a truly  strong performance by Dave Honigman who has all the moves down) is working with Sinclair to get him the victory.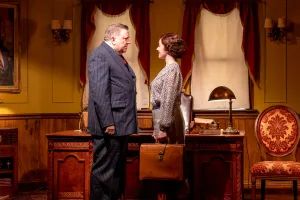 When Merriam meets Leone Baxter (an incredible performance by Tyler Meredith) and her partner Clem Whitaker ( Yuriy Sardarov is sleek and has the look and feel of the era- FYI- for those of you into "Chicago Fire", this gentleman was Otis). They are ad-men who have formed a partnership to be political advisors/consultants. It was these two ad-men ( the term used is really non gender) that found a way to use Sinclair's own words ( from his writings) to say things that made him appear to be different than the people thought. In other words, they created "Fake News".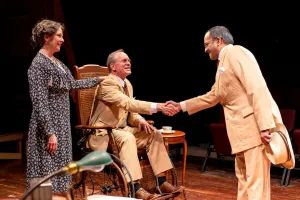 The other cast members of this sparkling cast are: David Parkes ( photographer, Douglas Fairbanks, Kyle Palmer, FDR, and Louis B. Mayer) and Jacqueline Grandt (reporter, Mary Pickford, waitress and Eleanor Roosevelt). These two truly are remarkable talents and show them to perfection.
The costumes (Sally Dolembo) are quite authentic in appearance ( as always , Timeline stays true to the period). The lighting (Jared Gooding) and sound (Forrest Gregor and  Andrew Hansen) are perfect with great music to fit the era and the mood. The props (Rowan Doe) are right on for the period as well. I am old enough to have seen many of the items they used and many were at my Grandmother's home. Those who attend Timeline's productions know that they are as accurate as a theater company can get and detail everything to perfection.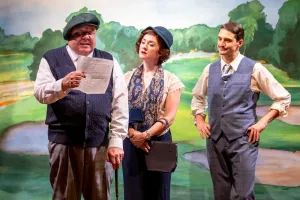 This is a swift almost two hours ( with no intermission) and scenes switch in seconds. The production is filled with history and political views and is a solid history lesson, so you are getting educated and entertained in one fell swoop.