labor
Here's Why an MLB Minor Leaguers Union Matters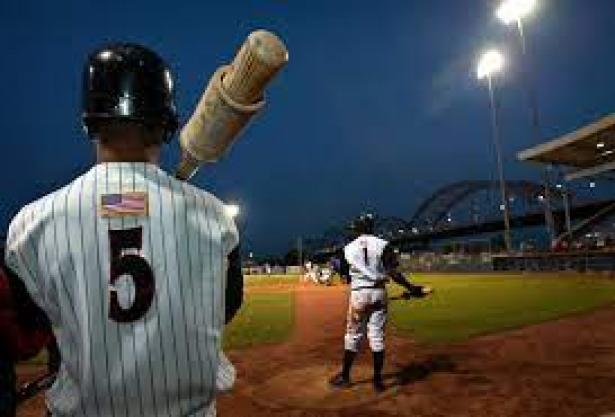 The Quad Cities River Bandits at their stadium in Davenport, Iowa.,Judy Griesedieck/Star Tribune
The Major League Baseball Players Association announced its intent to unionize with the sport's minor league players Monday morning, a major milestone in a decades-long labor dispute that has escalated to Congress.
Major League Baseball Commissioner Rob Manfred, left, and MLBPA Executive Director Tony Clark, ... [+]

 MLB VIA GETTY IMAGES
KEY FACTS
The MLBPA called the effort to unionize the roughly 5,000 minor leaguers "historic," and several outlets reported the union sent notices to minor league players asking if they seek representation Sunday night.
The movement follows years of speculation that minor leaguers could unionize to address long-standing accusations of the unfair treatment of players, including wages that frequently fall below the federal minimum and subpar living conditions.
Crucially, this comes amid intensifying scrutiny from the Senate Judiciary Committee questioning whether MLB should retain its federal antitrust exemption given its treatment of minor leaguers and a month after MLB agreed to pay a $185 million settlement in a class-action lawsuit alleging teams violated minimum wage and overtime laws.
Robert Pannullo, a sports litigation attorney at Winston & Strawn, called the announcement the "first step of a historic shift in the labor relations of baseball" in comments to Forbes, predicting "minor leaguers will have the opportunity to bargain for changes that will dramatically improve their labor conditions" if they unionize with the MLBPA.
Representatives for MLB Commissioner Rob Manfred and Senate Judiciary Committee Chairman Sen. Dick Durbin (D-Ill.) did not respond to Forbes' request for comment, though Durbin tweeted he supports the move.
KEY BACKGROUND
Minor leaguers are paid by MLB teams, but aren't members of the MLBPA, which is only for players actually in the major leagues who earn significantly higher wages. Although labor tension between MLB and minor leaguers had long simmered over, the cancellation of the 2020 minor league season due to the Covid-19 pandemic and the lockout ahead of the 2022 MLB season accelerated the conflict. MLB's decision to cut the number of minor league teams from 162 to 120 in December 2020 and the MLBPA's success during collective bargaining agreement negotiations proved the "importance of having a collective voice" to minor leaguers, Pannullo said. Wage growth for minor leaguers has considerably lagged behind growth in other professions. MLB is the only league with an antitrust exemption, shielding it from competition laws. The Senate Judiciary Committee has accelerated its probe into MLB recently, demanding information from Manfred in July about how the exemption has affected the working conditions of minor leaguers and other issues. Players are better off because of the exemption because it allows the sport to support more minor league teams, Manfred argued in a 17-page letter to the committee July 29. The committee plans to hold a hearing on the exemption, Durbin said following Manfred's response, noting evidence points the committee to "question the premise that MLB is treating the Minor Leaguers fairly."
CRUCIAL QUOTE
"For as long as MiLB has been the proving ground for aspiring Major Leaguers, the labor conditions facing these Players have been nothing short of offensive," Clark wrote in an email Sunday night to player agents obtained by the Athletic. "Poverty wages…and a chronic lack of respect for minor leaguers as a whole (to name just a few) – these cancers on our game exist because Minor League Players have never had a seat at the bargaining table. It's time for that to change."
FURTHER READING
The Struggle for Labor Equality in Minor League Baseball: Exploring Unionization (American Bar Association)
MLBPA wants to unionize minor leaguers, takes first step by sending authorization cards to players (Athletic)
Senate Judiciary Committee questions legality of Major League Baseball's antitrust exemption (ESPN)