Rashida Tlaib's Historic Face-Off With Israel Lobby Over 'Apartheid'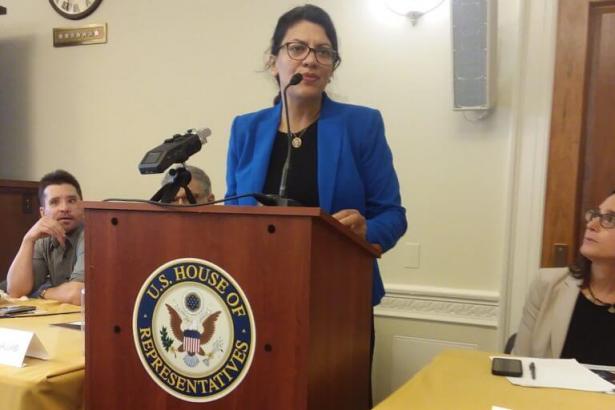 IfNotNow members bring a challah to Rashida Tlaib after her apartheid comment,
Rashida Tlaib's comment that "you cannot claim to hold progressive values yet back Israel's apartheid government" is turning into a defining moment in the progressive wing of the Democratic Party.
Leading Jewish groups have attacked Tlaib for supposedly calling for Israel's destruction. Jonathan Greenblatt of the ADL has said that she is an antisemite. And the rightwing lobby group the Democratic Majority for Israel has helped rally a large number of Democratic House members to condemn her comments, with Rep. Ritchie Torres leading the parade, and and Debbie Wasserman Schultz in tow.
Plainly Tlaib hit a nerve. It is obviously very important to the Israel lobby to maintain the claim that you can be progressive and support Israel. Being truthful about Israeli apartheid undermines this effort.
Nearly all the Dems who attacked Tlaib didn't even mention the apartheid part of her comment. They don't want to address it. They don't want to engage with what Israel actually does and how Palestinians live. They just want to say you can support Israel and be progressive, a statement which is not explained or defended in any way beyond itself.
Liberal Zionists are divided. Americans for Peace Now supported Tlaib. APN:
No part of what @RepRashida said is antisemitic. Weaponizing accusations of antisemitism cheapens the real fight against antisemitism and does nothing to make Jews safer.
While J Street got into the pile-on on Tlaib and carefully avoided the apartheid word.
We agree with Rep. Nadler. It should be absolutely clear that one can hold progressive values, strongly support the State of Israel, and also criticize policies of the Israeli government. Any litmus test that implies otherwise is harmful and wrong.
J Street references Rep. Jerry Nadler's tweet condemning Tlaib but not mentioning apartheid:
I fundamentally reject the notion that one cannot support Israel's right to exist as a Jewish and democratic state and be a progressive.
Apparently being a Jewish state means being an apartheid state.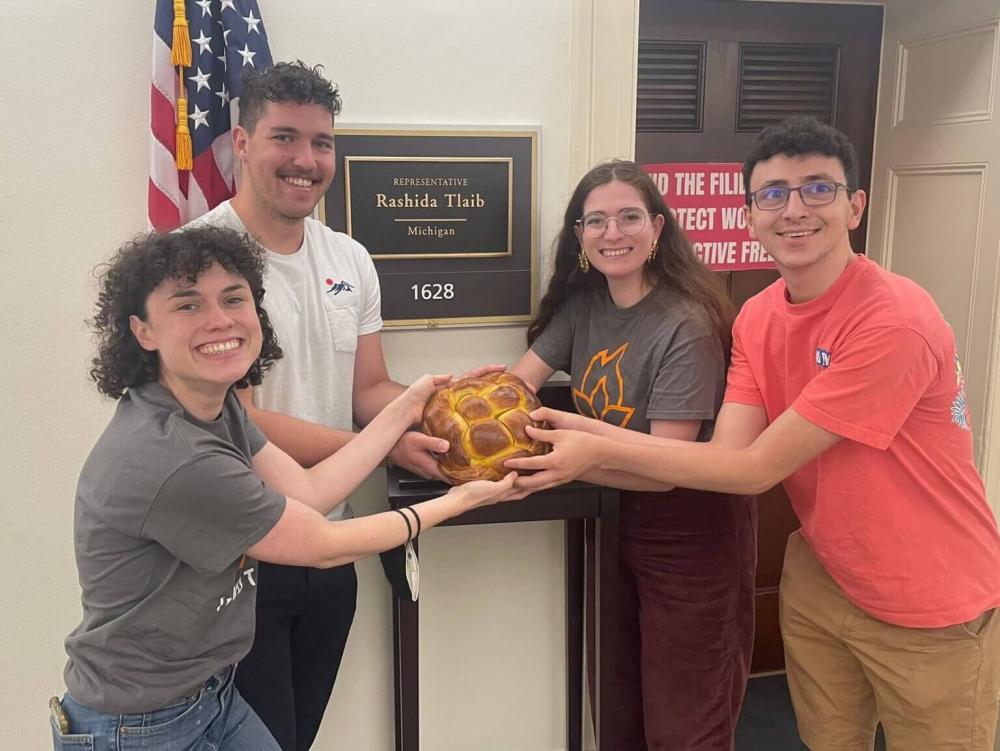 The good news is that Israel is figuring more and more in mainstream political debate, with the Democratic and Jewish establishment seeking to bar the use of the word apartheid, using their big weapon, antisemitism charges.
When in fact there is broad agreement among human rights groups that Israel's discrimination against and persecution of Palestinians is apartheid. "It is a simple fact," Beth Miller of Jewish Voice for Peace Action writes. Miller:
"The only Palestinian American member of Congress can't open her mouth without a coordinated campaign of slander and attacks with the intent of smearing her, twisting her words, and obscuring the undeniable reality that Israel is committing the crime of brutal apartheid over Palestinians."
The "smear" is surely a reference to ADL ceo Jonathan Greenblatt's vicious attack:
In one sentence, @RepRashida simultaneously tells American Jews that they need to pass an anti-Zionist litmus test to participate in progressive spaces even as she doubles down on her #antisemitism by slandering Israel as an apartheid state.
"There's absolutely zero mention from Tlaib anywhere in her short speech of 'an anti-Zionist litmus test.' Greenblatt simply made that up along with his suggestion that Tlaib was singling out American Jews," EI's Michael Brown says.
"In one sentence @JGreenblattADL conflates American Jews with Zionists, itself an anti-Semitic canard, while simultaneously defaming @RashidaTlaib as anti-Semitic for stating what's demonstrably provable," writes Scott Roth, our publisher.
We got a foretaste of this a year ago when Rashida Tlaib quoted human rights reports that characterized Israel as an apartheid state, and her colleague Ted Deutch rose on the House floor to condemn her for "antisemitism." Deutch said that Tlaib "had besmirched our ally" and called for the destruction of Israel.
Many leftwingers have come to Rashida Tlaib's side this time, but not in the Congress. Rep. Andy Levin campaigned with Tlaib this summer in Michigan but has not stood up for her under fire. Jake Tapper of CNN is carrying the water for Tlaib's attackers. Tapper can't get into the apartheid reports.
But there are now two or three databases listing experts and organizations who say it's apartheid.
Sixty percent of Middle East scholars say so. Two third of Palestinians say it's apartheid, per polling. Human Rights Watch says so– in its "threshhold crossed" report of last year. B'Tselem agrees, describing "a regime of apartheid from the river to the sea." Amnesty International, Al Haq and Yesh Din call it apartheid.
South Africa says so. So did Desmond Tutu. So have Jimmy Carter and Noam Chomsky. And Betty McCollum, starting in 2018.
One database quotes Tlaib: "I am tired of people functioning from a place of fear rather than doing what's right because of the bullying by pro-Israel lobbyists. This is apartheid, plain and simple."
Jim Zogby says something similar: "The ADL has long applied a pro-Israel litmus test to Arab Americans & supporters of Palestinian rights. We were smeared, blacklisted, & excluded from politics & coalitions & they still do. They did great damage. Now they want to play victim. Hands off Rashida."
"The speed with which key House Dems have lined up against Rep Tlaib – over a maliciously misrepresented comment challenging progressives-except-on-Palestine – exemplifies both Dems' commitment to Israeli impunity & their deep undercurrent of anti-Palestinianism," Lara Friedman writes.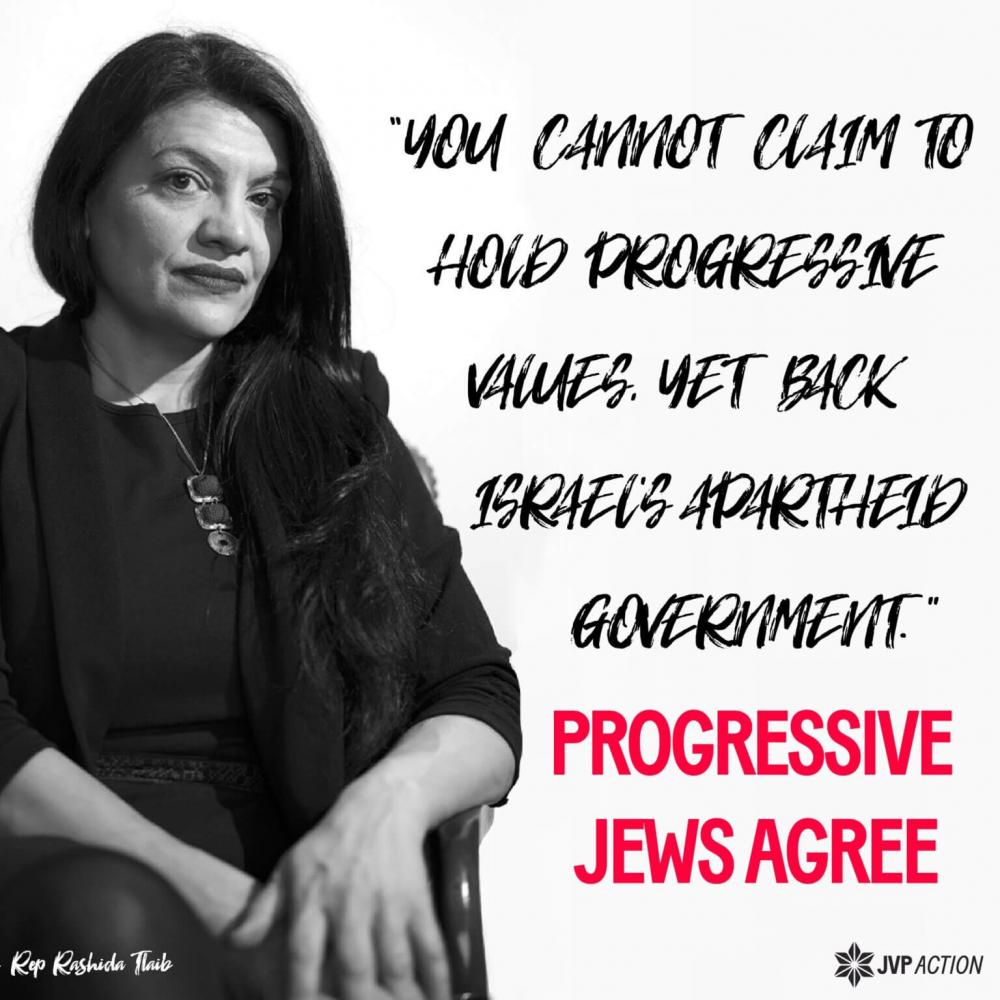 The young Jewish group IfNotNow is supplying Tlaib with a lot of support. It brought her a challah for the Jewish new year. Just as important, IfNotNow offers strong evidence for the conviction that Israel practices apartheid:
Now, Rashida is under attack from establishment politicians and Jewish organizations who refuse to recognize that supporting equality and human rights for all people means opposing apartheid, a system of inequality and displacement that oppresses millions of Palestinians.

But the tide is turning, and growing numbers of Jews and allies have Rashida's back.
Elias Newman, communications person for the group, also offers evidence:
Attacks on Rashida are so frequent, it's easy to forgot that she was banned from visiting her own grandmother in the West Bank unless she swore not to engage in nonviolent protest there. I've never had to swear not to protest during my visits — this is why we call it apartheid.
And here is strong support in JVP's statement:
It is undeniable and irrefutable that Israel is an apartheid state. It has been documented and proven time and again by the world's leading human rights organizations, as well as Palestinian and Israeli human rights groups. Indeed, Palestinians have been telling the world of Israeli apartheid for decades. 

It is also undeniable and irrefutable that the progressive values of freedom and justice for all, and the goals of breaking down the systems that oppress us, are at odds with apartheid. 

In other words: you cannot claim to be a progressive, while still supporting and defending Israeli apartheid rule over Palestinians. 

The attacks against Congresswoman Tlaib are transparent attempts to smear her by weaponizing false claims of antisemitism against the only Palestinian member of Congress. 
Peter Beinart calls out Jerry Nadler on the hypocrisy of his attack on Rashida Tlaib:
At the heart of your fight against Trumpism is your belief that the US should be a country based on equality under the law, irrespective of race, religion or ethnicity. Why is that the wrong principle for Israel-Palestine?
Ben Lorber also points out the obvious contradiction here. He says that the progressive consensus is changing on Israel, and get used to it:
Look, if you consider yourself part of the 'progressive movement' but you're uncomfortable with challenging head-on Israel's institutionalized, systemic anti-Palestinian racism, you're going to increasingly be challenged on that. No matter if you're Jewish, Christian, whatever.
I'd point out that the official wave against Rashida Tlaib is a demonstration of the power of the Israel lobby inside the Democratic Party. It still can bring millions of dollars to bear on political races, and with that in mind, Joe Biden has told the Democratic leadership to absolutely hold the line on criticism of Israel.
Can you support Mondoweiss's continued hard-hitting and impactful stories by making a gift to support the interviews and analysis happening nowhere else?  
This movement needs a newsroom that can cover all of Palestine and the global Palestinian freedom movement.  The Israeli government and its economic, cultural, and political backers here in the U.S. have made a decades-long investment in silencing and delegitimizing Palestinian voices.
We're building a powerful challenge to those mainstream norms, and proving that listening to Palestinians is essential for moving the needle.  Become a donor today and support our critical work.  Donate today →