Magnus Carlsen and Hans Niemann: Champion Vows To Say More on Cheating Scandal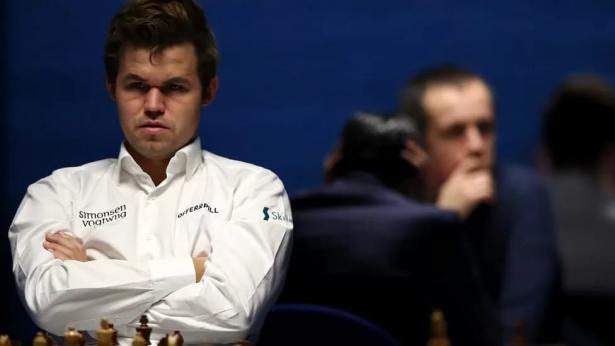 Norwegian Magnus Carlsen has dominated chess for more than a decade,Getty Images
Carlsen has made veiled accusations against Hans Niemann, who defeated him this month in a major upset, but has provided no evidence of cheating.
But on Sunday, the Norwegian said he would release a statement on the saga gripping the chess world within days.
Niemann, 19, has denied cheating in competitive chess and has accused Carlsen of trying to ruin his career.

The scandal began earlier this month after Carlsen, who is considered by many to be the greatest player of all time, was defeated by Niemann at the prestigious Sinquefield Cup - a shock result that ended the champion's 53-game undefeated run in classical chess.
In response, Carlsen quit the tournament without explanation - despite there being six rounds to go - and published a cryptic tweet widely seen as raising suspicions of cheating against the American.
The BBC is not responsible for the content of external sites.
The saga took another turn on Monday, when the pair were re-matched in the Julius Baer Generation Cup and Carlsen resigned after making only one move - an apparent protest at Niemann's participation.
Carlsen went on to win the tournament, while Niemann was eliminated in the quarter-finals.
Speaking after his tournament victory, Carlsen said he would say more about the scandal "whether it will be tomorrow or one of the days after", adding that he wanted "cheating in chess to be dealt with seriously".
"I'll certainly put out the statement very soon and that will also not be all you hear from me on that," he added.

Niemann has admitted to cheating online in informal games when he was younger but has strenuously denied ever cheating over the board - widely regarded as a much more serious offence - saying he was even prepared to play naked to prove his innocence.
Chess.com, the biggest online platform, put out a statement earlier this month confirming it had removed Niemann for cheating on the site.
In the absence of any concrete allegations from Carlsen, the chess world has pored over games and interviews of Niemann for evidence of any cheating over the board.
Some have pointed to Niemann's meteoric rise over the last 20 months, during which he surged from the relative obscurity of being ranked roughly 800 in the world to inside the top 50.
But grandmaster Nigel Short, the only British player to compete in the final of the world championships, is sceptical of suggestions Niemann has cheated, saying there was no evidence of him doing so in his victory over Carlsen.
And a statistical analysis of Niemann's games by Prof Kenneth Regan, the world's leading chess cheating expert, found no evidence of cheating.
Not since 2006's "Toiletgate" has chess faced a cheating scandal at the elite levels of the game.
Back then, world championship challenger Veselin Topalov's team accused the champion Vladimir Kramnik of cheating during his "strange, if not suspicious" trips to the bathroom.
Prof Regan found no evidence Kramnik had cheated.
The cheating row that's blowing up the chess world 
---
 Alex Therrien is a BBC News journalist and Fide Master chess player