Where Are They Now? Trump Administration Edition.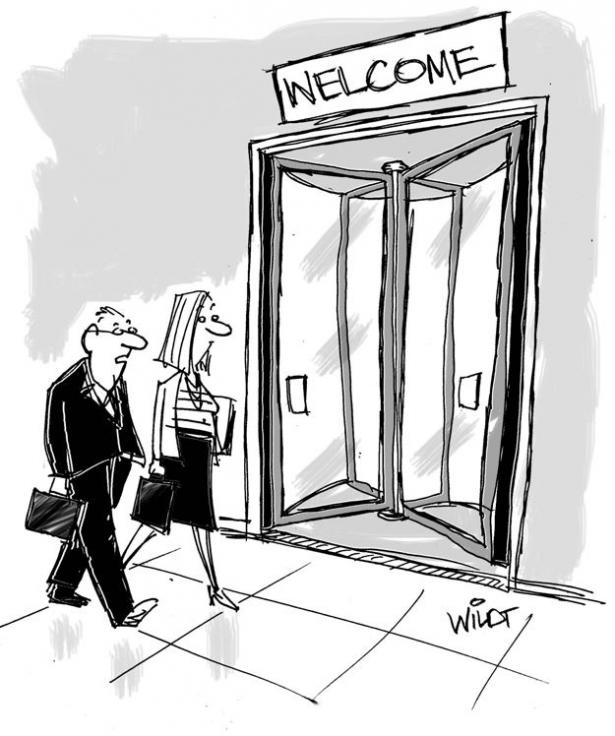 "The boss spent years in business and government. His door isn't just open, it's revolving!",Chris Wildt, Septembber 13, 2015
America, you have probably heard, is on the edge of collapse. In the ideological death match described by President Biden as a "battle for the soul of this nation," the forces of MAGA square off against the self-declared Resistance. One side will conquer; the other will be crushed.
Given these doomsday politics, it may surprise you to learn that some of the most glorified and vilified characters of these tumultuous years have quietly forged a peace — working together to ensure the world's wealthiest and most powerful players thrive amid the turmoil.
The "government matters" practice at the law firm of King & Spalding is a telling example.

On this team you will find Gina Haspel, whose supervision of torture at a secret C.I.A. detention site proved no obstacle to her becoming the agency's director under Donald Trump nor to her eventual recruitment by corporate law. (While she is not a lawyer, the firm has hired her as a senior adviser on national security.)
Ms. Haspel has joined forces with Sally Yates, who was enshrined as a paragon of principle when Mr. Trump fired her as acting attorney general for rejecting his notorious "Muslim ban." The pairing of the spy chief nicknamed "Bloody Gina" by some C.I.A. colleagues with a breakout star of the #Resistance was peculiar enough, but consider that Ms. Yates's eventual successor as deputy attorney general, Rod Rosenstein, is also on the King & Spalding team.
It was Mr. Rosenstein who enforced the Trump administration's zero-tolerance policy, telling prosecutors that migrant children's ages should not exempt their parents from prosecution. Infants were yanked from the arms of their parents at the southern border in a separation policy that one human rights group called torture and that even Mr. Rosenstein eventually denounced.
How to explain this convergence?
"At the end of the day, elites take care of other elites, with very few exceptions," said Christopher Sprigman, a former partner at King & Spalding who now teaches at the New York University School of Law. When it comes to family separation, he said: "Those kids are water under the bridge. There's money to be made."
Mr. Sprigman was deeply troubled by his former firm's decision to hire Mr. Rosenstein, who he feels "took part in a crime" by snatching children from their parents. "I called some friends at King & Spalding and I was like, 'Are you serious? Is this who you're hiring?'" Mr. Sprigman recalled. "I had a phone call with current firm leadership and they were like, 'Noted.' They couldn't care less."
None of this is particularly remarkable here in Washington, where government officials have long been traipsing over the crumbled walls separating them from the industries they regulate and investigate, and the foreign governments they face across negotiating tables. The city is crowded with bureaucrats who are desensitized by ambition and quick to dismiss it all as no big deal. To point out the unseemly suggestions of conflicted interest is to be waved off as unsophisticated.
Ms. Haspel, Ms. Yates and Mr. Rosenstein (who did not respond to emails or calls requesting comment) are a particularly striking trio of colleagues, all veterans of crises that shocked the public and tested our national character. That they can shrug off their varied baggage and come together in private law suggests an enormous disconnect between how we think and talk about our politics and the way power is gathered and spent in the capital.
One could argue — and many here do — that all this is perfectly fine. People and companies are entitled to hire the most knowledgeable and talented individuals they can find, after all, and the insight of former government employees is prized. Selling out doesn't break any laws.
But there's a glaring downside to this culture: It seeds distaste of public officers, lending credence to widespread suspicion of elite malfeasance at a precarious political moment.
Groundswells of enthusiasm for Mr. Trump, Bernie Sanders and the Tea Party movement all suggested a populist surge with unpredictable (in the case of Mr. Trump, even nonsensical) heroes and enemies. A vague but fierce anti-elite outrage runs through presidential scandals as varied as Barack Obama's and the Clintons' princely Wall Street speaking fees, Hunter Biden's lobbying or, most spectacularly, the flagrant self-dealing of the Trump administration. Against this backdrop, it's worth considering the corrosive effect of officials who spend much of their careers catering to private interests.
And for all the talk of "cancel culture," it seems nearly impossible for political figures, once they achieve name recognition, to commit an offense grave enough to disqualify them from splashy corporate jobs.
Ms. Haspel oversaw a secret "black site" in Thailand where at least one suspect endured waterboarding. She personally observed at least one such torture session, according to the testimony of a psychologist who helped abuse the detainees, and later drafted a memo used to authorize the destruction of videotapes of the interrogations.
These days, Ms. Haspel counsels those who manage the funds of the world's wealthiest families on regulations, cryptocurrencies and other threats to their assets, the law firm says. This former C.I.A. chief appears to have become an adviser to money managers for the world's scions.
Ms. Yates is a more predictable hire. The daughter of a Georgia legal family, she was born in Atlanta, where King & Spalding was founded in the late 19th century, and started her career at the firm before joining the Justice Department over 30 years ago.
When she was getting flooded with fan mail and lionized on MSNBC after her dismissal in 2017, Ms. Yates didn't seem eager to return to her legal roots. Back then, she spoke dismissively of her earlier time at King & Spalding, telling a New Yorker reporter that it mostly boiled down to "two companies fighting over money."
Standing up so publicly to Mr. Trump, she said then, had given her "a voice that I didn't have before." She planned to "use that voice in a way to impact things that I think really matter."
"I know all of this sounds so holier-than-thou and corny and all of that," she said. "But that's the case."
Last year, at King & Spalding's annual conference for drug companies, known as Pharmaceutical University, Ms. Yates coached in-house drug company lawyers on dealing with corporate monitors. Monitors can be sent by government prosecutors to keep an eye on companies that have been charged with or convicted of fraud, kickback schemes or, one might imagine, the mishandling of opioids and other prescription drugs. "An Inside Counsel's Primer on Monitorships: How to Avoid Them When Possible … and How to Live With Them When Not," her panel was called.
Ms. Yates also represented King & Spalding this year for a discussion called "When Congress Calls," focusing on the "daunting challenges" of "guiding your client through the unique world of congressional investigations."
Preparing clients to face the threat of testimony has become a cottage industry of its own. To compete, law firms recruit a strong bench of former bureaucrats and officials, with star power if possible, hiring both Democrats and Republicans to maximize influence. All the better if those lawyers eventually cycle back into government, where they may prove even more helpful.
Law firms aren't alone in recruiting from the ranks of government and then celebrating their employees' return to public service, drafting fresh news releases for every spin of the revolving door — the same trends run through consultancies, public relations firms, defense contractors, financial offices, and all manner of wealthy corporations.
"We call it legalized corruption," said Danielle Brian, executive director of the Project on Government Oversight. "And it permeates every aspect of federal government."
King & Spalding is hardly unique. A new book by David Enrich, business investigations editor at The New York Times, details the deeply enmeshed relationship between the Jones Day firm and the Trump administration. Even that, however, is just a small part of the double take-inducing legal entanglements on display throughout Washington.
At Gibson, Dunn & Crutcher, for example, the partner Jose Fernandez provided legal services for both the Saudi sovereign wealth fund and Chevron until, last summer, he was confirmed as the State Department's under secretary for economic growth, energy and the environment. Before that, Gibson Dunn welcomed back David Fotouhi, who once helped weaken environmental regulations as part of Mr. Trump's Environmental Protection Agency and is now a member of the firm's environmental litigation and mass tort practice group.
There's Skadden, Arps, Slate, Meagher & Flom, where the former partner Gregory Craig — White House counsel under Mr. Obama and special counsel to Bill Clinton during his impeachment hearing — helped get a job for Paul Manafort's daughter in what his lawyers described as an entirely normal bid to attract more of Mr. Manafort's shadowy business. At the time, Mr. Craig and Mr. Manafort had been working together on a $4.6 million deal on behalf of the former Ukrainian president Viktor F. Yanukovych, who was known as Vladimir Putin's man in Kyiv. (Mr. Craig was later tried and acquitted on charges that he lied to the Justice Department about his work for the Ukrainian government.)
The white-shoe firm Covington & Burling famously kept an office empty for Eric Holder, waiting for him while he served as attorney general under Mr. Obama. We may surmise that Mr. Holder returned to a hero's welcome: The firm has represented several banks that his Justice Department investigated for their role in the subprime mortgage crash. Mr. Holder chose not to prosecute any executives, suggesting the financial catastrophe was the fault of corporate culture rather than specific individuals. Today Mr. Holder is promoting his new book on voting and voting rights, "Our Unfinished March."
Then there was Mary Jo White, the Securities and Exchange Commission chair under Mr. Obama, who also worked at Debevoise & Plimpton, a law firm with deep ties to Wall Street. Ms. White was harshly criticized by Senator Elizabeth Warren for going soft on financial firms, and for repeatedly having to recuse herself due to the many conflicts of interest created by her corporate work. In the end, Ms. Warren tried but failed to persuade Mr. Obama to oust Ms. White.
Washington is full of operators who exert their influence and patch up political schisms so effectively that they create a sort of corporate shadow government that, arguably, functions more efficiently than the real thing.
Nor is any of this activity slowed by the bitter partisan divide and existential threat feverishly broadcast to ordinary people. After the tumult of the Trump years, more Americans see civil war as a real possibility. Social scientists have noted that a cerebral distaste for contrary ideas has been supplanted among many American voters by a hatred for the people who hold those ideas. Things seem to be falling apart — and yet, in the corporate sphere, the center holds just fine.
Besides, our national crises create business opportunities. King & Spalding represented the Trump re-election campaign in a lawsuit that sought to prevent North Carolina election officials from honoring the state's new rules on mail-in ballots.
For this work, King & Spalding faced protests organized by the People's Parity Project, a national organization of law students and attorneys critical of corporate law practice that, in their view, damages the public interest.
"Protecting the integrity of the legal profession is tied up with protecting the integrity of our government," said Molly Coleman, the group's executive director. "We had law students approaching us saying, 'We don't think it's right to go and work for a firm that's trying to undermine our democracy in this way.'"
A spokeswoman for the firm declined to respond to questions for this essay.
It's not that the government has utterly ignored the problem; it's just that these attempts haven't made much of a dent. Presidents Obama and Trump each introduced restrictions seeking to curtail revolving-door career advancement. But, somehow, those efforts haven't made much of a dent. In the tradition of President Bill Clinton, Mr. Trump ended his term by reversing his own revolving- door executive order.
Both the former national intelligence director Dan Coats and the former F.B.I. chief of staff Zack Harmon work at King & Spalding. Christopher Wray worked at King & Spalding before becoming F.B.I. director.
The concentration of big-name law enforcement and intelligence officials raises intriguing questions given the firm's work with the Saudi government. King & Spalding has represented the kingdom in negotiations with the United States that would allow Saudi Arabia to develop a civilian nuclear program. The law firm declined to comment on whether Ms. Haspel works with Saudi clients, but for the past year, she has been on the board of BAE Systems, a British company that has sold billions of dollars' worth of weapons to Saudi Arabia during its war in Yemen.
But firms like King & Spalding also hire plenty of former government experts with limited name recognition: People like Shaswat Das, whom I selected randomly from the ranks of the government matters team. He worked for years at the Securities and Exchange Commission, the Federal Reserve Board and the Public Company Accounting Oversight Board. As part of his work on the accounting oversight board, a nonprofit overseen by the S.E.C., Mr. Das was involved in talks with foreign regulators, including Chinese representatives. It was, for a time, his job to figure out how the government should respond to financial institutions that violate sanctions rules.
At King & Spalding, Mr. Das, who did not reply to an email requesting comment, represents financial and fintech companies, among others, as they navigate sanctions, anti-money laundering rules and export control regulations.
A friend of mine — a midlevel bureaucrat you've never heard of — recently rattled off an inventory of private job opportunities he's gotten. Eventually, he'll take one, he said, as his dwindling idealism succumbs to midlife pragmatism — it's not easy supporting a family on a government salary.
When I mentioned this to Ms. Brian, of the Project on Government Oversight, she erupted in disgust.
"I've spent my entire career in the nonprofit sector," she said, "and I've been very fortunate to get two kids through college. They all say that to each other to make themselves feel better about selling out."
[Megan K. Stack, a contributing Opinion writer and fellow at the George Washington University School of Media and Public Affairs, has been a correspondent in China, Russia, Egypt, Israel, Afghanistan, Pakistan, Mexico and Texas. @Megankstack ]