labor
Weyerhaeuser Strike Enters Fifth Week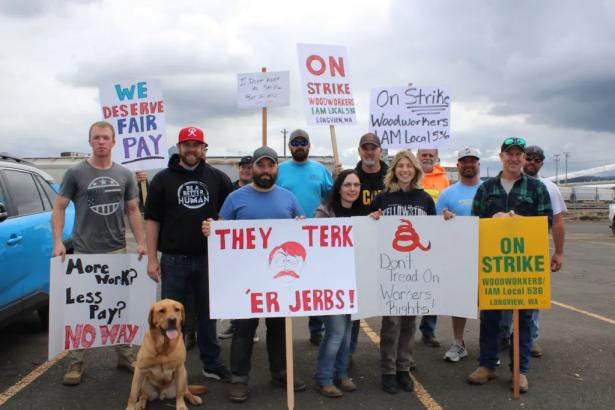 Union concessions while Weyerhaeuser is making record profits? No way. Above, a crew of strikers does picket duty at Gate 1 outside the Longview lumber mill.,(Photo: Don McIntosh)
Weyerhaeuser mills and log yards across the Northwest have been silent more than four weeks now as the lumber giant faces off against its own workers.
At four sawmills, two log export facilities, two statewide log truck operations, and seven logging camps, 1,100 Weyerhaeuser workers have been on strike since Sept. 13 over a basic union principle, fairness. Weyerhaeuser, after reporting record profits of $2.6 billion last year, proposed that its workers make concessions: accept wages that lose ground to inflation, and start paying a share of health insurance premiums. Weyerhaeuser is one of the rare employers that pays the entire health insurance premium, a benefit that used to be standard, and workers think if they give that up, it may never get better. 
Northwest Weyerhaeuser workers already agreed to concessions in their most recent contract, including a two-tier set-up which terminated the pension for new hires. Workers both old and new now say they regret that. They also agreed to allow the company to leave the union-sponsored health and welfare trust, and they say the health insurance benefits that replaced it aren't as good.

They're dead set against making concessions again. 
On the picket line at the Longview lumber mill, strikers were clear-eyed about what's at stake. 
"We want our fair share of what we produce," said Dave Lang, who operates a trimmer, sorter and stacker line.
"They have record profits and they're offering the very minimum," said millwright Jake Stauch, "and most of us are living paycheck to paycheck."
Stauch, 40, has worked at the mill since he was 19. Despite a broken collarbone, he wanted to carry a message, and rested a giant 7' tall hand-made picket sign on his shoulder: "We live on a budget while they live in luxury. We wear sawdust while they wear Gucci."
During a Sept. 30 bargaining session, Weyerhaeuser made its first modified offer since the strike began. But it didn't address the core issue for workers: Management still wants to foist health care premiums onto the workers.
"We're not interested in opening that door," said Brandon Bryant, directing business representative at District Lodge W24. 
Still, the bargaining team took the offer to members for a vote on Oct. 5 and 6 (just after this issue went to press). Because union officers expected it to fail, given its similarity to the previous offer that was rejected by 97%, they preemptively scheduled another bargaining session for Oct. 7. 
"Why would we take concessions when they're bragging everywhere about how much they're making?" said Longview striker Pat Carlson, picketing at the plant's Gate 1 so that ILWU members can honor their line. "Every quarter we smash the record."
The strike has halted the company's lumber production across the Northwest, including two of the nation's largest producing mills — at Longview, Washington, and Cottage Grove, Oregon. 
Moored in the Columbia River outside the Longview mill, the Liberian-flagged bulk carrier ship Global Forest is sitting three-quarters loaded, stuck in place and losing money every day for four weeks. Members of International Longshore and Warehouse Union are refusing to cross the picket line to finish loading the ship.
At log yards and across millions of acres of commercial timberland, log trucks are parked, and logging equipment is idled. Some of Weyerhaeuser's nonunion logging contractors are continuing to work, Bryant said, but it's a small number. Most of the nonunion contractors are actually honoring the picket line, says Jeff Wagner, business representative for District Lodge W24.
"They've come out and walked with us,"  Wagner said. "They know the value of us getting a good contract – they'll be lifted up with us."
All of that adds up to a hit to Weyerhaeuser's bottom line.
"I've heard various figures, anywhere from $1,000 a minute to $800 a minute, that's how much downtime costs them," Bryant said. "And they're down 24/7."
Twenty-four-hour a day pickets continue in Aberdeen, Longview, and Raymond, Washington, and Coos Bay, Springfield, and Cottage Grove, Oregon. The union is asking supporters to drop by the picket lines to show solidarity. Local organizations have been answering the call: In Longview, a salon is offering free haircuts to striking workers every two weeks. In Raymond, Washington, where 200 workers are on strike in a town of 3,000 people, local restaurants are visiting the picket lines, dropping off food boxes.
At a Sept. 29 rally outside Weyerhaeuser headquarters in Seattle members of 10 other unions and leaders of the Washington State Labor Council were there to support the Machinists. 
"Community support has been amazing," the union bargaining team reported in one of several strike updates to members. "Our picket lines have seen thousands of people show their support. Every honk is a call to bring Weyerhaeuser back to the table. Every wave is a statement that we are behind you. The boxes of homemade cookies, the store-bought bags of hamburgers, and the boxes of donated meals from little mom-and-pop restaurants has strengthened our resolve."
---
HOW TO HELP
Weyerhaeuser workers are striking to say no to corporate greed, to an employer that would ask them to make sacrifices when it's making record profits. That means their fight is the fight of all working people, and they need your support.
Machinists District Lodge W24 has set up a GoFundMe page so union members and the public can contribute to help strikers. That's at https://bit.ly/3TcPZib
District Lodge W24 is also asking supporters to visit local union halls and picket lines at any of 14 striking locations to show support. See a list of locations here.