food
The Double Life of New York's Oyster King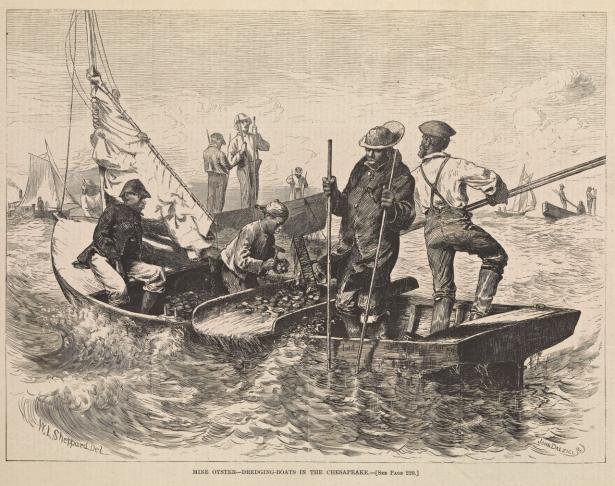 Oystermen were often African American,The New York Public Library/Public Domain
I N T H E H E A R T O F N E W York's financial center, a vacant building has sat untouched for decades. Behind its unassuming brass shell is the story of New York City's once-famed oyster houses and the overlooked life of Thomas Downing, the city's Black oyster king.
During the 1800s, the elite flocked to Downing's Broad street oyster house for a slurp of his freshest catch—considered the best in the city. Downing, born to formerly enslaved parents, rubbed elbows with wealthy aristocrats and businessmen throughout his career and only served white patrons in his restaurant. Little did they know, he was hiding a dangerous secret in the basement.
Thomas Downing grew up on Virginia's Chincoteague Island, where his family made their living from the sea by fishing, clamming, and raking oysters. The skills Downing acquired during his childhood carried him to Philadelphia—he'd followed the troops North after the War of 1812— where he spent seven years running an oyster bar.

In the 1820s, most registered oystermen were African American, and opportunity in the industry was abundant, especially for people like Downing, who came from oyster-rich states along the Chesapeake Bay like Virginia. But the world's oyster capital was New York City, and Downing moved there, spending his days on a schooner harvesting oysters from the beds of the city's waters and selling them to restaurants or on the streets.
Joanne Hyppolite, culture curator at the National Museum Of African American History And Culture, first learned about Downing while researching the foodways section of the museum's Cultural Expressions exhibition. "He arrives in New York in 1819," she explains. "During that period, New York doesn't have an established fine dining industry or culture." But Downing had a vision that no one else shared, realizing he could make more money by elevating his space and offerings.
Top-dollar plates and fine dining usually come to mind when we think of oysters and the restaurants that serve them. But before New York loved hotdogs, oysters were the city's go-to street food for everyone regardless of race or class. Oystermen's stalls lined the streets of Manhattan, and for about six cents, you could get a dozen fried oysters. Then, there were the oyster refractories; rough-edged, cellar-like dives. Usually, a steep set of stairs led diners into a dimly lit space that wasn't well furnished and likely a bit crowded.
Dive bars and taverns were plentiful, but high-end restaurants like the oyster house didn't yet exist. NYC's beloved Italian steakhouse, Delmonico's, is often hailed as the first fine dining restaurant in the country, opening in 1827, or the United States Hotel in Philadelphia, which opened in 1826. But not only did Downing turn oysters into a delicacy, but he was also the first to dish out fine dining.
Thomas Downing's Oyster House opened in 1825 in the heart of the financial district. Downing's two adjoining properties sat on Broad Street, both roomy and beautifully dressed with interiors far more impressive than the usual cellars. Curtains graced the windows, crystal-crusted chandeliers hung above the dining area, and fine carpet covered the floors. The Oyster House oozed luxury and existed exclusively for the elite.
Before he opened his restaurant, Thomas Downing was well-known for being a canny curator of oysters. He would set out beneath crisp midnight air, following the glow of his lantern to the vessels of local oystermen, where he'd meticulously dig to the bottom of oyster piles to pick the best of the beds. Downing would always shell out top dollar to his comrades to ensure they continuously gave him the highest quality product.
Downing's rich taste didn't stop at the door. Everything was designed to delight and satisfy his clientele. "Ladies and gentlemen with towel in hand, and an English oyster knife made for the purpose, would open their own oysters, drop the burning hot concaved shell a lump of sweet butter and other seasonings, and partake of a treat," his son, George, wrote in an essay about his father in 1887.
Whether deliberate or not, the restaurant's premier location, next door to the Merchant's Exchange and the Customs House, was a wise choice and likely integral to Downing's place becoming the city's best-known oyster spot. His clientele was the upper crust: primarily white men with means. Some were bankers, others merchants, and many were dignitaries from all over the world visiting the US.
Before Downing entered the scene, women didn't dine in restaurants. It would have been considered uncouth. Downing changed that. His Oyster House was a respectable place where well-to-do husbands wanted to bring their families for dinner. The aristocrats and whose-who of New York wouldn't dare slurp oysters from anywhere else.
By the 1840s, business was booming, so much so that Downing began catering. He offered international mail-order shipping, sending raw, pickled, and fresh shells to Europe and fried oysters to the Caribbean. One of his most famous customers across the pond was Queen Victoria, who was a big fan of Downing's discerning taste. She loved his oysters so much that she sent him a gold chronometer watch as a thank you.
Downing was indeed becoming New York City's best. The city called on him to cater its legendary multimillion-dollar feast, the Boz Ball, held in 1842 to celebrate English writer Charles Dickens.
Perhaps the most delicious part of Thomas Downing's food story is the secret he hid beneath the feet of his elite clientele. Underneath the fancy floorboards of the Oyster House, Downing was not only storing shells and wine. Instead, he and young George also hid enslaved people fleeing the South to Canada, where they would be free.
Downing's place became one of the essential stops along the Underground Railroad, especially during a time when bounty hunters roamed New York's streets, seeking out those escaping from slavery in the South.
Downing was also active in the abolition movement, using his affluent connections as leverage. When Black men in New York lost their right to vote in the mid-1880s, Downing fought the ruling tooth and nail. The law required Black voters to own at least $250 worth of property. Otherwise, they weren't allowed to vote, while white men were required to hold only $40 of property. Downing was one of the few who could meet the property "poll tax" threshold, yet he spent years fighting against the disparity.
Despite his wealth, Downing still experienced the indignity of white supremacy, culminating in an attack in 1838. "He was on several trolley cars that were segregated and refused to leave his seat, just like Rosa Parks," Hyppolite says. When Downing refused to move seats, others on the trolley ganged up to beat him. But unlike most Black people during the 1800s, he could afford to take his assailants to court.
Mourners poured in from the doors to the pulpit of St Philip's Episcopal Church when Thomas Downing, then well-known as the "oyster king of New York", died in 1866 at the age of 75. There was no doubt about what he meant to the city. Manhattan's top merchants loved Downing and wanted to attend his funeral, so in an unheard-of move, the New York Chamber of Commerce closed for the day. As The New York Times reported, on the day of Downing's wake, a "long line of carriages, well-filled with mourners" attended the ceremony, as well as multiple delegations of Freemasons "in full regalia."
On his father's death, George, a great activist and businessman himself, operated the New York oyster house until at least 1871. But Downing's own legacy as a restaurateur and an abolitionist resounds even today.
Soon, you'll even be able to try Downing-style oysters yourself. At the National Museum Of African American History And Culture in Washington, D.C., Downing's story is displayed in the Cultural Expressions gallery and at the museum's Sweet Home Cafe.
In 2023, when the museum plans to once more offer a full menu at the cafe, Oyster Pan Roast will be there. This creamy bowl of oysters, blanketed by rich red butter sauce flavored with shallots, deglazed with white wine, and reduced with chili sauce and cream, is a delicious homage to Downing and his remarkable achievements.
Gastro Obscura covers the world's most wondrous food and drink. Sign up for our email, delivered twice a week.