Global Left Midweek – October 19, 2022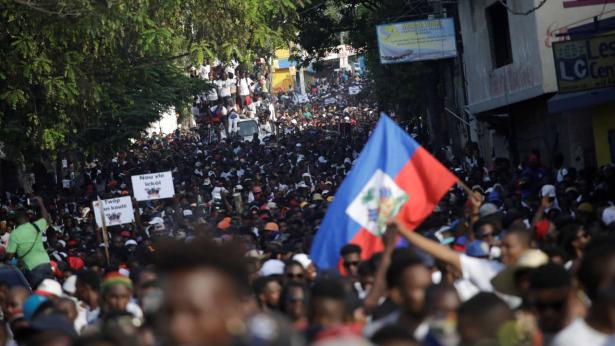 Citizens flooded the streets across Haiti in rejection of President Ariel Henry's request for international military assistance, demanding that foreign powers stop interfering in Haiti. Credit, Radyo Rezistans/Facebook
__________
Women Life Freedom
__________
France Hits the Bricks
Thousands of people have taken to the streets across France and commuters faced delays as unions staged a nationwide strike for higher salaries, following weeks of walkouts that have hobbled oil refineries and sparked petrol shortages around the country.
__________
Brazil: The Challenges in the Second Round
Research Group on Brazilian Politics / Socialist Project (Toronto)
If Lula wins, his administration may be pulled even more strongly towards the centre-right, with significant concessions being needed to secure governability. If Bolsonaro wins, there will be an intensification of the neo-fascist agenda. For the poor majority of the population, the next four years will be a period of continuous struggle, requiring organization to protect social and political rights.
__________
Protests Sweep Europe
Nick Corbishley / Naked Capitalism (New York)
The long-anticipated "hot autumn" begins as the European economy teeters on the edge of a largely self-inflicted stagflationary depression. As economic conditions rapidly deteriorate in Europe in the coming weeks and months, protests are likely to grow in both size and intensity. 
__________
Haiti Upsurge
Tanya Wadhwa / Peoples Dispatch (New Delhi)
Hundreds of thousands of Haitians flooded the streets across the country, demanding the resignation of President Ariel Henry and rejecting his request for international military assistance to fight criminal gangs. Citizens organized massive demonstrations, marches and roadblocks in all ten departments of the country. 
__________
Putin Escalates
Boris Kagarlitsky / Russian Dissent
Since systemic changes are not only undesirable for those in power, but most importantly, it is precisely for the sake of preventing them that the so-called special operation was even begun, the rulers can have no serious understanding and analysis of what is happening.
__________
Botswana National Front
Zebilon Maine / SABCNews (Johannesburg)
Duma Boko, president of Botswana National Front, gave the South African Communist Party-organised Che Guevara Memorial Lecture in Mahikeng in the North West. Yoko took aim at the leadership of Botswana's current president, Mokgweetsi Masisi, saying that since Masisi took the reins from Ian Khama, the state of democracy in Botswana has declined.
__________
CP China's 20th Congress
__________
Thomas Sankara Still Inspires
Owen Schalk / Canadian Dimension (Winnipeg)
Sankara, as president of Burkina Faso from 1983 to 1987, implemented a socialist, anti-imperialist agenda aimed at cultivating a self-sufficient economy run by the Burkinabè people, for the Burkinabè people. His agenda included, among other things, refusal to pay Burkina Faso's debts to Western-run institutions.