labor
Doug Ford's Attack on Workers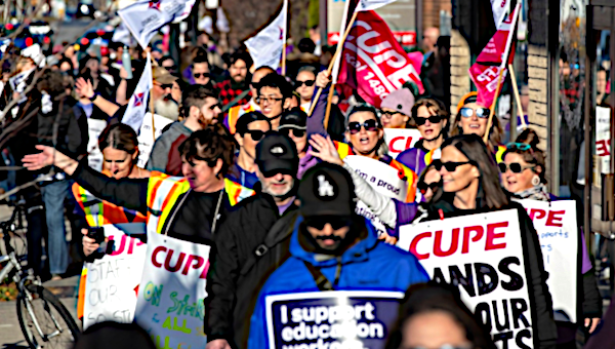 Canadian Union of Public Employees (CUPE),
It's called the Keeping Students in Class Act. The title of the bill, which passed Ontario's legislature Thursday, is a weak attempt to make it seem like Premier Doug Ford is protecting public education in the province. In reality, Bill 28 is draconian legislation that removes the rights of 55,000 education workers to collectively bargain and to take meaningful job action.
The bill prevents workers from accessing the labour board, which is an independent third party that resolves disputes between employers, employees and unions. Most controversially, the bill also pre-emptively uses Section 33 of the Charter of Rights and Freedoms – commonly known as the Notwithstanding Clause – to block the union from challenging the constitutionality of the bill in court. If workers contravene this heavy-handed legislation by going on strike, they could be fined $4,000 a day, and their union $500,000.
The Progressive Conservatives (PCs) went to extreme lengths to pass the bill before education workers would be in a legal position to strike Friday (November 4). Ford's government shortened the length of time the bill was debated in the legislature; started debates as early as 5 a.m.; extended the legislature's sitting hours until midnight; and prevented the bill from going to committee, a normal part of the legislative process, when members of the public and stakeholder groups get to comment on the proposed law. These actions are reflective of what Tom McDowell has defined as Neoliberal Parliamentarism, whereby a government uses restrictive rules of the legislature to end democratic debate and push through draconian legislation.

In passing Bill 28, the Ontario government has effectively eliminated collective bargaining and the right to strike for these workers, and more broadly for any public sector union that threatens a strike in Ontario.
Ford Wants Workers to Fall Further Behind
While Bill 28 is rightly garnering national media attention because of the government's pre-emptive use of the Notwithstanding Clause to block union access to the courts, the government's assault on the freedoms of these workers goes back almost a decade. The union at the centre of this dispute is the Canadian Union of Public Employees (CUPE) Ontario School Boards Council of Unions (OSBCU). It represents over 55,000 workers. The OSBCU membership is diverse, made up of librarians, maintenance staff, custodians, educational aides and assistants, IT workers, and early childhood educators. According to a report from OSBCU, more than 71 per cent of these workers are female. And they are some of the most poorly compensated workers in their sector, earning an average of $39,000 per year.
These poverty-like wages are enough for any unionized worker to demand fair and just compensation. Yet, this is not the first time these workers' rights have been bulldozed by an Ontario government. In 2012, the Liberal government of Dalton McGuinty passed Bill 115, the Putting Students First Act, freezing education workers' salaries and ending any potential job action. The result was two years of zero per-cent wage increases. In subsequent rounds of bargaining, OSBCU was able to negotiate one per-cent increases, which was later mandated by legislation in 2019 by Ford's Bill 124. Bill 124 froze wages at one per cent for an additional three years.
Like Bill 115, Ford's 2019 act eliminated the ability of education workers to collectively bargain. According to the OSBCU, the meagre wage increases that these workers have been able to win from the government between 2012 and 2021 are 10.2 per cent below inflation over the past decade. In short, both Liberal and PC governments in Ontario have imposed poverty wages on people doing essential education work.
This economic reality framed the most current round of collective bargaining. The Ford government refused to accept the union's demand of an 11.7 per-cent wage increase and is instead imposing annual increases of 2.5 per cent for those making less than $40,000 a year, and 1.5 per cent for those making less than $43,000. With the cost of living rising more rapidly than it has in 40 years, this means these workers will continue to fall further behind.
Back-to-Work Legislation: a Canadian Tradition
The Ford government's refusal to make significant concessions at the bargaining table led to an impasse in bargaining. The union had authorized and taken a strike vote, which passed with 96.5 percent support. After a series of other legal hurdles were addressed, the union declared that it would go on legal strike on Friday.
Then, Ford's government moved in a manner that has now become entirely predictable. It introduced sweeping back-to-work legislation. Since 1950, federal and provincial governments in Canada have used this legislative tool to end over 146 separate labour disputes. For labour relations scholars Leo Panitch and Donald Swartz, this move has become so familiar that they devised a concept – permanent exceptionalism – to describe these routine government actions. For Panitch and Swartz, permanent exceptionalism represents a contradiction because all governments will continually portray the situation "as exceptional, temporary, or emergency-related, regardless of how frequently they occurred or the number of workers who fell within their scope or were threatened by their example."
Since the 1950s, and with increasing frequency by the end of the 1970s, the so-called "temporary" and "exceptional" nature of back-to-work legislation has been muddled by government insistence that it respects the foundations of labour relations but it must restrict the ability of workers to strike in order to solve a looming political or economic emergency – real or imagined – by the government of the moment.
In this manner, the Ford government is following a time-honoured Canadian tradition of running roughshod over workers' ability to bargain and strike. And it's weakening our labour relations system and workers' freedom of association while doing it. But that alone wasn't enough for the Ford government. It also had to shield itself from potential legal blowback. It had to address the reality that since 2015, workers have had a Charter right to strike.
Enter the Notwithstanding Clause
In 2015, the Supreme Court of Canada ruled in Saskatchewan Federation of Labour v. Saskatchewan that workers have a constitutional right to strike.
In our book, Unions in Court, Larry Savage and I examined the long history leading up to this case, seeking to explain both the importance of the Charter victory for workers and some of its many limitations. We argued that labour's Charter rights are important but vulnerable to governments (and employers) that dismiss these freedoms as an "invented right."
That vulnerability was made real for the first time on Monday, when Ford used the Notwithstanding Clause to shield itself from future constitutional litigation. Since the Supreme Court's ruling in 2015, governments that have passed laws that interfere with workers' rights have faced serious financial penalties.
This happened in 2016 when the Supreme Court ruled that the British Columbia government's erosion of collective bargaining rights for teachers was unconstitutional. That decision forced the B.C. government to spend hundreds of millions of dollars to hire thousands of additional teachers to remedy its unconstitutional actions. It has also happened in Ontario, where the former Liberal government was forced to pay hundreds of millions of dollars as a remedy for violating the rights of teachers and other education workers.
Clearly, the Ford government was not willing to gamble that it might have to pay a similar remedy in the future. Its usage of the Notwithstanding Clause is a tacit admission that it had no interest in debating its legislation in court. The result is that workers' Charter rights have been legislated away with the stroke of a pen, all in the name of political convenience.
The Risks and Rewards of Defiance
In the short term, the union has no political or legal avenue to challenge the Ford government's actions. The government was re-elected earlier in 2022 and will maintain its majority government well into 2026. The unions have no capacity to challenge this bill in court or to appeal to other labour relations actors. Every institutional avenue has been slammed shut by this bill.
Of course, for students of labour history, this is not the end of the issue. Throughout much of Canadian history, state law has been hostile to workers' collective actions that threaten the economic or political status quo. Until the 1940s, workers were routinely victims to state coercion on the picket line. While that history is long and complex, the labour movement of 2022 might start to think seriously about how it can address laws that treat workers as commodities in jobs that are undervalued and under-compensated.
In the current context, CUPE must stare down punitive fines and even civil or criminal charges if it defies this legislation. Yet, that might be a gamble worth taking. In 1999, the Saskatchewan Union of Nurses faced similar legislation under the NDP government of the period. In that struggle, the nurses openly defied the government's back-to-work bill and won a significant victory.
In Ontario, OSBCU has indicated that it's willing to continue the fight. The union says its members will walk off the job Friday and continue striking "until further notice," unless the government reaches a deal through bargaining, not legislation. Other major unions in the province have told reporters that they may consider sympathy strikes or even a general strike.
A Time for Creative Fightback
Beyond a courageous, and certainly risky, act of defiance, however, labour has some serious questions to address. There is now no doubt that every public sector worker's ability to bargain will be limited by back-to-work legislation if it threatens a government's political or economic agenda. Ford has now doubled down with the use of the Notwithstanding Clause, which will be watched closely by other Conservative governments as they enter their respective public sector negotiations. If Ford is able to normalize the pre-emptive usage of Section 33, labour rights will be meaningless.
To that end, labour must get creative. Labour bodies at the local, provincial, and national levels need to think about aiding public workers with rotating flying squads, to be financed by unused strike funds. Union retirees can become involved as strikers and picket captains. Union education can assist in building worker capacities to participate in peaceful protest in different struggles. Union solidarity can be expanded so that union members in workplaces not involved in direct action can lead picket lines in other workplaces victimized by back-to-work legislation, thus avoiding the punitive fines designed to cripple unions exercising their rights to strike. Union staff can be retrained to act as picketing coaches and captains to lead solidarity marches.
Political strategies that build a fighting left will also need to be developed. Parties that want to align themselves with labour will need to act courageously or labour support will be withdrawn. These, of course, are not new or novel solutions, nor is this an exhaustive list. However, without creative thinking and bold action, labour will be seriously threatened. Doug Ford has moved the goalposts with his pre-emptive use of the Notwithstanding Clause and that means the law can always be side-stepped to trample workers' basic rights. •
This article first published on The Breach website.