labor
D.C. Voters Approve Measure Phasing Out the Tipped Minimum Wage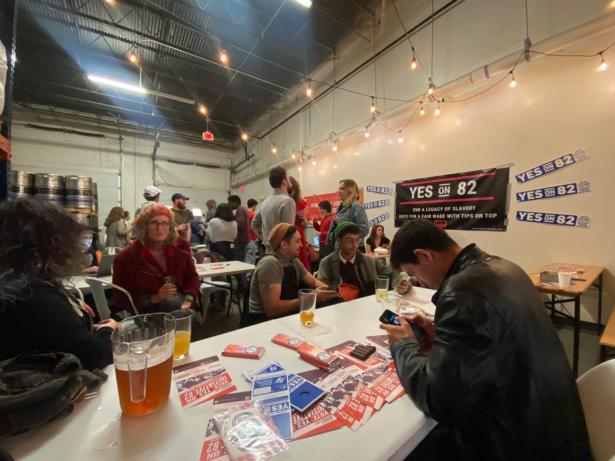 The watch party for supporters of Initiative 82.,(Amanda Michelle Gomez / WAMU/DCist)
D.C. voters overwhelmingly approved a law Tuesday phasing out the tipped minimum wage by 2027. The multi-year effort by labor groups to end businesses' reliance on patrons' tips to compensate workers prevailed, despite major pushback from the local restaurant industry.
The measure's success also comes four years after the passage of a nearly identical initiative and its subsequent overturn by the D.C. Council.
With 69% of precincts reporting around 10:50 p.m., more than 74% of voters supported Initiative 82, while nearly 26% decided against it, according to the Associated Press.

The vote fundamentally changes the way employers pay their tipped workers.
Currently, employers can pay their tipped workers a subminimum wage of $5.35 per hour, with the expectation that customers will get their workers' total earnings to the full minimum wage of $16.10. If tips do not, then employers by law have to make up the difference.
But starting next year, when the initiative kicks in, the tipped minimum wage of $5.35 is required to increase by a dollar or two every year until it is equal to the full minimum wage. By 2027, employers can no longer rely on gratuity but have to pay all their workers the full prevailing minimum wage, which is based on inflation.
The initiative does not outlaw tipping. However, many owners will likely consider adding a service charge to reduce the effects of Initiative 82. Unlike tips, that service charge goes directly to employers, who can use the money as they wish. Some tipped workers have pushed back against service charges because they say patrons are less likely to tip on top of an automatic percentage upcharge to the total bill.
Most of the city's tipped workers are bartenders and servers, but some also work at nail salons, hotels, and other service establishments. D.C. will soon join eight states that do not have a tipped minimum wage, although the city would be among the first since the 1970s to transition away from a two-tier wage system.
The measure still has to go to Congress for a 30-day review, and the D.C. Council could tweak or even overturn the initiative, as they did when a similar measure, Initiative 77, passed in 2018. But ahead of the vote, the spokesperson for Chairman Phil Mendelson told DCist/WAMU he has "no intentions of interfering with whatever decision is made by voters regarding I-82".
A majority of D.C. Councilmembers won't seek to repeal the initiative if it passes, a Washington City Paper poll found in September.
In 2018, Initiative 77 passed with 55.74% of the vote, according to D.C. Board of Elections. The city's poorer wards supported the measure, while the richer wards opposed. Every ward but Ward 3 approved the ballot measure, though the vote was close in Ward 2, where 50.67% voted "yes" and 49.33% voted "no." Support was strongest in wards 7 and 8, where at least three-fifths of voters went "yes."
Support for Initiative 82 was even more decisive, sweeping the night with more than 70% of the vote with 63% of precincts reporting, according to the Associated Press. Every ward in the city had overwhelmingly approved the measure as of 10:30 p.m., even Ward 3, which previously turned down Initiative 77.
The debate around tipped minimum wage over the last several years has been an emotional and contentious one, particularly among people working in the restaurant industry.
Proponents argue tipped workers are susceptible to low wages and wage theft. It's difficult to enforce the requirement that employers make their workers whole if tips don't get them to the full minimum wage. Indeed, the council's efforts to require businesses to report wage data have largely failed, because few restaurants actually submit data (though D.C. has failed to create a promised portal for that data).
Wages are also unpredictable, especially when workers are relying on patrons who can be fickle or biased, proponents say. According to the U.S. Department of Labor statistics, D.C. servers earn a median of $16.77 per hour with tips. Many tipped workers do not have benefits like health insurance. Still, that's comparable to other non-tipped restaurant workers, like dishwashers, who earn a median of $16.10 an hour.
"I'm ashamed to say in 2018 I was anti-77, and then I did some traveling and talked to bartenders in California, Oregon … and all of them unanimously preferred not having tip credit and making a real minimum wage underneath all their tips," said Maxwell Halwa, a bartender and organizer in favor of Initiative 82, in a speech at Tuesday night's watch party. "And it made me realize I'd been lied to."
Opponents, meanwhile, say the initiative is solving a problem that doesn't exist. Most D.C. restaurants are independently owned, which opponents believe makes owners less likely to exploit their workers and cut corners with wages. Also, because so many restaurants are small businesses, owners have come to rely on tip credit because profit margins are razor thin. The pandemic and inflation have only made margins thinner.
"Initiative 82 was not supported by tipped employees or restaurant owners and operators," Julie Sproesser, the Interim Executive Director of the Restaurant Association of Metropolitan Washington, said in a statement after results were called. (Some bartenders and other service workers who spoke with WAMU/DCist about the measure were in favor of it). "We are disappointed with its passage and the new reality that awaits our vibrant industry during a time of already challenging economic recovery. This measure will disrupt our city's hundreds of small and independently owned restaurants and limit the earning potential of tipped employees, while also having regional repercussions."
At the polls, voters told WAMU/DCist reporters on Tuesday that they understood the controversy, but ultimately decided in favor of the measure.
Fred Finelli, 68-year-old Ward 3 resident, voted in favor of the initiative Tuesday at a polling location in Cleveland Park. He says the measure is controversial and his children, who work in the restaurant industry, don't agree with his position. But he decided to vote "yes" because he says "it was only fair to bring everybody up to at least minimum wage."
Andrea Ulrich also voted "yes" to initiative 82. She says she "went back and forth" because she was sympathetic to restaurants that testified to negative effects. But ultimately she wanted to address possible wage theft under the current system. "If we're honest, though, I'd rather have implementation of existing laws rather than have these new kind of laws that are filling gaps," she says.
Various owners and workers have also said patrons' tips get bartenders and servers well above the city's full minimum wage. A bartender at Little Miss Whiskey's told DCist/WAMU he could earn half of his $1721 in rent on a really good weekend.
Both sides spent money on the initiative. Five dozen groups donated more than $643,000 on The No To 82 campaign, according to the Office of Campaign Finance. One of the top donors was the National Restaurant Association, which donated $277,730. Restaurant groups that donated include José Andrés' ThinkFoodGroup, Founding Farmers, and Silver Diner.
Most of the initial anti-82 dollars went toward a legal effort to keep the measure off the ballot, which ultimately failed in court. Notably, many restaurants hadn't been as vocal in their opposition as they were in 2018, with owners posting signs within their establishments or workers sporting anti-77 merchandise while tending to customers.
Meanwhile, just over 500 groups donated to the pro-82 campaign called DC Committee to Build a Better Restaurant Industry, totaling over $438,000. Most donations appeared to come from individuals, but large donors include George Soros's Open Society Foundation, All One God Faith Inc, Mintwood Strategies, and Metro DC DSA.
Some restaurants already eliminated tip minimum wage ahead of Election Day (One Fair Wage counts at least 100 restaurants). But the Restaurant Association Metropolitan Washington says that reflects a small percentage of restaurants. Restaurants will likely call on the D.C. Council to pass legislation to ease the blow of the initiative, according to John Guggenmos, the owner of gay bars Trade and Number Nine.
This story has been updated with the latest results and statements from supporters and detractors of Initiative 82.
Amanda is interested in covering the health and well-being of local residents, as well as the working conditions they face on a daily basis. As a general assignment reporter, she reports on all that and much more. Amanda has written and reported on a variety of topics, from housing to homicides, having worked at Kaiser Health News and Washington City Paper. She is originally from East Los Angeles, so is always in search of the best tacos.
DCist is supported by a community of members … readers just like you. So if you love the local news and stories you find here, don't let it disappear!  BECOME A MEMBER,  We depend on your support...DONATE