There Is an Alternative: Social Housing in Vienna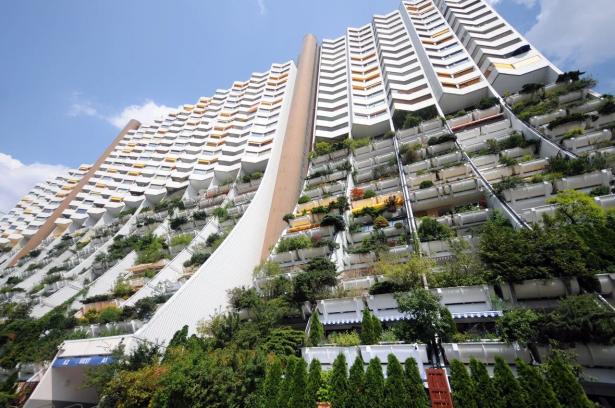 Alt-Erlaa municipal housing, Vienna.,Rafael_Wiedenmeier via Getty Images
We all know we have a housing crisis all across our country.  Rents have skyrocketed; there are insufficient numbers of apartments and houses available; many people in our cities are unhoused; rent control is considered too radical; there are few protections against evictions.  The American dream has long included home ownership and stable safe neighborhoods.  But the dream has become a nightmare as racism and capitalism leave some without homes altogether, and have displaced so many more.  Most discouraging, few people see any alternatives to the current system of how housing is allocated and paid for.
But there is an alternative.  Two members of Franklin County Continuing the Political Revolution (FCCPR) were in Vienna, Austria recently and saw how things could be different.  Montague resident Ferd Wulkan was there in September and spent time with several Viennese residents, all of whom proudly talked to him about housing in the city.  He visited the Karl-Marx Hof, the largest of the socialized housing developments - it stretches over 1 kilometer and houses 5,000 people.  The picture shows a small part of that development.
Leverett resident Ann Ferguson was there a few years earlier and learned how the people in the Karl-Marx Hof complex led the resistance to the Nazis in the early 1930s.  She was particularly impressed by the combination of individual kitchens and communal dining services the original complex offered, including dumb waiters to every apartment allowing the food from the communal kitchen to be delivered to each flat, and the communal laundry and child care center.
Between 50 and 60 percent of all Viennese live in permanently affordable, rent-stabilized subsidized dwellings.  These include 220,000 city-owned units and 200,000 non-profit co-operative flats built with municipal subsidies. Vienna's 1,800 municipal housing estates alone are home to close to half a million citizens (out of a population of slightly under two million).  All of it together is referred to as "social housing", which they think sounds better than "public housing".  There has been a conscious effort to integrate the projects such that members of different social classes live next to each other, each paying a similar percentage of their income for rent.
This all started after the devastation of World War I.  In under a decade, from 1925 to 1934, more than 60,000 new apartments were built in large developments situated around green courtyards.  The Karl-Marx Hof is a good example of this. Forty percent of the building costs came from the Vienna Housing Tax, the rest from the proceeds of a luxury tax and from federal funds.  From 1919 to 1933, the city was the only entity building new housing.
While Austria's national government has been ruled by a variety of parties ranging from right to left over the years, for over 100 years (except for the Nazi period 1938-45) Vienna has mostly been governed by the Social Democrats: indeed, starting in the 1920's, it was known as "Red Vienna". The socialists implemented policies to improve public education, healthcare, sanitation and, especially, housing.  Stable affordable housing, how the dwellings were managed, and what services were provided, were key to  the party's  creation and celebration of  a workers' culture. It was also a way to increase workers' power by eliminating a major source of economic stress.
It remains true  today that with so much of the rental market subsidized and affordable in Vienna, there is downward pressure on rents overall .  This means that  owners of private apartments have to compete with the socialized sector and are thus limited in the rents they can charge.  In other words, the rental market is not subject to the forces of the free market or the ideology of neoliberalism.
Ferd and Ann were also impressed by how apartments are allocated.  Starting in 1925, persons with disabilities and other societally vulnerable groups received preference in receiving subsidized apartments.  Even  today, there continues to be  a complicated allocation system so that many of the more desirably located apartments are made available to low-income people. 
So what does this mean for us in the US today?  We need to acknowledge that housing is a basic human right!  The Vienna example shows that where there's a will there's a way, but we in the U.S. need a socialist vision that can compete with the dominant capitalist world view.  Learning from other places, like Ann and Ferd did in Vienna, can be part of what could get us there. 
Sources, and for more information:
City of Vienna, "Social Housing in Vienna"  
Miles Howard, "Maybe more of us should live in public housing", Boston Globe, 3/13/2020
Wikipedia, "Red Vienna"  https://en.wikipedia.org/wiki/Red_Vienna
"Red Vienna: Experiment in Working-Class Culture" by Helmut Gruber [1991, Oxford University Press]
Ann Ferguson,is a retired UMass professor and socialist-feminist activist
Ferd Wulkan is a retired union organizer
Franklin County Continuing the Political Revolution is a multi-issue political organization that grew out of the Bernie for President campaign in 2017 in Franklin County Massachusetts.