labor
Amazon Was Supposed To Transform a Tijuana Slum. It Failed To Deliver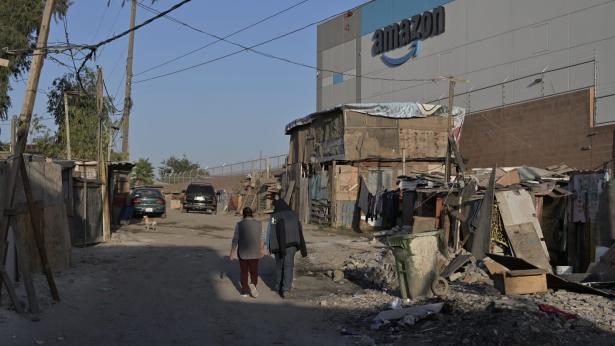 Carlos A. Moreno
Three months ago, Cristiani Martínez, a 28-year-old mother, began working as a cleaner at the Amazon distribution center located in her neighborhood of Nueva Esperanza in Tijuana. Martínez works the night shift, taking care of her two small children during the day. She only sleeps between three to four hours a day.
Nueva Esperanza is a neighborhood of several hundred inhabitants. Above it looms the sky-blue Amazon building, towering over abandoned parts and mattress springs, all soon to be turned into building materials for people's homes. The only paved street is the one that goes in and out of Amazon's fulfillment center. During her shift, Martínez works with two other colleagues from the neighborhood. The three make up the entirety of the night-time cleaning shift at the distribution center, a massive 32,000-square-meter building that is a 500-meter walk from their homes. When it rains, dirt roads turn into knee-deep rivers of mud. There is no other way for them to get to their job. Martínez must change all her clothing and shoes each time she arrives at work.
Limited to contractor work in the cleaning and canteen areas, pay is scant. Amazon workers from Nueva Esperanza currently working at the distribution center are paid 52 pesos (just over $2.6) per hour. Tirso Hernnández, a 59-year-old cleaner at the warehouse, told Rest of World this is less than what other employees are paid for doing the same work for other companies nearby.

It was the only thing we could have direct access to," Martínez told Rest of World, "because for other jobs, you had to apply online and, well, many of us don't know how to do that, let alone have a computer."
In September 2021, Amazon was forced to deal with an outcry after it set up its new Tijuana distribution center in Nueva Esperanza. The contrast of the gleaming Amazon building hovering over the makeshift cardboard and corrugated iron shacks prompted a barrage of negative media coverage and online protest.
In response to the uproar, Amazon issued a statement saying it would engage with the local community. The company promised 250 "jobs with competitive wages and benefits," in addition to "assessing how Tijuana's community might be supported through the Amazon Gives social responsibility program."
Shortly after, and in support of Amazon, the then-mayor of Tijuana declared herself to be in favor of the fulfillment center, arguing that "you change an environment, and the surroundings are transformed." 
Javier López Hernández, a Nueva Esperanza resident, worked at the Amazon Tijuana warehouse for a month.
Rest of World spoke with 15 residents of Nueva Esperanza, including six who work at the fulfillment center. Both workers and residents claim that Amazon has not made good on its two basic promises. Those in Nueva Esperanza who work there continue to suffer from poor working conditions, and the neighborhood continues to lack urban development and basic services. "We have not seen the progress that they had promised us," Genaro Hernández, a 58-year-old who worked for three months as a cleaner at the warehouse, told Rest of World.
What residents interpreted as promises in Amazon's statement are too "open and too ambiguous," Carlos Atilano, coordinator of the Council of Independent Citizen Organizations (COCI) — an organization of lawyers specializing in social, labor, and political justice in Tijuana — and director of the Mexican Alliance of Lawyers, told Rest of World. "They do not oblige Amazon to take any action … [The statement] can be classified as a deliberately misleading document which has generated false expectations across the community, and which was clearly drafted in order to avoid facing up to any real responsibilities."
Amazon has not provided further details since it issued its statement in 2021. Amazon did not respond to requests for comment from Rest of World.
"We have not seen the progress that they had promised us."
The least explicit of the promises was Amazon's statement that it would be "assessing how Tijuana's community might be supported through the Amazon Gives social responsibility program." On the company's website, Amazon Gives boasts its support for dozens of charitable causes globally. These range from funding infrastructure projects, such as the construction of schools or wells in regions such as Latin America and Africa, to the donation of food and electronic devices throughout the world, as it has done just a few kilometers from Tijuana — in San Diego.
Neither the Nueva Esperanza neighborhood nor Tijuana appear on the list of Amazon Gives campaigns.
Amazon's promise in the same statement to create 250 well-paying jobs with benefits was clearer cut, but conversations with experts and neighbors reveal that Nueva Esperanza has virtually been excluded from these opportunities. Rest of World asked Amazon if it had created 250 jobs in its Tijuana fulfillment center, but received no reply.
Neighborhood residents identified the six people from Nueva Esperanza that currently work at the center. Four of them told Rest of World that, since it opened, around 25 to 30 people from the neighborhood have worked there, all for short periods of time, all subcontracted without benefits. Only one person from the neighborhood was able to secure employment outside of the cleaning and kitchen departments, but his stay was short; his contract was rescinded after only a few months, claimed Nueva Esperanza resident Javier López Hernández to Rest of World.
The Amazon building looms over the neighborhood of Nueva Esperanza in Tijuana, Mexico.
Similarly, two other residents, Genaro Hernández and Tirso Hernández López, told Rest of World that those in the neighborhood interested in applying for jobs couldn't do so because they lacked the necessary paperwork, such as official residency paperwork from utilities companies and the like (which many residents don't have because some residents don't have utilities). Hernández López, who does have a job working the morning shift in the fulfillment center, said, "This was the only job option I have left."
Lisbeth Chávez, a social anthropologist at the Autonomous University of Baja California (UABC), told Rest of World that the de facto exclusion of the inhabitants of Nueva Esperanza from the fulfillment center's best jobs went hand in hand with the deep social and economic precariousness they live in. To truly make a difference in the community, Atilano added, Amazon would have to actively seek to recruit and train residents.
For her part, Martínez said that because she couldn't afford child care for her two boys during the day, she was forced into the "total nightmare" of her current 12-hour night shift — four days in a row, every week. "One arrives tired from not sleeping, then cleaning, then returning home, and then feeling even more exhausted because I know I've got to get up again," she said.
"This is a violation of the law," said Atilano, since Mexico's federal labor law establishes that "a night shift must not exceed seven hours and that these workers are clearly working 12 hours a day for four days in a row."
Not only do they fear losing their job if they complain, but the way they are contracted prevents them from being able to organize or accrue benefits, said López Hernández, the 20-year-old Nueva Esperanza resident who worked as a subcontractor at the Amazon Tijuana warehouse for a month, explaining that the contracts never lasted for longer than three months. "The only thing one aspires to is to be assigned a good area," he said. "But we'll be cleaners forever, there's no chance of being promoted."
Rather than accept Amazon's terms, most of those from Nueva Esperanza who worked at the fulfillment center opted to leave if they could afford to. One of these people, 30-year-old Madai Natividad López, worked for two months until she had had enough. When she approached Amazon about becoming a formal full-time employee, the company put her through the application process and said López should expect a call. She never heard back. Now, she is resigned to seeing the towering building every day as a symbol of what she feels are broken promises. "Things never improved," she told Rest of World. "We've got the same shortcomings and the same problems — nothing has changed." 
Manuel Ayala is a journalist based in Tijuana.
Carlos A. Moreno is a photojournalist based in San Diego, California and Tijuana, Mexico.