labor
Howard Brown Health Wants To Lay Off 60 New Union Members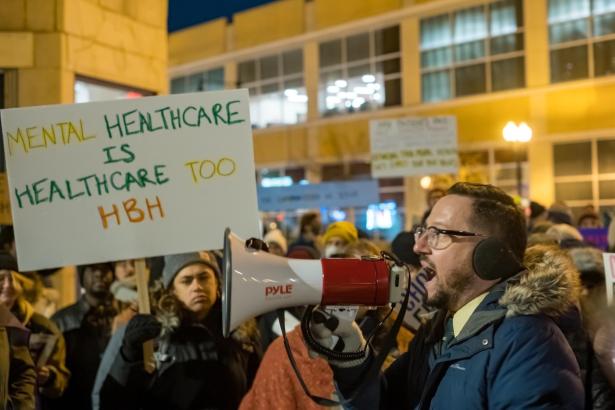 A rally for Howard Brown Health workers in Chicago, December 3, 2022.,(Howard Brown Health Workers United / Twitter)
Recently unionized employees at Howard Brown Health, a nonprofit Chicago health clinic that caters particularly to LGBTQ people, plan to strike tomorrow. Management is also threatening to lay off 15 percent of their workforce, citing "financial concerns."
On December 30, the sixty employees — who had previously been told they would be laid off tomorrow — arrived at work to discover that they had been locked out of their emails and other work software, including at least one therapist who says that they lost access during a call with a patient. The workers were given no advance notice that this would happen, according to the union. A photo of the email from a manager informing the workers of their impending layoff circulated on social media and showed that he didn't personalize the message, so each email addressed a given employee as "NAME."
The proposed layoffs came during negotiations for the workers' first contract since unionizing with the Illinois Nurses Association (INA) last August. During the first bargaining session in late November, management suggested a "voluntary separation" for 20 percent of its 450 employees — including those who provide PrEP medication (meant to prevent HIV) and support to queer survivors of sexual assault, some of whom are also on the bargaining committee — with one week of severance pay and just over a month of health care. Management said that the cuts "wouldn't stop essential services," according to INA organizer Margo Gislain.

"How can you propose laying off a fifth of your staff when we can barely meet the demands of our patients as it is?" said Shakia Flowers, a behavioral health provider at Howard Brown who was also elected to the bargaining committee.
In response, more than three hundred union members and community supporters rallied to protest the cuts. "A cut to working-class, queer people's health care would be devastating," says Howard Brown patient Sean Estelle, who reported seeing a video of a drag performer at a local club announcing the gathering and urging people to turn out to the action.
Howard Brown says the cuts are necessary to avoid a projected $12 million shortfall for the next fiscal year, but the union is challenging the financial forecast, which it says is founded on "dubious" grounds. INA organizer (and former Jacobin podcast producer) Sarah Hurd told me, "Setting aside the fact that this projection was not mentioned prior to these workers unionizing, nor have we been provided with the methodology of how they came up with this number, there are also other places they could cut from like Executive Leadership Team compensation." According to ProPublica, Howard Brown CEO David Ernesto Munar gave himself a $100,000 raise during the COVID-19 pandemic. But workers at Howard Brown were not given any extra compensation for their frontline work during both the COVID-19 and monkeypox outbreaks.
After the rally, Howard Brown management reduced the number of layoffs from one hundred to sixty employees, but workers remain unconvinced of the necessity of cutting an already understaffed workforce. Lack of proper staffing was also a motivation for unionizing in the first place, according to bargaining committee representative Julian Modugno. Modugno told me that given the vulnerability of their patient pool, cuts of this size would constitute a major health crisis in the Chicago queer community, of which many Howard Brown employees are a part.
In September 2022, Howard Brown Health averted a strike in the eleventh hour after settling with a separately organized group of thirty registered nurses, who are also represented by INA. Workers were also quick to point out the hypocrisy of a nonprofit often lauded as progressive and supporting the LGBTQ community taking away the work and benefits of LGBTQ workers. "It's hard to say this is an organization that believes in liberation when they want to slash programs that serve the community, not to mention the community they serve is often the people that work there," Modugno told me. "It reduces our mission statement — 'Howard Brown Health provides affirming healthcare and mobilizes for social justice. We are agents of change for individual wellbeing and community empowerment' — to a fundraising slogan."
CONTRIBUTORS
Peter Lucas worked on the Zohran Mamdani campaign and is a member of Democratic Socialists of America in New York City.
The new issue of Jacobin is out now. Subscribe today and get a yearlong print and digital subscription.