labor
Nurses' Strike Ends in New York City After Hospitals Agree To Add Nurses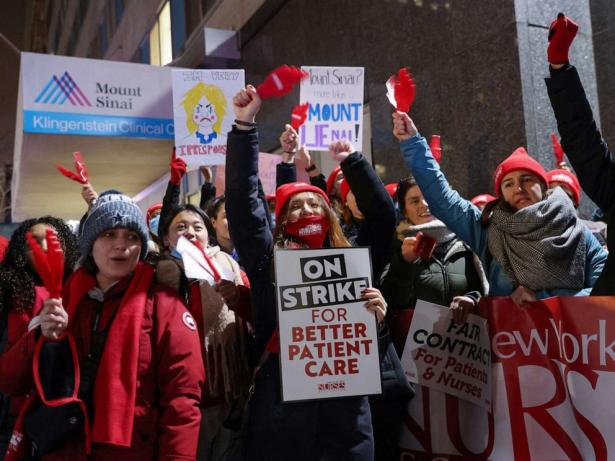 More than 7,000 nurses go on strike across 2 NYC hospitals.,Andrew Kelly
More than 7,000 nurses at two New York City hospitals ended a three-day strike and returned to work on Thursday, after they resolved what they said was the major sticking point in negotiations with the hospitals: too few nurses.
The tentative contract deals the nurses reached with Mount Sinai Hospital in Manhattan and Montefiore Medical Center in the Bronx early Thursday would also increase their pay, an agreement the unions and hospitals had largely nailed down before the strike began.
But many nurses on the picket line this week said their main priority was improving working conditions by adding nurses to short-staffed hospital floors where they said crowded conditions had put patients at risk and led to stress and burnout among staff. That also became the priority of the union in the negotiations.

"I feel like you're doing the basic that you need to get done for the patients," said Kelly DePalma, a night nurse in the Montefiore emergency room, who said 15 patients were typically handed off to her when she arrived at work. "The medication is ordered, you give them that, but you don't have time to do much else. You're just kind of treading water to get through the night."
Many nurses left hospital jobs because of the trauma of the deadly first wave, burnout or the promise of higher-paying jobs as travel nurses. The nurses who remained were left with far more patients to care for, which they have said left them exhausted and frustrated.
The strike exemplified a problem in hospitals across the nation, where cost-cutting by administrators, driven in part by low Medicaid reimbursement rates, had resulted in staffs stretched well beyond recommended safe staffing ratios even before emergency conditions began.
Among states, only California has a sweeping mandated nurse-patient-ratio law, and ratios at its hospitals are enough to make New York nurses envious: One nurse for every four patients in the emergency room, for example, and one nurse for every five patients on regular inpatient medical floors. In intensive care, nurses care for one or two patients.
In the striking hospitals, hundreds of unfilled nursing jobs compounded the problem. At Montefiore, union officials said there were over 700 open nursing slots, and 3,500 working nurses. At Mount Sinai, there were about 500 open positions, and 3,600 working nurses.
Hospital administrators largely blamed a national nursing shortage for the open slots, but union representatives said that not enough was being done to attract and retain nurses.
"In New York State, there are a large amount of people that hold registered nurse licenses but aren't working at the bedside as nurses," said Matthew Allen, a nurse on the negotiating committee at Mount Sinai. "So there's people out there, and they fled the bedside for various reasons."
"If you improve the staffing, if you improve the working conditions, people are going to come back to the bedside. That's the way we're looking at it," he said.
The New York State Nurses Association, which represents more than 42,000 members, said in a statement on Thursday that for nurses at Montefiore, the tentative deal — reached at about 1 a.m. on Thursday morning — would include a 19.1 percent wage increase over three years and the creation of more than 170 new nursing positions.
At Mount Sinai, the tentative contract also includes the same raises and sets out staffing ratios for the first time for all inpatient units with an enforcement mechanism, the union said.
"When you become a patient in a New York hospital, you should have enough nurses to care for you, no matter who you are," said Nancy Hagans, the president of the union. "Nursing has to become a sustainable profession that keeps us at the bedside, now and for the future generation of nurses that we need to build up."
Judy Sheridan-Gonzalez, a nurse on the negotiating committee at Montefiore, said the agreement marked the first time the hospital had agreed to nurse-patient ratios in the emergency department. She said those ratios would match those set for the floors upstairs, which would vary depending on patient needs. A system to enforce the ratios was also established, she said, a key ask for the nurses.
"They moved on every important issue," she said. "We are really happy. We hope that this is a way to make our hospital a great hospital again."
New incentives and programs were also set up to help recruit local Bronx nurses to stay as union employees at Montefiore for the long run, the union said.
Mount Sinai and Montefiore said in separate statements that they welcomed the agreements with the union. "It is fair and responsible, and it puts patients first," said Mount Sinai.
Philip O. Ozuah, the chief executive of Montefiore Medicine, said the hospital was "grateful for the dedication and commitment of our nurses who have served through very challenging circumstances over the past several years."
Even before the pandemic, a gap existed between the supply of registered nurses and the demand nationally. But that gap widened during the pandemic. One study estimated that the nation lost 100,000 nurses in 2021 alone, because of a range of factors from burnout to early retirement.
In March 2022, the American Nurses Foundation and the American Nurses Association released the results of their Covid-19 Two-Year Impact Assessment Survey, which found that 52 percent of nurses were considering leaving their current positions due primarily to insufficient staffing.
And about two-thirds of those working in acute care considered leaving nursing after their experiences during the pandemic, according to a 2021 survey conducted by the American Association of Critical-Care Nurses.
Still, some states, including New York, saw a rise in registered nurses as a share of their population during the first year of the pandemic. An analysis of federal labor data by U.S. News and World Report showed that New York gained 12,500 registered nurses between 2020 and 2021, one of the largest such gains in the nation.
Lilia Espinoza, a nurse at Mount Sinai Hospital, said she realized that working conditions had deteriorated and weren't likely to get better early last year as the first Omicron wave subsided. The medical-surgical nursing unit where she worked was often down a nurse, as the hospital would reassign nurses to other units that were even more understaffed.
On her floor, where many patients were recovering from surgery or had serious infections and other ailments, nurses that once had five patients to cover now regularly found themselves with first six and then seven.
"You might not be able to turn that patient every two hours and then that patient gets skin breakdown" — bed sores — "and you feel terrible," said Ms. Espinoza, who became a nurse six years ago. "No nurse wants to go into a shift and know that today I'm not going to be able to do everything I need to do for my patients."
In interviews, nurses spoke about the importance of bedside nursing — tasks such as talking to patients and explaining the care they are receiving, listening to their medical histories and frequently assessing their conditions — and how there was less of that than ever. "People aren't getting nursing care anymore, they're getting frantic nursing tasks," Ms. Espinoza said.
The strike underscored a growing dynamic, according to Cheryl Peterson, a registered nurse and a vice president at the American Nurses Association: Though the majority of registered nurses still work in hospitals, a growing percentage are now employed by outpatient surgery centers or ambulatory care, reflecting the fact that more and more medical care is provided outside of hospitals.
To continue to attract and retain nurses, "hospitals need to look at how they're going to radically improve their work environment," Ms. Peterson said.
The strike began on Monday, after the hospitals and union failed to reach a deal following four months of contract negotiations. Gov. Kathy Hochul's office helped to facilitate Thursday's deal, with her head of state operations, Kathryn Garcia, serving as the point person.
"Even really an hour before I gave the State of the State address, I was on the phone working on staffing ratios and other priorities because I knew we had to get this done," Governor Hochul said Thursday morning.
Margit Anderegg, a nurse in the labor and delivery unit at Mount Sinai, said nurses began to exchange excited messages on a WhatsApp thread shortly after the agreement was finalized at about 2 a.m. Because mothers were sent to other hospitals to deliver during the strike, the nurses returned this morning at 7 to a largely empty unit, and relieved medical residents who had been filling in for them.
One resident came up to a nurse when she walked in and said, "Oh my God, thank God you are back," the nurse recounted in the text chain.
"I'm exhausted," said Ms. Anderegg. "It was historic that we actually went on strike, and the community and the energy was overwhelming."
Nurses will now vote on whether to ratify the contracts by the end of next week. A tentative deal was also reached early Thursday at Wyckoff Heights Medical Center in Brooklyn, and nurses there withdrew their 10-day strike notice.
Téa Kvetenadze and Brittany Kriegstein contributed reporting.