labor
HarperCollins Debut Authors Say They Won't Work With Strikebreaking Editors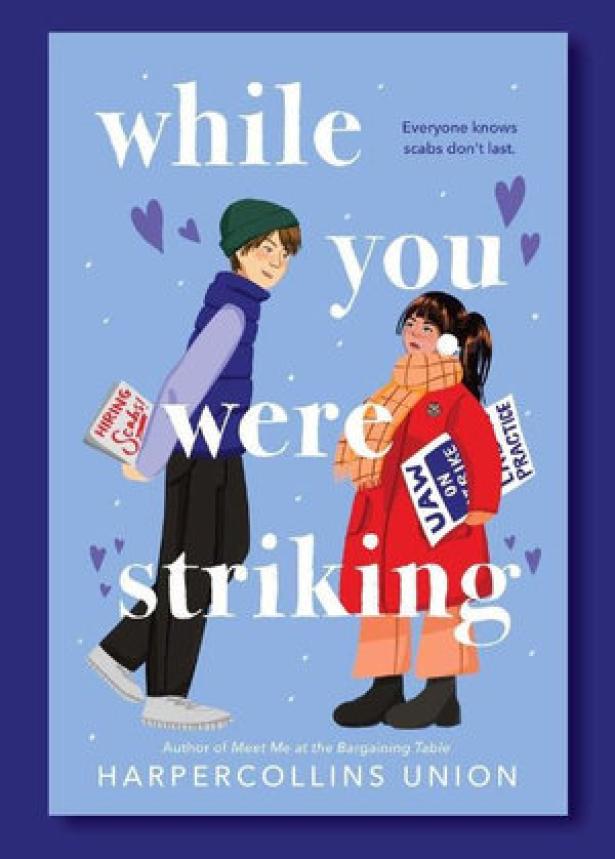 Workers at the HarperCollins Union have been on strike for over two months, braving the fierce New York City winter and picketing outside the company's offices. Now, sources say their labor is being outsourced to temporary workers. While some authors are crossing the picket line and continuing to work with "scab"—or strikebreaking—editors, many are holding the line in support of the union and say they won't work with any temporary workers while their editors strike for a livable salary.
"I don't want publishing to continue to be a place that's only feasible for people who come from means," said Kasey LeBlanc, who has a young adult novel publishing with HarperCollins in 2024.
For over 80 years, HarperCollins has held a reputation as being one of the largest unionized publishing houses, with over 250 employees represented by Local 2110 of the UAW. The union began negotiating for higher pay, a greater commitment to diversifying staff, and stronger union protection in December 2021 and have been working without a contract since April 2022. After months of failed negotiations and a one-day strike on July 20, 2022, the union authorized another strike in November 2022. 

"Management has been very uninterested in bargaining with us over our proposals," said Laura Harshberger, union chairperson and senior production editor for HarperCollins Children's Books. "I don't know why the company has been so antagonistic to us this time around … My only understanding of it is that they don't believe that HarperCollins should have a union, and they're trying to union-bust, but we're not letting them."
Harshberger, who has worked at HarperCollins since 2016, is the highest level of employee that is union eligible and currently makes $68,000 annually. According to an anonymous spreadsheet of publishing salaries, a majority of the 101 HarperCollins employees who specified their employer reported making between $45,000 to $65,000 annually. According to MIT's living wage calculator, a single adult who doesn't support any children should make a minimum of $53,000 in New York City.
A press release from the union says the mainly female employees make an average of $55,000 with a $45,000 starting salary. Meanwhile, the company reported record-setting revenues in the past two years. As the cost of living continues to rise, workers say these salaries aren't enough, especially in New York City, where the company is based. LeBlanc said this makes the publishing industry exclusionist and only available to people who already come from wealthy families. 
"I think having talented, passionate workers from diverse backgrounds who are able to work on our books without the fear that they can't support themselves day to day is really important," said LeBlanc. "It's just as important as the stories I'm trying to put out into the world. That's in part why I support the union."
According to Harshberger, an internal message went out suggesting the company should hire temporary workers to edit the manuscripts covered by striking editors. 
"It's disheartening, and it's demoralizing that the company is choosing to spend money on bringing in external workers who are not familiar with the systems. They don't have institutional knowledge, and they're likely very inexperienced in how publishing works," said Harshberger. "It just seems like management is really misunderstanding what's at stake here. Most authors don't want their books in the hands of inexperienced people. My understanding of what's happening on the inside is that corners are just being cut left and right and that books are not receiving the quality assurance that they typically would."
Sarah Ruiz-Grossman, whose debut novel is coming out with HarperCollins in 2024, said her work has not yet been impacted because her editor is not eligible to be part of the union and her book will not be edited for the next few months. Even so, since the workers went on strike, Ruiz-Grossman has donated to the strike fund, sent emails to the human resources department at HarperCollins expressing her disgust with how they are treating their staff, and is planning to withhold new book submissions until workers get a fair contract. If she were presented with the option of working with a scab, she said she would defer to what the union suggests.
"When you're signing up as an author to work with Harper, what you're signing up for is to work with a dedicated, unionized staff who are being paid fairly and treated properly in their jobs," said Ruiz-Grossman. "That's not the case when they're bringing in scabs who are not familiar with your work and who are not trained the way that the union workers are, who are not familiar with the years of work that they've all been doing with their authors."
LeBlanc has also told his agent that he refuses to work with scab agents. Currently, his editor is non-union, and he has sent two letters of support to the management team. When asked if he feels any concern about retaliation for showing support of the union, he said that's "always a fear."
"But then I think about the union workers being out on the picket line for over 40 days. Their jobs are at risk, and [potential retaliation] feels like a fair price to pay," said LeBlanc. "I think it would be a bad look for Harper to start retaliating against their authors. But it's a risk I guess I need to take."
Emma Specter, whose first book is also publishing with HarperCollins in 2024, is working with a striking editor. She said it's been difficult not to share every chapter with her editor, but she would also never work with a scab editor.
"I'm just in awe of how much my editor Rachel Kambury is risking and how thoughtful and careful she and her colleagues are being about making sure that this strike gets attention," said Specter. "I have total confidence that we'll just do more of a batch edit when she's back."
Specter, like LeBlanc, Ruiz-Grossman, and Harshberger, hopes that HarperCollins will meet the union's needs so the strike can be resolved.
"I hope we can all get back to work in a way that's more fair, in a way that's more liveable for the people who actually do the work," said Specter. "They're trying to bring about a change that's way overdue."
Alexandra Martinez is the Senior News Reporter at Prism. She is a Cuban-American writer based in Miami, Florida, with an interest in immigration, the economy, gender justice, and the environment. Her work has appeared in CNN, Vice, and Catapult Magazine, among others. Follow her on Twitter @alex__mar.
Through in-depth and thought-provoking journalism, Prism reflects the lived experiences of people most impacted by injustice. As an independent and nonprofit newsroom led by journalists of color, we tell stories from the ground up: to disrupt harmful narratives, and to inform movements for justice.  At Prism, our journalists are developing a full and accurate record of what's happening in our communities and systems—developed alongside people on the frontlines of injustice. Our work is in pursuit of collective power and justice for people and communities who are most often left out of mainstream news coverage, with stories that impact lasting social, culture, and systems change.