Mexico Plans To Ban Solar Geoengineering After Rogue Experiment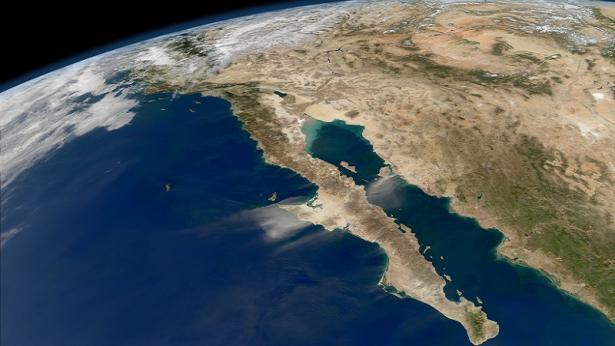 The stunt took place in the Mexican state of Baja California ,NASA/Norman Kuring
Mexico announced this Tuesday a set of measures to ban solar geoengineering experiments in the country, after a US startup began releasing sulfur particles into the atmosphere in the northern state of Baja California.
The Mexican government said it will develop a strategy to ban future experimentation with solar geoengineering, which will also include an information campaign and scientific reports. However, the government did not announce more specific actions.
"Mexico reiterates its unavoidable commitment to the protection and well-being of the population from practices that generate risks to human and environmental security," said the government in a statement.

Geoengineering refers to the act of deliberately changing the Earth's systems to control its climate.
One theoretical proposal has been to spray sulphur particles to cool the planet —which has been documented to briefly happen after volcanic eruptions.
A recent United Nations report found that this practice, known as stratospheric aerosol injection (SAI), "has the potential to reduce global mean temperatures".
But, it found, it "cannot fully offset the widespread effects of global warming and produces unintended consequences, including effects on ozone".
The UN convention on Biological Diversity established a moratorium on geoengineering in 2010, in the absence of enough scientific data and regulations.
Rogue experiment
In 2022, the US startup Making Sunsets launched an unauthorised experiment from two sites in the northern Mexican state of Baja California. The company claims it launched balloons injected with sulphur dioxide particles into the atmosphere, which were not monitored nor recovered.
The company's co-founder Luke Iseman said he conducted the experiment in Baja California because he lives there.
The Mexican government said the experiment was carried out "without prior notice and without the consent of the Government of Mexico and the surrounding communities".
Making Sunsets is already selling "cooling credits" for future balloon flights with larger amounts of sulphur dioxide for $10 each.
"Your funds will be used to release at least 1 gram of our 'clouds' into the stratosphere on your behalf, offsetting the warming effect of 1 ton of carbon dioxide for 1 year," the company claims on its website.
Lily Fuhr, deputy program director at the Center for International Environmental Law (Ciel), said in a statement that by offering a "cheap and easy quick fix" to the climate crisis, the company "plays into the hands of the fossil fuel industry".
"Solar geoengineering is too risky and ungovernable to pursue. We support the Mexican government in their plan for a ban and call on them to immediately stop the new flights that 'Make Sunsets' has announced for January 2023," Fuhr said.
Side effects
James Haywood is a professor of atmospheric science at Exeter University and co-wrote the recent UN report on SAI.
He told Climate Home that Make Sunsets experiment was not dangerous as the amount of sulphur was so small.
"It is more of a [public relations] stunt," he said, adding "it's not going to make a blind bit of difference".
But putting larger amounts of sulphur in the atmosphere can be dangerous, he said.
While many of the side-effects of SAI can be avoided if it is done properly, he said, some are very difficult to avoid.
For example, he said, putting large amounts of sulphur into the atmosphere is likely to increase winter rainfall over northern Europe and reduce it over southern Europe, particularly in Spain and Portugal.
Speaking before the Mexican statement, Haywood said that at the moment there "is no government, no governance" of geoengineering and that he wasn't aware of any governments proposing regulations.
Ciel called on more governments to announce bans on the practice.
---
Sebastián Rodríguez joined Climate Home News in 2022 as special projects editor. Based in San José Costa Rica, he started out as a reporter for Ojo al Clima, Central America's first climate news outlet. He has reported on climate for Reuters, DW and Mongabay. Before joining Climate Home News, he was editor in chief at Climate Tracker.
Joe Lo is a reporter for Climate Home News. He has previously specialised in container shipping, UK politics and investigative stories about Scotland. His work has appeared in the Guardian, Al Jazeera and Deutsche Welle.
Climate Home News is the trading name of Climate Change News Ltd, a UK company registered at 42a, High Street, Broadstairs, Kent, CT10 1JT.
Its CEO and founder is James Ramsey.
At Climate Home News, we believe quality climate journalism can change the world for the better. Here's how we play our part.
Mission
We deliver original journalism that informs and inspires action to tackle the global climate crisis.
We do this by:
• Reporting and analysing major developments in international climate action
• Exploring tensions between competing interests and values
• Exposing wrongdoing or obstruction and holding power to account
• Amplifying the voices of those hardest hit by the climate crisis
• Highlighting transformative action from across society and the economy
Vision
Climate change is the biggest story of our time.
Climate Home News aims to be the go-to media outlet for a global community of doers and thinkers seeking to understand the political, social and economic drivers of the climate crisis and climate action.
Values
Collaboration: We are open, honest and responsive in our communication, understanding how our roles and responsibilities fit together, while recognising that as a small organisation we all have to pitch in sometimes.
Rigour: We uphold our reputation as a trusted source of information by checking facts carefully and asking the right questions, while treating readers, sources and colleagues with respect.
International outlook: We source stories from around the world, including underreported regions and multilateral forums, to serve a global readership.
Integrity: We uphold the independence of our editorial and tell the stories that need to be told, without fear or favour.
Originality: We take the initiative and find stories others miss.
Supportiveness: We are open-minded and seek to learn from each other as we take on new challenges. We seek out partners with whom we can form mutually beneficial partnerships.
Ambition: The urgency of the climate crisis demands that we all bring energy and focus to fulfilling our mission.