Washington Post Runs Medicare Newsletter Sponsored by Insurance Lobby Front Group

A screengrab shows an ad paid for by the Coalition for Medicare Choices and placed in The Washington Post on February 10, 2023, (Photo: Coalition for Medicare Choices via The Washington Post)
The Friday morning edition of The Washington Post's Health 202 newsletter featured coverage of the intensifying back-and-forth between the Biden administration and congressional Republicans over Medicare, with each side accusing the other of wanting to cut the program.
But the newspaper's ostensibly neutral, both-sides coverage of the high-stakes healthcare fight was interspersed with ads purchased by the Coalition for Medicare Choices, an innocuously named organization that serves as a front group for the private insurance industry's powerful lobbying group, America's Health Insurance Plans (AHIP).
The Post, owned by billionaire Jeff Bezos, states in the email version of its newsletter that the Friday coverage was "presented by" the Coalition for Medicare Choices, which bills itself as a "national grassroots organization" while acknowledging—in small font at the bottom of its website—that it's "powered by AHIP."
The large banner ad positioned at the top of the Post's newsletter features a senior accompanied by text that reads, "Don't Cut My Care."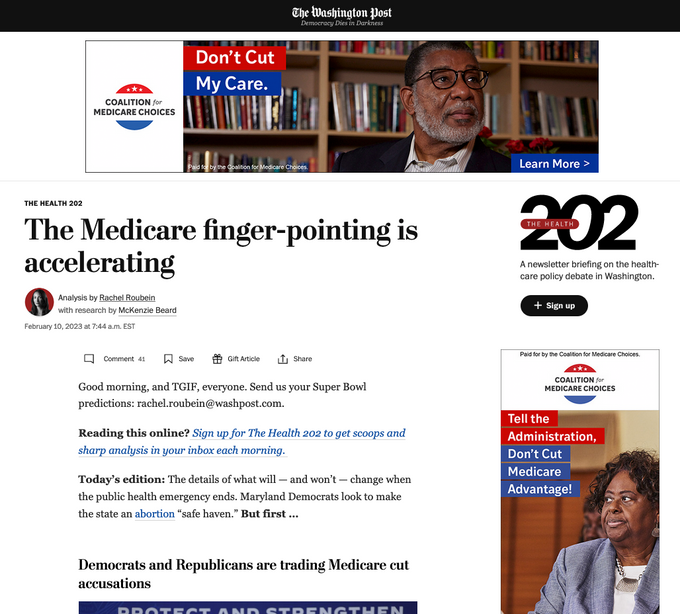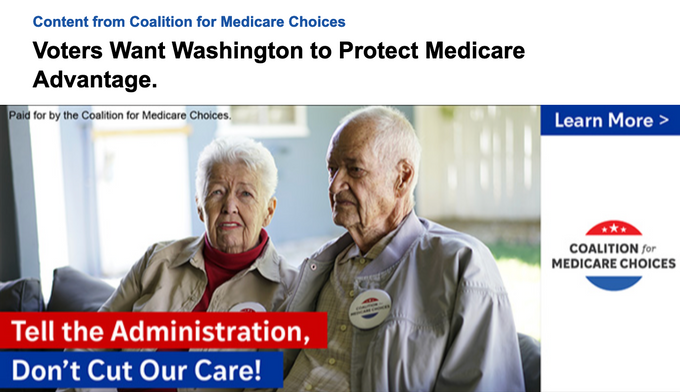 The sidebar ad makes clear that the Coalition for Medicare Choices is concerned not about traditional Medicare, but about the finances of Medicare Advantage—a privately run program funded by the federal government.
The supposed "cut" highlighted by the ads refers to the Biden administration's 2024 payment plan for Medicare Advantage.
Insurance industry groups and their Republican allies in Congress claim that the payment proposal outlined by the Centers for Medicare and Medicaid Services (CMS) would result in a $3 billion cut to Medicare Advantage plans—a small fraction of large Medicare Advantage providers' annual revenues.
The Biden administration says the insurance industry and the GOP are "cherry-picking" numbers and insists the CMS plan would entail a limited increase, not a cut, in payments to Medicare Advantage plans, which are notorious for overbilling the federal government and denying patients necessary care. The federal government expects to pay more than $6 trillion to Medicare Advantage issuers over the next eight years.
CMS has also proposed a rule that would allow the federal government to claw back Medicare Advantage payments that were distributed improperly as a result of industry overbilling—a crackdown that the U.S. public overwhelmingly supports.
Republicans, who often conflate traditional Medicare and Medicare Advantage, have falsely described the new CMS rule as a Medicare Advantage cut.
"So-called 'Medicare Advantage' plans are not Medicare," Linda Benesch, communications director for the progressive advocacy group Social Security Works, told Common Dreams on Friday. "They are private plans run by corporations for the purpose of extracting as much money out of Medicare beneficiaries and the government as possible."
"Republicans, desperate to deflect from their own plans to cut Medicare, are claiming that limiting the annual increase in payments to these private plans is 'cutting Medicare,'" Benesch added. "Nothing could be further from the truth. By limiting the payments, the Biden administration is defending Medicare by slightly leveling the playing field between for-profit plans and actual Medicare. This is only a small first step. The Biden administration should do far more to regulate for-profit plans and protect Medicare beneficiaries."
Diane Archer, the president of Just Care USA and a senior adviser on Medicare at Social Security Works, added in a statement to Common Dreams that "to strengthen benefits and rein in costs for everyone with Medicare, President Biden and Kevin McCarthy should agree to end the tens of billions of dollars in overpayments to Medicare Advantage plans."
"The public strongly opposes this massive government waste and Medicare Advantage profiteering, as should policymakers on both sides of the aisle," Archer
"So-called 'Medicare Advantage' plans are not Medicare. They are private plans run by corporations for the purpose of extracting as much money out of Medicare beneficiaries and the government as possible."
It's hardly unusual for corporate media outlets in the U.S. to publish newsletters sponsored by business groups with a vested interest in the topic being covered, whether it's Medicare, drug prices, or Big Tech.
In October, the new media outlet Semaforsparked widespread derision and outrage by launching a climate newsletter sponsored by the oil giant Chevron, one of the world's biggest climate villains.
As The Levernoted in a 2021 look at the corporate-sponsored content of Punchbowl News and other publications, "These kinds of editorial choices are being made so frequently, they aren't even conscious decisions anymore—they are media culture."
"While it's not accurate to say there is an explicit newsroom quid pro quo in such editorial focus," the outlet continued, "it's also ridiculous to presume that all that cash from corporate sponsors has no influence at all."
The Coalition for Medicare Choices has been making use of the corporate media's embrace of sponsored content for years, placing its defenses of the fraud-riddled Medicare Advantage program and fearmongering about looming cuts in prominent outlets such as Politico.
In addition to touting the supposed benefits of Medicare Advantage, the insurance lobbying group that controls the coalition has lobbied aggressively against efforts to include hearing, dental, and vision coverage in traditional Medicare.
As The American Prospect's Robert Kuttner wrote in a column last week, "Medicare Advantage plans are popular and they are rapidly crowding out public Medicare" because they provide coverage that traditional Medicare doesn't, including hearing, dental, and vision.
Roughly half of the Medicare population was enrolled in a Medicare Advantage plan last year, according to the Kaiser Family Foundation.
"Despite the extra coverage ostensibly provided, studies have found that Medicare Advantage plans are more profitable than most other health insurance industry products, because of the opportunities they provide to game the system," Kuttner noted. "And that suggests that there is a much larger problem here that won't be solved by a cat-and-mouse game of more aggressive audits—creeping privatization."
"Partial privatization insidiously leads to more privatization, leaving government to pay the added expense," he added. "Despite the promises of greater efficiency, it doesn't save costs but adds costs, as more money goes to industry middlemen and government has to spend more on monitoring... Medicare for All doesn't work if it includes privatized Medicare Advantage. Best to keep public programs public."