"We Basically Nuked a Town With Chemicals": East Palestine Volunteers Risk Mass Toxic Exposure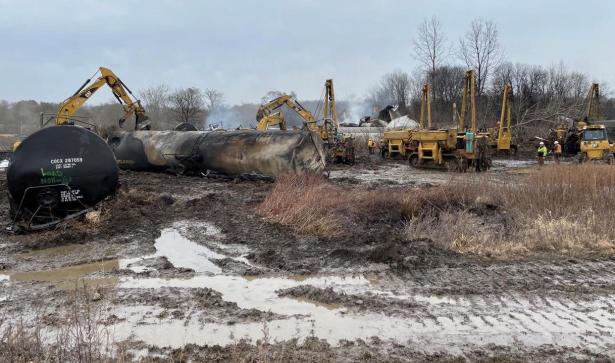 "This is what happens in a political economy where close to fifty Class I railroads are permitted to shrink to seven behemoths who, through their campaign cash, dictate what the rules of the road — or the rails — will be." ,Photo courtesy of EPA
Invariably, these are communities that have some history of betrayal and abandonment by predatory capitalism and rely on selfless community volunteers to staff their fire apparatus and ambulances. They were the frontline infantry for COVID. They are the arms and legs of mutual aid 24-7 responding to any and all natural and man-made disasters in America's heartland.
Of the total 29,452 fire departments in the country, 18,873 are all volunteer; 5,335 are mostly volunteer; 2,459 are mostly career; and 2,785 are all career-professionals, according to the National Volunteer Fire Council. More than half of Ohio's departments are staffed by volunteers.
In the case of the Norfolk Southern derailment, the impact was felt not just in Ohio.  Communities in neighboring Pennsylvania were also caught up in the need to quickly evacuate, while first responders tried to cool the massive rail pileup — all to buy the railroad time to figure out how to handle five cars of vinyl chloride that were vulnerable to catastrophic explosion.

THE RISK THAT LINGERS A LIFETIME 
What's generally ignored — unless you are a veteran of the 9/11 World Trade Center EPA-enabled mass toxic exposure — is anytime there's a catastrophic toxic chemical release like there was in Ohio, a lifelong shadow is cast over the health of every railroad worker, first responder (paid or volunteer), and contractor that responds.
In the case of the 9/11 World Trade Center attack, the EPA offered reassuring statements that the air was "safe" to breathe — even though it did not have sufficient data "to make such a blanket statement" when their "air monitoring data was lacking for several pollutants of concern, including particulate matter and polychlorinated biphenyls (PCBs)," according to the EPA's Inspector General. 
"Furthermore, The White House Council on Environmental Quality influenced, through the collaboration process, the information that EPA communicated to the public through its early press releases when it convinced EPA to add reassuring statements and delete cautionary ones," the EPA Inspector General wrote, adding that "over 25-percent of the bulk dust samples that EPA had collected…showed the presence of asbestos above the 1-percent threshold used by EPA to indicate significant risk."
On 9/11, 343 members of the FDNY died responding to the WTC attack and collapse of the towers. By last year, the department had surpassed 300 firefighters who have died as a consequence of their occupational exposure. In the case of the NYPD, 23 officers died during the attack. In the years since, well over ten times that number have died from their occupational exposure to WTC contamination.  
Today, well over 80,000 first responders are enrolled in the WTC Health Program with several thousand suffering with some form of cancer or other life altering chronic condition.
This kind of lifelong cloud, and perhaps even premature death from an occupational exposure, is just not factored into the cost-benefit analysis into how we regulate and transport the myriad of toxic chemicals our mass market consumer economy requires.
This is what happens in a political economy where close to fifty Class I railroads are permitted to shrink to seven behemoths who, through their campaign cash, dictate what the rules of the road — or the rails — will be. Their profits are maximized, while the risks of workplace exposure and community environmental degradation the corporations take, are ours too often shoulder alone, unless we can afford a lawyer.
THE VIEW FROM OHIO
John Harvey is president of Ohio's Association of Professional Firefighters. He is also a captain in the Middletown Fire Department and leads that city's HazMat response team. In a phone interview with Work-Bites, Harvey said that whether the responders to the East Palestine fire were professional or volunteer — he is concerned about their occupational health exposures that can often take decades to manifest in the form of coronary or respiratory diseases.
"We have to make sure they are taken care of immediately and that they are getting check-ups so that we have a baseline of where they are at and then looking further out, as the years go by-that the care is followed up on to make sure that if there are illnesses that are linked to this, that they are taken care of," he told Work-Bites.
Vinnie Variale is the president of DC 37 Local 3621, which represents the FDNY's EMS officers. He says that across the country there's a patchwork of EMS organizations that include everything from voluntary ambulance corps to civil service agencies with a wide range in equipment, training, and protective gear.
"With something like this, I am concerned about the protection that these first responders are getting from their region," Variale said. "If they don't have the right protections, they could see the same kind of problems we had with our members dying years later from diseases they contracted after their World Trade Center response."  
In Ohio, we are still in the performative theater phase of the government's response with the public health officials in white coats telling residents the air is safe to breathe but they advise residents to drink bottled water, just to be on the safe side. Local TV is awash with images of dead fish, belly-up in stream beds while in the distance residents are shown trying to return to the rhythm of their lives before it was all upended on Friday, Feb 3.
Not surprisingly, Norfolk Southern opted out of attending the East Palestine forum with a Trumpian twist playing of the victim card, saying in a statement they were "increasingly concerned about the growing physical threat to our employees and members of the community around this event stemming from the increasing likelihood of the participation of outside parties."
They have good reason to avoid large public gatherings.
ON THE CASE
Thanks to the essential reporting of the Lever and the Railroad Workers United News Service, we know how Norfolk Southern lobbied government officials to weaken the regulations for hauling the kind of toxic chemicals that have now cast a shadow over the lives of the traincrew, the army of mostly volunteer first-responders and the wider community.
With each passing day, rail workers are getting their story out about their trepidations about the length, weight and make-up of the toxic train that originated in Illinois and was headed east to Pennsylvania.  
The Norfolk Southern railroad's failure to accurately characterize the highly hazardous nature of the train's cargo prompted a bi-partisan blast from Ohio's Republican Gov. Mike DeWine and Pennsylvania's recently-elected Democratic Governor Josh Shapiro.
On Feb. 14, DeWine told reporters that he had been told by Public Utilities Commission of Ohio that the train had not been flagged as "a high hazardous materials train", meaning that the railroad was under no obligation to notify Ohio about the hazardous materials it was hauling through the state.
"Frankly, if this is true, and I'm told it's true, this is absurd, and we need to look at this, and Congress needs to take a look at how these things are handled," DeWine said. "We should know when we have trains carrying hazardous material that are going through the state of Ohio."
The Feb. 3 derailment and response played out over four days. On Feb. 6, concerned about the increasingly unstable tanker cars containing vinyl chloride, Norfolk Southern opted to release hazardous chemicals from five cars and then execute a "controlled explosion" which generated a loud boom and menacing cloud of black smoke.
But it wasn't until  Governor Shapiro's Feb. 14 letter to Alan Shaw, the president and CEO of Norfolk Southern, that we got a behind the scenes of what appears to have been a seriously flawed response which played out from Feb. 3 through Feb. 8 when the evacuation order was lifted. Shapiro was particularly critical of the railroad's Feb. 6 decision to intentionally vent the five tanker cars containing the vinyl chloride.
"Norfolk Southern failed to explore all potential courses of action, including some that may have kept the rail line closed longer but could have resulted in a safer overall approach for first responders, residents and the environment," Shapiro wrote. 
The railroad, according to Pennsylvania's governor, kept first responders in the dark throughout the incident by failing to "implement a unified command" because Southern Norfolk opted to separate themselves "from the rest of the incident management structure."  
As a consequence, Shapiro wrote state and local agencies had "to react to tactics that were developed unilaterally [by the railroad] and without the combined input of key state agencies" which at the same time, Norfolk Southern was giving out "inaccurate information and conflicting modelling about the impact of the controlled release that made protective action decision making more difficult in the immediate aftermath of the derailment."
Thanks to a Feb. 13 dispatch from State Impact Pennsylvania, an NPR local reporting project, residents learned ten days later, that in addition to butyl acrylate and vinyl chloride, the derailed train contained: "ethylhexyl acrylate, which can cause burning on the skin and in the eyes, coughing and shortness of breath; "isobutylene, which can make people dizzy and drowsy; and ethylene glycol monobutyl ether which can cause coughing, dizziness, drowsiness, headaches, nausea, and weakness if inhaled."
"We basically nuked a town with chemicals so we could get a railroad open — I was kind of surprised when they said so quickly the people could go back home," Sil Caggiano, a hazardous material expert and retired Youngstown Fire Battalion Chief, told WKBN CBS-TV "There's a lot of what ifs, and we're going to be looking at this thing five, ten, fifteen, twenty years down the line and wondering, 'Gee, cancer clusters could pop up, you know? Well water could go bad."
ON THE SAME PAGE
Charles Jennings is an associate professor of security, fire, and emergency management at City University's John Jay College of Criminal Justice. He told Work-Bites that the kind of fractured response that Governor Shapiro describes is "absolutely not" the way to execute an effective response.
"With the unified command all the key decision makers and all the key people with responsibilities are jointly setting high level goals based on the best information from ALL sources informing those decision makers," Jennings said. "Major decisions like we are going to attempt to fight it or let it burn out — all of those should all be made in the context of a joint unified command."
Jennings continued, "This issue came up with the debate over oil trains and the transport of fracked oil and the hazards that came along with it, and the fact that you have trains that are running through communities that vary in the level of resources and capabilities. You need to impose some minimum capabilities along the entire route of the train, and that is a job, unfortunately, left to the locals. But there should be coordination structures that would enable you to get the right capabilities up at the state level to manage one of these incidents."
Jennings says "transparency" from the railroad company "is critical."
"There's a vast amount of hazardous material on the rails and the roads 24-7 all through the country, so this is not a novel situation," he added. "There should have been a playbook for this. It's not like it was a Chinese balloon that suddenly appeared over Main Street — this is something that happens every day of the year."
Ironically, the same day, but before the derailment, Ohio's State Fire Marshal Kevin Reardon announced a task force to help address the state's volunteer firefighter shortage and the waiving of all training fees for volunteers at the Ohio Fire Academy.
According to the US Fire Service 2021 National Needs Assessment, volunteer firefighters in towns the size of East Palestine are in short supply with an average of 6.7 firefighters available on weekdays, compared to 11.4 on the weekend.
And as it turns out, they are not that well-equipped.
When it comes to providing a Self-Contained Breathing Apparatus [SCBA] for firefighters, the US Fire Service reports, "more than half (53 percent) of all fire departments cannot equip everyone with SCBA. Departments protecting under 9,999 people have the highest rates of unmet need for SCBA equipment."
[Robert "Bob" Hennelly is an award-winning, print and broadcast journalist. He has reported on a broad spectrum of major public policy questions, ranging from homeland security to the economy, environmental contamination to corruption.?
His first book was published in 2021: "Stuck Nation — Can the United States change course on our history of choosing profits over people?"
Bob was on-air as a senior reporter for WNYC-New York Public Radio for more than 12 years. Before WNYC, he was national affairs correspondent for Pacifica Network News. He continues to be an on-air investigative reporter with WBGO-Newark Public Radio. His current investigative work, focusing on the New York civil service, is published in The Chief-Leader, a weekly newspaper covering government and the civil service in New York since 1897. ?
He also continues to be a regular contributor to Salon, InsiderNJ, and WBGO-Newark Public Radio.]