Biden Says He Won't Veto Congress' Move To Block D.C. Bill Overhauling the Criminal Code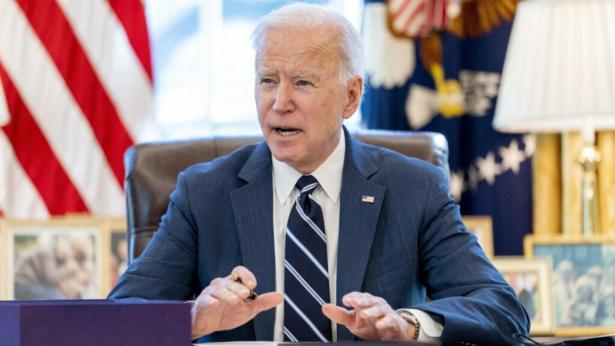 President Joe Biden speaks in the Oval Office of the White House,(Andrew Harnik / AP Photo)
In a move that represents a significant setback to D.C.'s ability to govern itself, President Joe Biden said Thursday that he won't veto a Republican-sponsored measure making its way through Congress to block the sweeping D.C. bill that revises and modernizes the city's century-old criminal code.
"I support D.C. Statehood and home-rule — but I don't support some of the changes D.C. Council put forward over the mayor's objections – such as lowering penalties for carjackings," tweeted Biden on Thursday morning, after he had told Senate Democrats in a closed-door session much the same. "If the Senate votes to overturn what D.C. Council did – I'll sign it."
The Republican-led House passed a disapproval resolution on D.C.'s bill last month, and the Senate is expected to take up the measure next week. With likely Democratic defections expected in the Senate — Sen. Joe Manchin (D-West Virginia) already said this week he would vote with Republicans on the measure — Biden's veto was seen as the last backstop to stop Congress from overturning the D.C. bill.

With that backstop now gone, the bill is almost certainly going to be overturned — marking the first time in three decades that Congress has taken such a step with a D.C. bill. The House also approved a separate disapproval resolution on a D.C. bill that would allow non-citizens to vote starting in 2024, but Senate sources tell DCist/WAMU it is less likely that the Senate will take up the measure.
The news of Biden's announcement sparked immediate criticism from some D.C. officials, including Attorney General Brian Schwalb.
"Today has been a sad day for D.C. home rule and D.C. residents' right to self-governance," said D.C. Del. Eleanor Holmes Norton.
"Local autonomy and self-determination are fundamental American values," he said in a statement. "Any effort to overturn the District of Columbia's democratically enacted laws degrades the right of its nearly 700,000 residents and elected officials to self-govern — a right that almost every other American has. As the city's chief legal officer, I will continue to advocate for D.C.'s full autonomy. Ultimately, the only way to prevent future congressional interference in our local affairs is for D.C. to become the 51st state."
"National Democrats cannot only be supportive of D.C. statehood and D.C. autonomy when it is politically convenient for them. D.C. laws should be made by D.C. elected leaders, and as leaders, we are standing in solidarity to continue calling on the Senate and the president to not infringe on D.C.'s autonomy and to respect the democratic will of our voters," echoed Councilmember Brooke Pinto (D-Ward 2), who chairs the council's judiciary committee.
Biden's decision marks something of a walk-back from his 2021 statement in which he called D.C.'s lack of voting representation and full self-government "an affront to the democratic values on which our nation was founded." But it reflects a longstanding practice, including among Democrats, of using D.C. for strategic political purposes when necessary. In 2011, for example, then-president Barack Obama gave in to Republican demands that the city not be allowed to spend any money subsidizing abortions for low-income women, prompting anger from city officials.
It also shows the political potency of the issue of crime and public safety leading into the 2024 election cycle, when a number of vulnerable Democratic senators will face voters, and Biden himself could be on the ballot for a second term. For the past two years, Republicans have been hammering Democrats as soft on crime.
"Even Biden admits crime is out of control in Democrat-run cities thanks to the Left's soft-on-crime agenda," tweeted House Majority Leader Steve Scalise.
"We had hoped that with more Senate support, we would have been able to ensure that neither disapproval resolution pending before the Senate would reach the president's desk, but with the nationwide increase in crime, most senators do not want to be seen as supporting criminal justice reform," conceded Norton.
The process of overhauling D.C.'s criminal code started 16 years ago, and has since spawned thousands of pages of public record highlighting problems with the existing code, originally drafted by Congress in 1901, and suggesting changes. The revisions included clarifications to criminal offenses that prosecutors and public defenders alike said were needed, new grades of sentences to better match the severity of crimes, and the removal of out-of-date provisions that referenced steamboats and prohibited the playing of ball games on D.C. streets.
But the overhaul also lowered some maximum penalties for violent offenses like carjacking and robbery, largely to better match the actual sentences that judges were handing down. (The maximum sentence for armed carjacking is 40 years, but D.C. judges on average hand down sentences of 15 years. The revised criminal code set the new maximum sentence at 14 years.) It also eliminated mandatory minimum sentences for everything but first-degree murder, reinstated the right to a jury trial for people charged with misdemeanors, and granted people who have served 20 years in prison the chance to ask a judge for a sentence reduction.
While those changes drew some debate among those charged with rewriting the code — including the U.S. Attorney for D.C. and the Public Defender Service — those same participants said that the years-long effort made significant improvements and should be passed into law. The D.C. Council did so unanimously, though Mayor Muriel Bowser vetoed the overhaul, saying certain provisions would "send the wrong message" at a time when some violent crimes have spiked in the city.
The council ultimately voted to override Bowser, but many of her criticisms of the bill started picking up steam amongst Republicans in Congress, who saw an opportunity to put Democrats on the defensive by deriding the overhaul as "soft on crime" and a threat to the millions of Americans who visit the city annually. When the House voted to block the bill, the Republican majority was joined by 31 Democrats.
D.C. officials, led by the council's 13 lawmakers and Schwalb, loudly protested the move on the Hill to block the city's bill, saying it was a local matter and that Republicans were merely playing politics with an easy target whose residents did not vote for them and cannot throw them out of office. (Bowser was more muted in her objections to congressional interference, though she did propose a bill to increase some penalties in the revised code.)
Some local officials and advocates also argued that the changes to D.C.'s criminal code mirrored similar reforms in dozens of states, and that the changes wouldn't go into effect until Oct. 2025 anyhow — meaning the current crimes would be prosecuted under the current code. And they noted that should Congress block the revised criminal code from taking effect, it could leave D.C. with its existing outdated criminal laws.
"Don't override the legislation," said D.C. Council Chairman Phil Mendelson last month. "If you do, you're setting back the District… you're putting back in place an outdated and archaic criminal code that's considered the worst in the country."
Advocates of the overhaul say that if Congress does block the bill, it will also be throwing out a number of new criminal offenses not currently on the books, as well as increased penalties for other offenses that were included in the revisions. The revised code, for example, increases penalties on the use of assault weapons and on shooting someone with the intent to kill, and creates a new stand-alone offense to allow prosecutors to charge people who fire guns in public but not specifically at someone.
"The 'tough-on-crime' lawmakers from other states should understand that they just voted for D.C. to continue to have one of the worst criminal codes in the United States," said Patrice Sulton, director of the D.C. Justice Lab and an attorney who worked on the commission that helped revise the code. "They should understand that the offense definitions and penalties in our current code — the code they are voting to keep — are absolutely absurd. And, they should know that they have just done a great disservice to victims of crime in the District of Columbia."
Should Congress end up blocking the D.C. bill, it remains unclear what the next steps would be for the years-long process to modernize the city's criminal code.
"The Revised Criminal Code Act is badly needed legislation, passed unanimously twice by our duly elected legislature," said D.C. Councilmember Charles Allen (D-Ward 6). "It is a comprehensive package of extensively debated and meticulously crafted legal reforms, developed over nearly two decades. But this is not about the bill or what it actually does; this is about manufacturing 'tough on crime' rhetoric at our expense with the outcome of being stuck with an outdated criminal code that makes the District less safe and less fair. Defending those without power matters, and past pledges of support for DC Statehood couldn't ring more hollow."