Broad Alliance Ousts Racist Memphis D.A.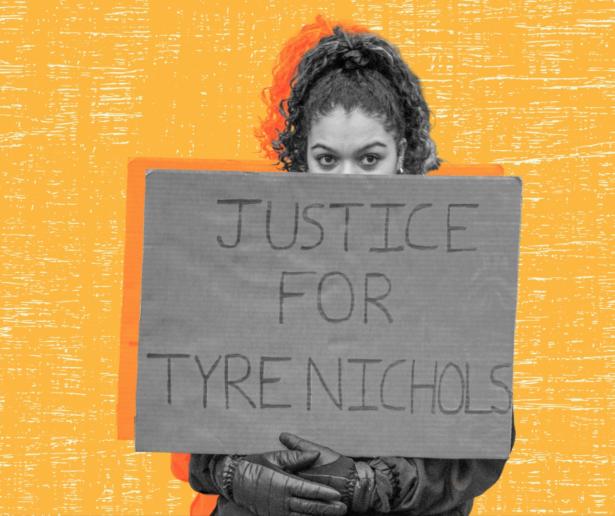 Tyre Nichols—a 29-year-old photographer and FedEx employee who loved skating and sunsets—was brutally beaten by five Memphis police officers after a traffic stop. He died three days later. , Paul Becker/Beker1999 (CC BY 2.0)
Without the hard work of a pro-democracy alliance last year, the police officers who murdered Tyre Nichols most likely would not be facing trial. The former district attorney of Shelby County, Amy Weirich gained notoriety as one of the most punitive, racist prosecutors in the country, while always letting cops off easy. She was as quick to pursue the death penalty and transfer youth to adult facilities as she was to loath to entertain conviction review under new evidence; she was known for easy ethics, shown by her record of prosecutorial misconduct, and for cutting indulgent deals with law enforcement.
Voters booted Weirich out of office in August 2022, thanks to the work of a broad local pro-democracy alliance with strong backing from national groups. The victory testifies to the power of coalition and collaboration under a "new majority" strategy, and marks a major win for the national movement seeking reform of the criminal legal system within the electoral arena.
Shelby County 
Shelby County is home to Memphis, TN, a city where underdevelopment and super-exploitation are as bedrock as the bluff the city is built on. FedEx, the giant anti-union logistics company, and other high-value low-wage industries, have made it their home. Shelby County is 52% Black, 40% white, 6% Latix and 2% Asian, making it by far the largest community of color in the state, and the biggest contributor of Democratic votes statewide races. Memphis has suffered all manner of racist disenfranchisement, from a raft of preemption policies and laws that explicitly target the city, to partisan voter purges and high rates of felony conviction. 

Tennessee is ruled by a regime uniting white Christian nationalists and big business, sometimes referred to as "the New Confederacy." Through its political instrument, the Republican Party, the New Confederacy holds all statewide offices, eight of nine congressional seats, and a supermajority in both legislative houses. The New Confederacy's crime and punishment program — curtailing civil liberties for communities of color and diverting funds from social programs to bloated police and prison budgets — is well developed in Tennessee, which disenfranchises more than one out of every five Black residents, more than almost any other state in the US. Law and Order politics — a generalized fear-mongering about racialized crime and the promotion of state violence as the only solution — are a key part of Shelby County's political culture. This narrative has buoyed GOP candidates by pulling white Democrats and some conservative Black Democrats in line with the GOP base. The city's white business elites have long depended on this political strategy to rule the majority Black community.  
In 2018, Democrats swept Shelby County elections for the first time, winning races for mayor, trustee, sheriff and other posts. Three things made this possible. First, national political polarization and the Blue Wave had made their way down into local politics. Second, local progressive electoral and non-profit organizations such as Memphis For All and the Memphis Central Labor Council (CLC) had gotten much stronger and more sophisticated. Third, pro-democracy forces coalesced around a New Majority political strategy: a multi-racial cross-class progressive politics, built on volunteer enthusiasm, real conversations with infrequent voters and significant investments to expand the voting electorate among youth and communities of color. This marked a shift away from a Black-white binary politics which relied on a smaller electorate of super-voters, which had been at the core of democratic strategy for 25 years. 
Why this D.A. race mattered
White supremacy is the faultline in the foundation of this country, and at least since Michele Alexander's incisive work, the main front against it has been the struggle against mass incarceration and police violence. The national ecosystem of organizations fighting for criminal justice reform, especially within the electoral area, has grown mightily during the last eight years. National groups like Working Families Party, Just Impact, Sheriffs for Trusting Communities and many more have built the muscle to team up with local groups and win elections at the center of the criminal punishment system, especially District Attorneys. 
In Shelby County, the District Attorney is elected only every eight years. That's the longest term in the county and the country, for DA or any elected office. By 2022 Amy Weirich was the last GOP candidate still in county-wide office, and she faced her first reelection bid since the 2018 blue wave had begun to change the tide. The Black freedom uprisings that began in 2014 helped give form and force to long-held aspirations of reforming the criminal legal system. A new conscious base of volunteers and voters with clear visions of change took shape. 
Pro-democratic forces had stumbled in previous attempts to make criminal justice reform the centerpiece of their program, succeeding instead on the power of national anti-MAGA sentiment and moderate economic populism. The DA's race was a chance to change that and continue to prove the power of the New Majority strategy. So much about what needed to be changed had gotten clearer over the last eight years: bail reform, conviction review, an end to the death penalty and youth transfers, prosecution of wage theft, restorative justice, and a generalized approach to prosecution that would divert as many people away from jail as possible. Weirich wanted none of this, and keeping her in power became a top priority for the Tennessee GOP. 
Setting the stage for the fight
As a general election, the fight was always going to be a highly partisan square-off between a broad pro-democracy front for the common good under the Democratic banner and the New Confederate alliance under the GOP banner. Leftists and progressives had anticipated the battle for years, without identifying a clear candidate to lead the ticket.
A three-way primary in May 2022 ended with Steve Mulroy as the Democratic nominee. A white law professor and former county commissioner, Mulroy had connections with Labor, the white Democratic establishment, and Black electeds who had introduced New Majority politics four years before, especially the county mayor (not the same as the city mayor). Mulroy's primary victory helped assure the participation of labor and the continuity of the New Majority strategy. It also reinforced the power of white Democrats, and sapped some enthusiasm from activists who backed the other primary candidates, both of whom were Black women.
Throughout the primary, most progressive groups chose to focus fire on Weirich to drive up her negatives while saving their funding for the general election. Weirich's opponents, and eventually Mulroy's backers, included established Black political institutions, most voters of color, and white progressives. It also included most segments of labor, including the building trades. 
As the general election got underway, additional New Majority institutions also emerged as crucial: immigrant community and civic groups, especially Latinx forces, independent political organizations like Memphis For All, education reform groups, new Black community organizations and young voters. Finally, in line with national trends kicked off by the Dobbs ruling, liberal white women showed up to support in greater numbers than in past cycles. As important as any other single ingredient, however, was the support of national groups as real partners, rounding out the coalition. 
Amy Weirich's New Confederate front primarily included white Republicans, with the backing of the state GOP and corporate donors. She was able to pull a small number of white Democrats and an even smaller number of older Black Democrats who were won over by her reactionary law-and-order messaging. The white leadership of the police and sheriffs' unions supported Weirich, but their membership was divided, primarily along racial lines.
What happened
In January a mobile billboard bearing ugly facts about Weirich circled the County corrections building where she worked. A website documenting her abhorrent record was launched. Soon after standard billboards went up too. Pickets and press conferences outside Weirich's office at the jail were common. Rallies and candidate forums and volunteer recruitment events took place throughout the spring. By May, a small army of volunteers and paid staff were fanning out through Memphis' dozens of neighborhoods, knocking doors and telling the truth about Weirich. Paid media, like TV and mail, field work, like door-knocking and phone-banking, and events like debates, continued to build until the August 4 election crescendo. 
Mulroy did a good job of making a positive public case for reform, winning endorsements, building a program to reach the Democratic base and crafting a message that addressed people's fears and hopes. He asserted that the path to lowering crime was fixing the broken bail system so innocent poor people weren't locked up, treating kids like kids instead of sending them to life-altering prison, and focusing DA resources on violent crime. The endorsements he earned from the families of George Floyd, Breonna Taylor and Jacob Blake were particularly powerful.
Two large coalitions were formed: a c4 coalition that could wade directly into the race, called People For Fairness and Justice, and a c3 coalition, that focused on voter turnout and issue education, called the Justice and Safety Alliance. The creation of the former was led by progressive issue-based groups—Stand For Children and Just City—with the support of labor and IPOs (Independent Political Organizations)—the Memphis CLC and Memphis For All. The latter was led by the same, with the key addition of faith-based groups, namely MICAH. It took all hands, moving in each in their lane, to win. 
These coalition groupings outspent the Mulroy campaign five to one. Without such significant resources, it's unclear if Weirich could have been beaten. These groups introduced contemporary electoral techniques, expanded what people believe is politically possible, and connected activists to the election. This was achievable in large part through national backing of the Working Families Party, Stand For Children, Just Impact, as well as Showing Up for Racial Justice, Movement Voter Project, and others. Support was more than financial, it also bolstered strategy, administration and operations. These connections with national groups are an echo of the kind of alliances that have often been crucial to changing the South, from the Abolitionist movement and Reconstruction to the Civil Rights Movement. 
Part of the winning strategy was to do everything. The coalitions' election work combined all conventional tactics, including peer-to-peer-texting, phone banking, door-knocking, digital advertising, mail, radio and significant TV, which proved important. Mulroy was enjoying a significant lead in early polls, but that lead fell by half when Weirich started airing commercials. It was recovered when Mulroy built a TV presence. Door-knocking was also vital: the coalition was able to honestly count every supporter, and check against the election data to see if they had voted. 
The c3 program made vital large non-partisan investments, including voter registration through multiple coalitions. The turnout effort included texting 100,000 people, with unusually high positive response rates. There were more phone banks and poll parties than anyone could remember ever having before. It took multiple independent structures—party, candidate, c3 coalition, c4 coalition, PAC—each moving program, often without coordination, and often in spite of interpersonal tensions, to do all this work. It culminated in a 12-point win for Mulroy.
What changed 
As with any important election, it would have been unwise for the candidate and the Democratic party to have gone it alone, leaving aside progressive non-profits and IPOs. In Memphis, the c3 and c4 coalitions these groups formed had the strongest connection to crucial national partners and the most sophisticated electoral tools. They were most closely in touch with large segments of the activist base, and most comfortable with a progressive approach to issues. This election demonstrated the crucial importance of this sector.
Locally the campaign cemented the hold of the Democratic Party over Shelby County through the use of a New Majority political strategy. Before this race, it was unclear whether, in a city with high crime and poverty rates, a strong white power structure, and extremely cruel and powerful institutions of law and order, the Republicans might be able to retain control over the DA's office. Many believed that law-and-order politics transcended party and could not be pried loose. They were wrong. Democrats also maintained control of all county-wide offices and expanded their majority on the county commission to 9-4.
In most cases the coalitions and IPOs which helped deliver the victory didn't have a robust long-range plan going into the races; they "built the plane while flying." Groups learned basic election skills they didn't have before. Voters became activists, activists became organizers, and organizers became leaders. Many activists who got their start in the 2018 and 2019 campaigns became leaders in this fight. Because few future elections will garner such national support, however, the local pro-democracy alliance will have to build on this victory by cementing sustainable collaborative structures over a long timeline and build deeply with voters over years. 
What's next
This campaign showed that a New Majority politics can win against law-and-order politics.
It opened an opportunity to transform the District Attorney's office, to expand the movement for criminal justice reform, and to grow the strength and coordination of IPOs, including national groups like WFP. There is an opportunity on the community level to have strong relationships among community organizations, which can fuel efforts for voter education. Because Mulroy, a progressive reform-minded DA, finds himself enclosed within the GOP state regime, his administration holds an opportunity to learn how to use prosecutorial discretion to accomplish a reform agenda, threading the needle between state preemption laws that have outlawed local attempts to decriminalize things like marijuana, and a state law that empowers the attorney general to step in if the DA isn't enforcing the law. 
Next steps include trying to transform the vibrancy of the election into stable long-range capacity, as well as supporting the new DA through co-governance and applying pressure when needed. Coming out of this election, Left-progressive forces will be more willing to work together, having built unity in the best possible way, through shared practical work and shared victory. People put their hesitation, their strategic differences and even personal histories aside to come together around this historic campaign, and together they won.
Jeffrey Lichtenstein (he/him) is the former Executive Secretary of the Memphis and West Tennessee Central Labor Council, CWA organizer and a founding member of Memphis For All. He came to the workers' movement through United Campus Workers of Tennessee where he was part of the fight to stop outsourcing and win a living wage; he came to electoral politics through the Fight For $15 and the Bernie campaign. His work is focused on expanding democracy against MAGA facism. He now lives in Philadelphia.
Josh Adams is a political organizer for Memphis for All. He began advocating in 2014 as a student at the University of Memphis. After years of organizing for various organizations as a volunteer, Josh joined Memphis for All's team to assist local voters as they restructure the local political landscape.