food
The Workers Behind Two Popular Food Network Shows Are Unionizing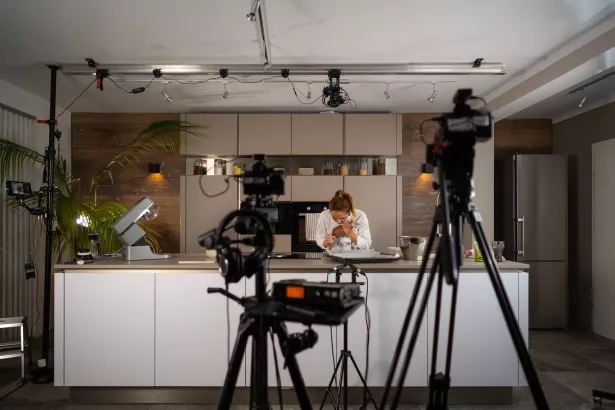 BSTV Entertainment organizers say theirs is the first non -fiction food television union. ,Getty Images
Amid a years-long wave of unionization in the hospitality industry, the workers behind two of Food Network's most popular television shows have formed a union. According to the Writers Guild of America, East, an "overwhelming majority" of workers of BSTV Entertainment, the studio that produces !e Kitchen and Trisha's Southern Kitchen, have signed cards to form what organizers say is the "first non-fiction food television union.
 Elias Holtz, a coordinating producer at BSTV, tells Eater that the decision to form a union came after three intense years of producing The Kitchen, a food- centric talk show hosted by Sunny Anderson and Jeff Mauro, and Trisha's Southern Kitchen, the cooking show helmed by country star Trisha Yearwood. Holtz says that many of the show's workers were converted from full-time status to freelance work in 2020, at the onset of the pandemic, which meant that BSTV was no longer required by law to offer them health insurance.

"It was very difficult, and since then, our conditions have gotten worse," Holtz says. "We've lost our health care, we've lost our job security, and our issues are really industry-wide across non-fiction television and food television." Eater has reached out to BSTV for comment on the unionization effort, but has not received a response.
Though scripted television is a highly unionized industry, non-fiction shows like Trisha's Southern Kitchen and The Kitchen have not had those same protections. A 2020 poll of workers in the industry found that more than 80 percent of those who worked in non-fiction television lacked health insurance, and a vast majority reported working overtime without pay. Holtz hopes that unionizing at BSTV will help inspire union eorts at other food TV shows and throughout non-fiction TV. "We're part of a largely unorganized sector in television, so we hope that we're providing an example and can work with people at other shows to continue this trend."
Holtz points out that writers, producers, stylists, and other workers on food shows are bringing highly specialized skills to the table, and deserve to be compensated for that work. In addition to producing the television show, they also have to be culinary experts. "Making sure that the food is all prepared, looks really good, and comes out on time in the midst of a really tight schedule requires a lot of hard work and skillful preparation," they said. "And a lot of people who work in the culinary production realm are really undervalued and underpaid, even though their labor is super-skilled, and very valuable."
That labor has also made television studios and networks a lot of money as food TV shows of all kinds have grown in popularity. But despite the increased demand, Holtz says that workers haven't been compensated adequately. "The demand for food content has exploded over the last 10 years, and it's become really profitable. But we haven't seen the treatment of the skilled workers who make that content get better as their skills have become more valuable," Holtz says. "It's no coincidence that culinary workers are being undervalued when you look at the fact that the majority of them are women, people of color, and young people."
In the coming months, the union plans to fight for fair pay, and pay transparency so that they can ensure all their members are being paid fairly. "BSTV has used individual salary negotiations to under- compensate our expertise and pit us against one another," the union wrote in a letter delivered to management last week. "As a union, we stand in solidarity with the lowest paid workers, who include women of color, to demand fair rate minimums for all."
Disclosure: Vox Media's editorial team, which includes Eater, is also unionized with the Writers Guild of America, East.