tv
Grease: Rise of the Pink Ladies Review: A Blast From the Past Through a Modern Lens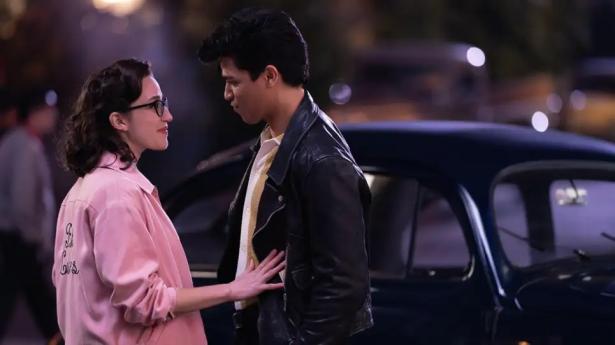 Marisa Davila as Jane Facciano and Johnathan Nieves as Richie Valdovinos,Photo: Eduardo Araquel/Paramount+
Every period piece reflects the era that created it as much as the era when it takes place. Witness Baby and Johnny grooving to '80s soft rock in the 1960s-set Dirty Dancing, Leonardo DiCaprio sporting a floppy Tiger Beat heartthrob 'do circa 1912 in Titanic, or Abbi Jacobson tossing out millennial slang in Prime Video's A League of Their Own.
If you love a movie or TV show, it's easy to forgive these anachronisms; in fact, they can sometimes be the entire point. When Randal Kleiser's original Grease movie debuted, it was a sensation specifically because it looked back on the 1950s through a late-'70s lens, from the disco-inflected title song to Olivia Newton-John's teased-to-heaven hairstyle.
Grease: Rise Of The Pink Ladies, which premieres April 6 on Paramount+, continues this proud anachronistic tradition; in 2023, that means progressive Gen-Z values and songs that sound like they could be Ariana Grande or Kesha singles (that's likely because its lyricist-composer, Justin Tranter, has penned Top 40 hits for both these artists). Created by Annabel Oakes (Awkward, Minx), the series wears its liberal politics on its sleeve, treading the line between nostalgia for the aesthetics of postwar America and criticism of its regressive politics. The show takes a refreshingly light approach to thorny topics like racism and slut-shaming while largely doing them justice. And though its messaging can be didactic at times, Pink Ladies never feels like a chore. In fact, it's a wall-to-wall blast.

Oakes' show is a prequel to Grease set in 1954, four years before Danny Zuko and Sandy Olsson made out under the dock. Though the T-Birds are already strutting and preening down the halls of Rydell High, their girl-gang counterpart has yet to be born. Enter Jane Facciano (Marisa Davila), a not-quite-nerd, not-quite-popular girl whose family recently moved from New York City to ultra-suburban Rydell. (If the Facciano surname sounds familiar, note that she's got a little sister named Frenchy.)
Jane starts the school year secretly dating dreamy quarterback Buddy (Jason Schmidt); but after he passively lets the whole school believe rumors about her (gasp!) putting out, Jane drops him—then finds herself sans clique. And in a town where every teen is defined by the jackets they wear—be they letter or leather—that's bad news.
She's our protagonist, but Pink Ladies is a true ensemble show. That primarily includes three other outcasts: Olivia (Cheyenne Isabel Wells), who's smarting from an affair with her English teacher; Cynthia (Ari Notartomaso), a tomboy who dreams of joining up with the T-Birds; and Nancy (Tricia Fukuhara), an aspiring fashion designer and a proud weirdo.
When Jane decides to run against Buddy for class president, the foursome comes together to back her cause and solidify their friendship by donning those iconic jackets. Meanwhile, Olivia's brother Richie (Johnathan Nieves), the hunky leader of the T-Birds, starts to get the hots for Jane. (The half-baked love triangle between these two and Buddy is the show's weakest subplot; in this Grease, the romances aren't nearly as compelling as the friendships.)
What's notable about the Pink Ladies, aside from the fact that they're all pretty darn charming, is that not one of them is the kind of girl you'd generally find at the center of a 1950s tale (read: white and/or straight). Jane is half Puerto Rican, Olivia is Mexican American, Cynthia is queer, and Nancy is Japanese American. Their biggest struggles derive from not only the misogyny they come up against as women, but the discrimination they face thanks to their cultural identities. (The rest of the student population also includes plenty of Black, AAPI, and Latinx folks.)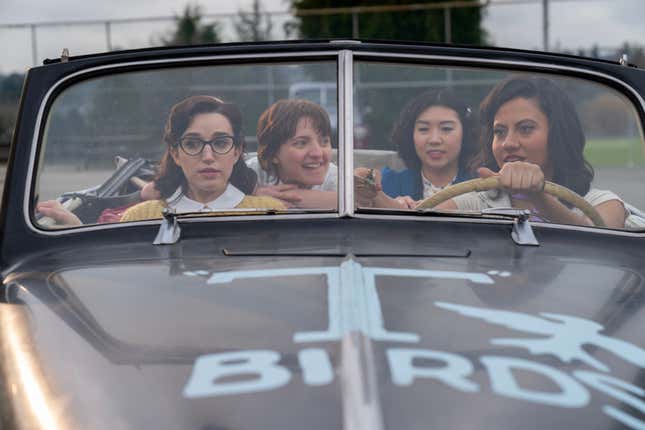 Marisa Davila as Jane Facciano, Ari Notartomaso as Cynthia Zdunowski, Tricia Fukuhara as Nancy Nakagawa, and Cheyenne Wells as Olivia Valdovinos
Photo: Eduardo Araquel/Paramount+
The third episode tackles the discrimination within Rydell. It centers on Hazel (Shanel Bailey), a shy Black girl who's new in town, as well as Jane as she grapples with her identity as a Latina who can pass as white while her mother and sister can't. The show doesn't pull its punches in an insidiously catchy soft-shoe number called "In The Club," in which the rich white founders of the local country club climb out of an oil painting to serenade Jane about white supremacy.
That said, Pink Ladies is uneven when it comes to dealing with the realities of the universe it's created. The show glosses over how, exactly, the students of color are able to mix so readily with the white kids, or how a gay Black man came to be hired as Rydell High's drama teacher. The series isn't quite Bridgerton levels of lazy about its worldbuilding; but if you're going to make a show whose plot hinges on dismantling the racism, sexism, and homophobia bubbling just beneath the surface of midcentury suburbia, you've gotta fully commit.
Speaking of surfaces, Pink Ladies looks and sounds gorgeous, from the bright, detailed costuming to the lovingly kitschy production design. Plus, it pulls off a trick that precious few musical TV series manage: Nearly every number is a bop. After ushering us into the world via a dynamic full-cast performance of Barry Gibb's iconic title song at the drive-in, the show starts to seed in Tranter's original compositions—lyrically clever earworms that run the gamut from swoony torch songs and contemporary pop-inflected tracks to '50s rock jams that nod to the Jim Jacobs and Warren Casey's work from the original Grease. 
And thanks to kinetic choreography from RuPaul's Drag Race alum Jamal Sims and dynamic camerawork from the series' directing team, each number feels like a mini music video. Highlights include a "Greased Lightning"-style cut sung by Cynthia (with the T-Birds as her backup dancers); an emotional banger from Jane in the school hallway that looks like a Billie Eilish video; a joyous group number from the Pink Ladies that sees the walls of a teen bedroom float up into the clouds; and a solo from Hazel in which her dance partner is a cluster of stars.
Grease: Rise of the Pink Ladies | Official Trailer | Paramount+
Of course, the most kudos goes to the multitalented cast; the four main players bounce off each other (and their haters) with ease. Davila makes Jane—a protagonist who risks sinking into Mary Sue territory—a full-bodied presence, and she's unafraid to delve into the thornier aspects of her character. As Nancy, Fukuhara undercuts the sweetness of Pink Ladies with wry, tart humor.
Notartomaso and Williams may be the most impressive, however, considering the series marks both of their screen debuts. Nonbinary actor Notartomaso has the hardest needle to thread as Cynthia, a class clown whose jokes belie a deep insecurity about sexuality and gender—and they make their character's struggle feel all too real. And then there's Williams, who seems destined for stardom; her singing and dancing are Broadway-caliber, and she's got the kind of charisma you can't teach.
We'd be remiss not to mention the series' elder stateswoman, character acting legend Jackie Hoffman. She plays the strict but put-upon Assistant Principal McGee, whom the writers afford much more humanity than most fictional vice principals get. Plus, she's played by Jackie friggin' Hoffman.
Compared with most of today's high-school series, the stakes in Pink Ladies are low. But we've got more than enough shows about teens dealing with murder, drug addiction, plane crashes, dark magic, werewolves, and/or the Upside Down to go around. And though it's frustrating that nearly every series these days is based on existing IP, Rise Of The Pink Ladies is proof that it's possible to dig up a hoary old piece of media and make it do the hand jive.
---
Grease: Rise Of The Pink Ladies premieres April 6 on Paramount+.