food
Please Eat in the Library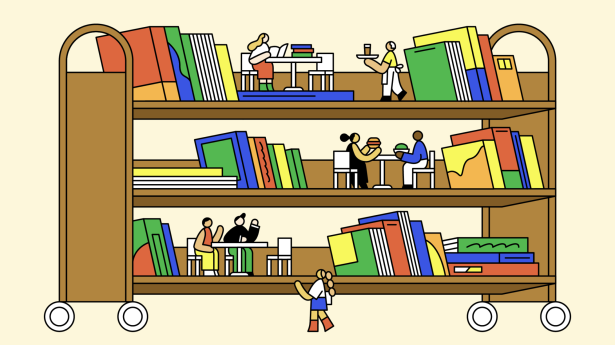 Nourishing the community takes different forms; whether a community is served with food, information, books, or safe spaces, it all goes together.,Rose Wong
America's libraries are due for an upgrade. Cue the wine bar.
The United States is sleeping on more than just universal health care and widespread bidet usage. In cities from Helsinki, Finland, to Canberra, Australia, libraries offer more than just a place to take a break between using fast and free internet and researching ancient Martian glaciers. They're stocked with cafés and wine bars (yes, really!) that encourage lingering with a culinary experience all their own. Think: chickpea bánh mì, wild mushroom soup made from sheathed woodtufts foraged in a nearby forest, and cask Côtes du Rhône on tap. Not a shrink-wrapped cake slice, lukewarm Styrofoam cup of drip coffee, or soggy egg salad sandwich in sight.
Public libraries in the United States outnumber McDonald's, Susan Orlean points out in her 2018 book The Library Book. "They outnumber retail bookstores two to one." Libraries are one of the last truly equitable "third places" we have left in the United States, a free-to-visit gathering space patronized more frequently than movie theaters in 2019, according to a Gallup poll. And yet our nation's libraries are a largely untapped dining locale.

As a well-seasoned library tourist (honorable shout-outs to the Kansas City Public Library, the New York Public Library, and the Los Angeles Public Library's sadly now-departed Panda Express), I've sought out libraries that serve up anything from pit-stop iced lattes to Indonesian tahu goreng. What is most striking to me, though, is how international libraries foster an inimitable feeling of commensality. A fancy term to describe the act of eating together, commensality has been shown to play an overwhelming part in bolstering social order and public health. Sharing an elevated dining experience also notably increases feelings of personal satisfaction, proving that eating isn't just a means to an end.
I've discovered you can eat a very good curried egg salad sandwich at a white- cloth communal table just off the reading room in the Bibliothèque Nationale de France's Richelieu location. And that's just the edge of the library dining rabbit hole. Helsinki's Oodi Library café serves up everything from rainbow trout coconut curry and beet and goat cheese lasagna to light, airy passionfruit cakes—all labeled with their own climate impact score.
If you find yourself in Canberra, you can feast on confited snapper and pan- seared pork belly at the National Library of Australia's Bookplate cafe, whose tableside service adds a vibe that's more restaurant-cum-living-room than fast casual. Nestled into Manila's brutalist Magsaysay Laureate Library is the speakeasy-inspired Library Café, where you can enjoy spicy sisig over rice, towering slices of mango sans rival, and even an espresso margarita (not a martini) while tucked into emerald velvet-tufted booths under low, moody pendant lights. It should also come as no surprise that you can sip on a rooftop Campari spritz at the Caffetteria in Florence's Biblioteca delle Oblate.
But what about in the United States? Libraries have long remained viable by shape-shifting to meet the needs of their communities far beyond lending books. Since around the mid-2010s, central library branches from London to Bologna began offering dining options that mimicked the trendy eateries surrounding them. While most major US libraries now provide services and space for activities like 3D printing, sewing machine rentals, or recording equipment for taping a podcast, they don't necessarily present a dining destination of their own (either by not offering a food option or by not permitting outside food to be consumed while browsing the stacks). But change is coming.
"Patrons come to the library just for this food—it's amazing," says Emily Duchon, the library, recreation, and cultural services manager for the public library in Sierra Vista, Arizona. The branch, which has operated since 2014, opened the Book Nook Cafe in early 2020, where patrons can expect to find Moroccan lentil soup, caramel apple scones, and pressed sandwiches made from in-house ciabatta loaves—dishes that cost guests between four and ten dollars, all while not relying on government subsidies. "The library café is operated by a mother-and-two-daughters team," says Duchon. "They are former restaurateurs, so they bring that perspective and expertise to their restaurant."
These library cafés are often crafted from existing space and rented to local vendors, with the library earning revenue from rent and utilities and, occasionally, a percentage of the profits. The opportunity to increase foot traffic, as noted by Milwaukee Public Library's Marian Royal, has led to many other fringe benefits, like rising attendance in programming, as well as revenue generated from the sale of used books in these cafés. This increased revenue then allows libraries more funding to purchase more diverse titles for their collection.
 "Nourishing the community takes different forms," says Royal. "Whether a community is served with food, information, books, or safe spaces, it all goes together." After all, libraries are a refuge that provide vital escape routes— and constantly evolving ones at that. The library is perhaps the place many of us first felt autonomy. The mere proximity of libraries in a neighborhood has been found to engender increased trust and connection within communities, as well as less traditional contributions to community health. As in the case of the cafés at Washington, DC's Martin Luther King Jr. Memorial Library and the Rochester Public Library central branch, library boards have opted for local vendors that offer training to communities experiencing employment barriers, allowing for a different level of engagement and upward mobility that one simply can't replicate at a Starbucks.
Some American libraries are even enlisting fine-dining help, too. José Andrés's Think Food Group has recently consulted on the menu for DC's MLK Jr. Memorial Library café, crafting its own definition of "library food" with cost-effective dishes that push library cuisine forward, like grilled goat cheese sandwiches and açaí chia parfaits.
The website of the National Library of Australia's Bookplate café (very charmingly) posits that the famous Greek mathematician Eratosthenes likely wouldn't have been able to calculate the Earth's circumference had he not enjoyed "from time to time, a restorative cup of wine, fresh from the amphora, and a dish of figs from the Nile delta, still warm from the sun." Libraries have always been a proverbial watering hole for the mind. Why not be able to fuel our bodies, too, and linger at the oasis a little longer?