Dems' Old Formula Is a Big 2024 Risk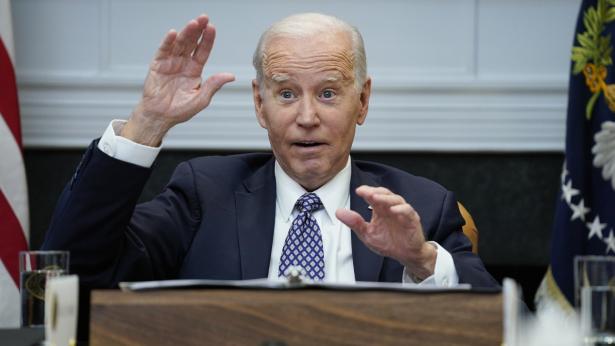 The Democratic Party's political class has developed a rote formula over the last decade: ignore rather than channel discontent among the party's rank-and-file voters, prevent competitive primaries where those voters can act on their dissatisfaction, and then hope to eke out general election victories on a wave of voter disgust with the Republican Party's freakshow nominees.
This isn't just a fleeting tactic. This is now The Formula Of Democratic Politics™, one with mixed results. In 2016, Senate Democratic leader Chuck Schumer (D-N.Y.) publicly bragged that The Formula would result in flipping enough moderate voters to secure a victory, just before The Formula's epic failure handed Donald Trump the presidency.

Four years later, though, The Formula seemed to work — Democrats united to quash the primary against the quasi-incumbent Joe Biden, and Trump's horrific first term allowed Biden to eke out a win with a flaccid campaign based on a meaningless platitude about "the soul of America."
Now Democrats seem intent on using The Formula again — only this time, it's even more risky because this is not a race against a sitting Republican president. In 2024, Biden is the incumbent playing defense, and data suggest that there's not much enthusiasm for his reelection campaign, even among his own party.
A stat from The Washington Post illustrates this larger problem: "Biden has less support for renomination among Democrats than Trump, Obama, and Clinton had from their parties," the newspaper reports, noting that surveys show just 38 percent of Democrats want Biden to be the party's nominee in 2024. CNN's polling shows that right now, just one third of Americans believe Biden deserves to be reelected — lower than where Trump was at around this stage of his first term.
If there was a healthy democratic culture among the Democratic Party's political class, the response to the prospect of depressed voter enthusiasm might be a serious primary challenge. There might be a traditional top-tier candidate — maybe a senator, a governor, or even a member of the House — who is both ambitious enough to run for president and worried enough about a Biden failure in a general election against Trump.
Such a primary would serve the additional benefit of testing Biden's own reelection viability, and making sure he can handle the rigors of a campaign before he's already the nominee.
But that hasn't happened. The response has been The Formula.
First, Biden and Democratic leaders have rejected the FDR strategy of winning elections by making a show of delivering for the working class. They have instead made a show of putting their boots in the eye of dissatisfied voters as a way to brandish their "centrist" (read: corporate) credentials.
After a very good American Rescue Plan momentarily helped millions of people and boosted Biden's standing among voters, Democrats cut off pandemic aid, jacked up taxes on the working class, stomped out a rail strike, expanded fossil fuel drilling amid the climate emergency, demagogued the crime issue, and reappointed Trump's worker-crushing Federal Reserve chair — all while abandoning the minimum wage and health care promises they made in 2020. And then they spiked the football by bailing out Silicon Valley Bank tech moguls while the government moved to force up to 15 million people off Medicaid.
With voters now understandably ticked off, here comes The Formula's primary-crushing phase.
There was the decision to move the first Democratic presidential primary to South Carolina — a state widely seen as a place where the party machine has the best chance to control the outcome against insurgent candidates.
More recently, there's the effort to shut down the discourse: Though a Fox News survey shows 28 percent of Democrats already saying they will vote against Biden in a primary contest, The Washington Post reports: "The national Democratic Party has said it will support Biden's reelection, and it has no plans to sponsor primary debates."
So far, this phase of The Formula has been successful. Though Marianne Williamson and Robert F. Kennedy, Jr. are promising primary challenges, no elected official in the party seems willing to vigorously support even the concept of a primary, much less run in one.
No doubt, every Democratic officeholder is deterred by the cautionary tale of Sen. Bernie Sanders (Ind.-Vt.) being shamed for having committed the crime of momentarily considering a primary challenge to Obama while the incumbent was bailing out banks amid the foreclosure meltdown. For his part, Sanders provided an early Biden reelection endorsement, not even holding out for any policy concessions.
So far, this part of The Formula has been successful in manufacturing a sense of inevitability and creating the illusion that there is no other path – even if voters might want one. As The Washington Post's headline put it: "Democrats reluctant about Biden 2024, but they see no other choice." Or as Sanders told MSNBC about his Biden endorsement: "I don't think one has many alternatives here."
Assuming Biden is the nominee, The Formula's final phase will likely be anchored in Schumer's 2016 assumption. Democrats will presume that come general election time, disgust with the Republican nominee will cure all the discontent, demoralization, and disillusionment sown by a feeble left-punching incumbent and by the party's heavy-handed primary suppression tactics.
Maybe that's what ends up happening. Maybe voters will see the Republican nominee as so flagrantly grotesque that Biden will get four more years. But there's mounting evidence that the opposite could happen, and that 2024 could be more like 2016 than 2020.
That's hardly surprising. As freakish as Republican politicians are, Democrats' formula may not be sustainable over the long haul. There may be only so long that a party can ignore and suppress mass discontent and then just hope the other party's extremism generates revulsion.
As FDR once warned: "The millions who are in want will not stand by silently forever while the things to satisfy their needs are within easy reach."
The Lever, formerly known as The Daily Poster, is a reader-supported investigative news outlet that holds accountable the people and corporations manipulating the levers of power. The organization was founded by owner David Sirota, an award-winning journalist and Oscar-nominated writer who served as the presidential campaign speechwriter for Bernie Sanders.  
To paraphrase Archimedes: We believe that with a strong enough lever, we can help move the world. Subscribe to The Lever here.