labor
The Disappearing White-Collar Job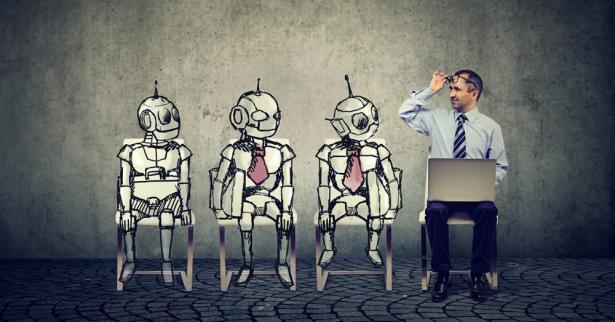 www.techslang.com
For generations of Americans, a corporate job was a path to stable prosperity. No more. 
The jobs lost in a monthslong cascade of white-collar layoffs triggered by overhiring and rising interest rates might never return, corporate executives and economists say. Companies are rethinking the value of many white-collar roles, in what some experts anticipate will be a permanent shift in labor demand that will disrupt the work life of millions of Americans whose jobs will be lost, diminished or revamped partly through the use of artificial intelligence. 
"We may be at the peak of the need for knowledge workers," said Atif Rafiq, a former chief digital officer at McDonald's and Volvo. "We just need fewer people to do the same thing."

Long after robots began taking manufacturing jobs, artificial intelligence is now coming for the higher-ups—accountants, software programmers, human-resources specialists and lawyers—and converging with unyielding pressure on companies to operate more efficiently. 
Meta Platforms CEO Mark Zuckerberg told employees after the Facebook parent's latest round of layoffs that many jobs aren't coming back because new technologies will allow the company to operate more efficiently. International Business Machines CEO Arvind Krishna recently said the company could pause some hiring to see what kind of back-office work can be done with AI. Leaders in many industries say they expect the new International Business Machines will augment some existing roles, changing what people do on the job. AI could allow employees to better contribute to their companies by doing more meaningful work, said Mr. Rafiq, author of a new book on management.
For the year ended in March, the number of unemployed white-collar workers rose by roughly 150,000, according to an analysis from Employ America, a nonpartisan research group. That included workers in professional services, management, computer occupations, engineering, and scientists.
"I can't think of any job where it's like AI by itself," said Rodney McMullen, chief executive of grocery chain Kroger, which has about 430,000 employees. "I can think of a lot of jobs that are being affected by AI."
That underlying dynamic has been accelerated by the binge hiring of recent years. Company leaders say they have become saddled with bloated managerial layers that slow decision making. The retailer Gap said in April that its new round of corporate job cuts would trim what has become an inefficient corporate bureaucracy. 
Lyft's new CEO, David Risher, told investors this month that the ride-sharing company had cut the number of management layers from eight to five. Lyft said in April it would eliminate roughly 1,000 white-collar jobs in its latest round of layoffs. The flattened corporate structure means that Lyft "can innovate faster," Mr. Risher said.
Jobs go through boom-and-bust cycles. In previous downturns, executives pledged to make streamlining efforts stick, only to replenish or grow their corporate ranks when business conditions improved. Many executives say the forces now at play suggest this time is different.
During past periods when higher interest rates pitched the U.S. economy into recession, job losses were often led by industries most sensitive to rate changes, such as manufacturing and construction. "It seems like we're not seeing that right now. It could be the structure of the economy has changed," said Preston Mui, an economist at Employ America, who has been studying white-collar job losses.
"A real question is: The Fed raises rates and softens the economy, where is that going to show up?" he said. The evidence is pointing to white-collar jobs, he said. 
After 14 months of interest-rate increases by the Federal Reserve, job openings dropped to their lowest level in nearly two years in March, the most recent month of Labor Department data. Layoffs in the information sector were up 88% in March from a year earlier and up 55% in finance and insurance, the data show. For manufacturing, they were up 25% over the same period. 
Companies are for the moment focused on keeping blue-collar employees—restaurant servers, warehouse workers, drivers and the like—who remain in short supply, according to economists and human-resources specialists. For C-suite executives under pressure from investors, that exposes middle managers and other white-collar workers to layoffs.
Whole Foods and Walt Disney announced layoffs in recent weeks that largely hit corporate staff while sparing such customer-service jobs as grocery clerk and hourly theme-park attendant. Retail workers, including salespeople and cashiers, were among the most in-demand roles in the first quarter of the year, according to the jobs site LinkedIn, along with nurses and drivers.
"Companies realize they over-hired in the middle," said Nick Bunker, an economist at jobs site Indeed. "They're paring things back."
The number of employees working and the number of hours they worked in white-collar sectors such as professional services and medical and veterinary roles contracted in late April compared with January, according to data from Homebase, which provides software services to small businesses for scheduling hourly workers.
Sudden fall
Colton Pace, chief executive of Ownwell, a property-tax analysis company based in Austin, Texas, said he was filling more open roles with temporary contractors to give the startup flexibility in an uncertain economy. He also sees technology soon doing more company tasks. 
"I want to be a little more cautious in how we hire," Mr. Pace said. "In addition to that, it makes more sense because we're not sure. Some of these roles will be automated away." 
A year ago, roughly 15% of the company was made up of contractors or seasonal workers. Those workers now make up a quarter of Ownwell's roughly 85-person workforce. Mr. Pace said he could see AI and other tools eventually shouldering a greater share of the work in customer support, operations and sales. 
There is no firm definition of white-collar employee in government data. The term broadly applies to people who work in offices and have higher education, such as a bachelor's degree or some college. In recent decades, hiring in management and professional jobs rapidly outpaced other categories. The number of employees in management and professional occupations increased nearly 150% in the past 40 years, and nearly 36% since the end of the 2007-09 recession, according to Labor Department data. By comparison, service occupations such as barbers, child care workers and casino employees have risen 72% since 1983, the earliest available data, and 3.5% since June 2009. 
Over the years, higher demand for skilled workers and higher pay for professional jobs widened the economic gap with blue-collar workers. Yet following the height of the Covid-19 pandemic, wages rose fastest among low-earners, reducing the college wage premium and reversing about a quarter of the rise in wage inequality since 1980, according to a study by economists including David Autor of the Massachusetts Institute of Technology.
Payroll data from more than 300,000 small- and medium-size businesses showed that wages for new hires had generally declined in April from a year ago but fell most rapidly in white-collar professions, such as finance and insurance, according to Gusto, a payroll, benefits and human-resource management software maker. They rose most quickly in such services and blue-collar industries as tourism, construction and recreation, Gusto found.
Digital smarts
As companies look to cut costs, some employers have said middle managers will have to give up their teams and return to being just another worker. Others, including McDonald's, have asked staffers to accept reduced compensation if they want to stay at the company.
Artificial intelligence also is expected to eliminate some positions entirely. Mr. Krishna, of IBM, has said in recent weeks that he could see 30% of IBM's roughly 26,000 non-customer-facing roles being replaced by automation or AI over a five-year period. 
An IBM spokesman said the company was still hiring for thousands of positions. "There is no blanket hiring 'pause' in place," he said. "IBM is being deliberate and thoughtful in our hiring."
The Labor Department projects that of the 20 occupations that will create the most jobs through 2031, about two-thirds will be blue-collar jobs that pay around $32,000 a year, including home-health and personal-care aides, restaurant cooks, fast-food workers, wait staff and freight movers. 
The professions with the best prospects for growth that require a college degree include software developers, operations managers and registered nurses. Those jobs pay around $100,000 a year and are forecast to be better protected than other white-collar work from AI displacement. 
Some employers are already figuring out exactly how many fewer white-collar workers they will need in the future. The business- and government-consulting firm Guidehouse in McLean, Va., which employs about 16,500 people, had expected to triple its head count in the coming years to reach its goal of roughly tripling its revenue to $10 billion, said CEO Scott McIntyre. Not anymore, he said.
 
Mr. McIntyre expects that with the help of AI and increased automation, Guidehouse may need to hire 40,000 people instead of 50,000 to reach its growth target. "The smarter you are with enabling technology and technology that creates productivity, the smarter you can be about hiring," he said.