Young Afghan Girls Are Finding Ways To Keep Learning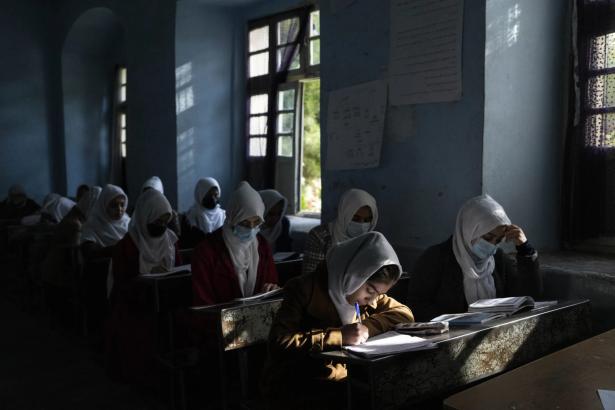 After the Taliban seized power in Afghanistan in 2021, tens of thousands of girls were banned from attending school beyond sixth grade. But a group of girls in Kabul formed a connection with some other teens half a world away in California. , Petros Giannakouris/Associated Press
After the Taliban seized power in Afghanistan in 2021, tens of thousands of girls were banned from attending school beyond sixth grade. Many found a way to continue their studies through informal tutoring centers, but those too have come under increased scrutiny as the government continues to crack down on women and girls' access to education.
As a group of girls in Kabul have been grappling with all this, they've formed a connection with some other teens half a world away in California. The two sets of students, through meetings on Zoom talking about their lives and goals, formed the Flowers for the Future club, now a branch of the Eileen Murphy Foundation.
Below are two essays from members of the club: Mahsa Kosha in Afghanistan and Emily Khossaravi in California.

"Like a walking dead": Being a teenage girl who wants to study under Taliban rule
By Mahsa Kosha
I was born in 2006. I continued my childish life from birth to 6 years old and had a relatively good childhood period. I had many dolls and friends at that time. My yellow-haired doll's name is Princess. I love her so much because she is so loyal that I still have her. When I was 6 years old, I started studying in school. Later, I started studying English, too. I continued my school and course lessons until our economic situation deteriorated and I could not study English anymore.
My younger sister was born with a heart problem. My parents got into a lot of debt to treat her, and we entered very difficult years. But my sister became healthy, and my parents were trying very hard to allow us to study. A few years later, I was back studying English and math at the same time at school.
Until the age of 14, I had a completely normal life. I was studying and trying to achieve great success in the future. I wanted to become a pilot. At that age, I didn't really understand the concept of failure, and I continued my life without any fear or concern, and every day I moved forward with small successes. I got four certificates of appreciation from different departments, one of which was from a cultural community. I gained from singing hymns and reciting poems. I thought that "I will continue my work and efforts and within a few years I will reach bigger goals," unaware that it will not happen.
With the arrival of the Taliban, a new page opened in my life, and my life entered into great changes. After the Taliban seized power, many problems arose, and I suffered many failures. I really entered into a back-breaking transformation. At the beginning of the ban on the entry of girls to my school, I was depressed, and I was like a walking dead, and I didn't want to continue my studies.
But in those hard days, I was not alone. My older brother tried very hard to help me and always encouraged me to study. He even brought me very good motivational books to read and try, such as "Atomic Habits" and "The Power of Habit." One day, my brother showed me a picture he had taken of an ad for a place where girls could go take classes. When I went to the address, I saw a lot of other girls who were like me and were looking for lessons in courses. Slowly I got the motivation to study again and started reading books on the side of those lessons. I continued in the promised course.
But this time they closed the course gates on us, and this time I will fight back and search for methods to achieve my dreams.
The arrival of the Taliban taught me that I have to fight against my problems. Someone who has always been in the dark and struggled with problems wants to reach the light and understands the light. I try to reach it. Only someone who faces their problems can succeed.
An example is James Clear, the author of "Atomic Habits." He was hit by a baseball bat right in the middle of his face when he was in high school, which caused his brain to be crushed inside his skull. Despite all the problems he had, he got back on his feet better than before. The work he did turned out to be very strong. He was able to get perfect grades in all subjects by the end of the year, and six years later he was selected as the best male athlete at Denison University in Ohio. His book gave me new motivation and changed my way of thinking in life. Well, I will take James Clear as my example and continue on my way again like any other Afghan girl.
How inspiration and friendship from across the world help create a global club
By Emily Khossaravi
I still remember the first day of my AP World History class in 2021. I walked into the class, eager and excited for the year to come. Little did I know that class would change my life.
On the first day, my teacher, Timothy Stiven, announced that we would be meeting with girls from a tutoring center in Afghanistan on Zoom the next day. I was so excited about the experience. That afternoon, when I got home, I immediately sent an email to Mr. Stiven and indicated that I could talk to the students in Farsi if it would make them feel more comfortable. The next day, I introduced our class and spoke with the Afghan students, asking them how they were doing and what their hopes and dreams were for the future. They responded with a variety of answers: Some wanted to work in the fields of computer science, others wanted to pursue their soccer dreams and yet others wanted to write literature. Witnessing their determination and eagerness to continue to learn despite not being allowed to go to school was amazing and inspired us to amplify their voices.
I began translating a collection of one hundred poems that one of the girls had written. I began corresponding with her, and we started sharing goals. It wasn't until then that I was fully hit with the intense dedication of these girls. Despite her situation, this girl still aimed to learn the advanced topics of chemistry and mathematics, as well as English grammar. She also asked me how I foster productivity and organize my schedule.
Needless to say, I wasn't the only one inspired. As we began meeting over Zoom more and more often, the club Flowers for the Future emerged. Through the club, we sought to provide the girls with interactive STEM and humanities lessons, in topics such as biology, chemistry and English and engage them in continuing their education, even when they couldn't go to school. The club has grown to include branches in Massachusetts, Kentucky, Hong Kong, Australia and more. We will continue to expand, with the goal of having the girls achieve their dreams, while striving to make a positive impact on everyone's life.
Flowers for the Future has served as a platform to connect students through the passion of learning different subjects; it emphasizes the importance of learning through the connections between schools thousands of miles apart. Not only do we seek to help educate these girls in Afghanistan, but we also seek to inspire others to do the same. Because education is worth pursuing – it advances humanity.
This story about Afghan education was produced by The Hechinger Report, a nonprofit, independent news organization focused on inequality and innovation in education. Sign up for our higher education newsletter.