labor
The 2023 Oakland Teachers Strike: An Assessment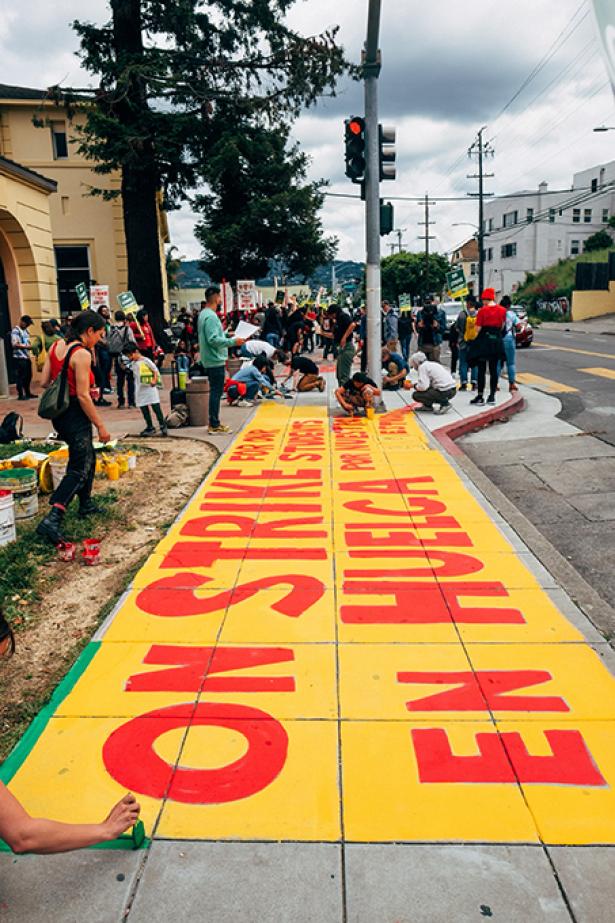 At the end of May, I closed the books on my tenth year as a classroom teacher, my seventh in Oakland Unified. When the year got underway back in August of 2022, I was hoping for something that had eluded me for most of my time in OUSD: an uninterrupted school year. While contract negotiations were set to take place, I did not anticipate any major escalation on the union front. For most of the year, that proved to be the case.
But then shortly before spring break, word spread that the Oakland Education Association (OEA) bargaining team wanted to escalate to a potential strike before the end of the year. With only eight weeks of school after spring break, I thought there was no way in hell a strike would happen. The runway, in my mind, was too short, almost comically so. Before heading off on spring break, I even told some of my Seniors that they needn't worry about a strike happening this year.
Well, life comes at you fast. Before I knew it, a strike vote was held. And then May 4th was set as a potential start date for the strike. Then May 4th arrived and no agreement was reached, resulting in a seven day strike that ended with a tentative agreement in the wee hours of Monday, May 15th. The TA was ratified on Monday, May 22nd, with 90% of members voting yes. 

The demands that led to the strike were many: salary increases; more special education resources; more nurses; more librarians and counselors; community control of schools; and more resources for historically Black schools in the District, to give just a partial list. The tentative agreement contains important victories on a number of these issues, and lays the groundwork for continued progress on a number of other issues moving forward.
But in addition to the victories, there are areas where we came up short, and several lessons I hope we learn from this experience as a union as we move forward. This assessment of the bargaining campaign and strike will be limited due to my own limited role in union matters this year. I was not on the bargaining team. And despite being an alternate OEA rep at my school site this year, I did not attend a single rep council meeting. And finally, during the seven-day strike, I was not a picket captain.
Nevertheless, I believe there are lessons to be learned when viewed from the eyes of an average rank and file member. My analysis will examine both the process of how we bargained and organized as well as the substance of what we won—and did not win—in the new agreement. My hope is that this assessment will encourage members and leadership to reflect on what happened and learn from our successes and mistakes, so we come back stronger in 2025. 
The Bargaining Campaign: More Democracy, More Transparency…but still room for improvement
Let me start by saying the bargaining process this round was significantly improved from the last contract campaign in 2019. During the 2018-19 contract campaign, the OEA bargaining team consisted of five members. In the months leading up to the seven-day strike of February 2019, I had little sense of who was on the team, or what was happening at the table, other than it was not going well. While the idea of going on strike was in the air, specifics around bargaining were unclear. I imagine most other OEA members felt similarly during that time.
In contrast, during this round of bargaining, we had a fifty-member bargaining team composed of classroom teachers, nurses, counselors, school psychologists, basically every job title represented by OEA. OEA's goal was to have one elected bargaining team member from every single school site. While we did not achieve that ambitious goal, the depth and breadth of representation on the bargaining team resulted in a bargaining process that was far more representative, and democratic, than the last few rounds of bargaining (I'm thinking here not just of the 2019 contract, but also the various COVID bargaining MOUs of the past few years). Official bargaining updates went out more frequently, and many individual bargaining team members sent individual updates to their sites, each of which kept more members in the loop on what was happening during bargaining. 
This had an overall effect of strengthening the connection between members and the bargaining table. With a team of only five members, it can become easy to lose touch with the pulse of the overall membership. A fifty-member team, while not perfect (nothing ever is in collective bargaining), is far more likely to maintain an accurate read on the membership, and thereby not get too far ahead of members, nor capitulate too easily. It is also worth mentioning that the members of the bargaining team worked incredibly hard, including nineteen straight days of marathon bargaining sessions, beginning before the strike, and ending Monday May 15th at 2:44am. This Herculean effort (there's no other word for it) feels unprecedented. I'm not a labor historian, but I've never heard of a union bargaining team engaging in that many marathon bargaining sessions in a row. It was and is an incredible feat of persistence and deserves recognition and appreciation.
Finally, transparency around the specifics of the negotiations also improved. The bargaining team maintained a website where all proposals between OEA and OUSD were posted for members and the public to read. This was something many members (myself included) had been pushing for over the past few years, and something the 2021 Covid Safety Bargaining implemented during that round of bargaining. Having the actual proposals available to read this round was a critically important step forward. It helped members remain more informed and educated about what was happening at the table.
All this said, areas for growth in how we bargain remain. To begin, we, as a union, did not do any internal political education with the entire membership about how collective bargaining works, which resulted in confusion and misinformation in the field. Even though many members closely read the proposals from both sides, and many conversations were happening between bargaining team representatives and the membership at large, resulting in many members getting educated in a trial-by-fire sort of way over the course of the strike, there was, nevertheless, quite a bit of confusion and misunderstanding about bargaining that could have been prevented had we done more to educate and inoculate members before negotiations got underway.
For example, several colleagues I spoke with grew unduly concerned at various moments that certain aspects of OUSD's bargaining proposals were going to be the final word on particular contractual subjects. Having worked on many bargaining campaigns during my time in labor, I was not perturbed by OUSD's proposals, even the more aggressive ones that contained clear nonstarters. But the average member without direct collective bargaining experience was not able to shrug these proposals off so easily. There was real fear among some members that some of OUSD's untenable proposals would be included in the final contract language.
Part of this is understandable (I wrote in 2019 about the deep levels of distrust that exist among OEA educators towards the District leadership) but much of it stems from the fact that members were not educated and inoculated ahead of time about the bargaining process. The boss is always going to propose nasty things during bargaining. When you've been around bargaining, you learn to brush those off and not get distracted by them. The average teacher in Oakland, however, has not spent much time in or around bargaining. Which is why political education wasß necessary, especially with increased transparency in bargaining. Had we done more to educate people on the process, and communicated assurances that our colleagues on the bargaining team were never going to capitulate to massive takeaways, it would have prevented significant anxiety, grief, and misinformation in the field.
In addition to political education, we should continue to push for open, public, and transparent bargaining with the District. Having all members able to witness negotiations in real time (via a livestream or in person) would bring more people into the process and strengthen the political education of the overall membership. When I pushed for this as a member of one of the COVID bargaining teams, a former member of OEA leadership pointed out that open bargaining is best suited as an organizing tool and should not be done simply for the principle of the matter. It's a fair point, even if I strongly disagree with it (more transparency provides more education and accountability, which ultimately provides more buy-in from the larger membership). Yet beyond strategic value, the fact of the matter is that during a strike members have time on their hands. Going on strike is, of course, incredibly taxing; there's no getting around that. But part of what happens during a strike is that members have time and space freed up to think about larger union issues. We could maximize that time and energy by getting members to watch livestreams of bargaining at key moments: for example, when proposals are being exchanged or discussions with the boss are happening at the table. Doing so would increase education and buy in amongst members.
Open bargaining would also shine a light on the dysfunction and incompetence in how OUSD approaches the collective bargaining process with OEA. An entire article could be written on how OUSD is a dysfunctional employer but suffice it to say that there were numerous instances throughout the entirety of the campaign, from the very beginning, right up until the very end, where OUSD was unprepared for negotiations and showed itself incapable of engaging in bargaining in a professional and efficient manner. At times our bargaining team was left waiting for hours and days for OUSD to respond to proposals, and often received back poorly formatted proposals filled with errors. This irresponsible behavior deserves public exposure and could help force OUSD to clean up its act in the future.
The Organizing Campaign: An Ad-Hoc Strike
Most educators are familiar with what I call the "ad-hoc" lesson plan. It's when, for any number of reasons, you show up to work without a fully formed lesson plan (or, let's be real, no lesson plan at all) and have to make one up on the fly. It doesn't happen that often, but most teachers have at least one day a year like this. In your first two years of teaching, coping with the pressures of lesson planning, and the reality of, on occasion, finding yourself without one, can be excruciating. Once you're a bit of a veteran though, you're not really fazed by it. If for some reason you aren't ready, you pull something out of your bag of tricks in the thirty minutes before school (or during lunch) and more often than not, it works. Your muscle memory saves you from disaster. But it's decidedly not good teaching practice, and is the reason why most teachers I know stay up way too late the night before going over their lesson plans, even when those plans are tried and true. 
The 2023 strike was OEA's version of the ad-hoc lesson plan. Because we're a union with a near and long-term history of going on strike, we assumed we could successfully pull one off on short notice. And when gauged by certain metrics, one could argue we were not wrong. According to everyone I spoke with across the District, picket lines at schools were strong and student attendance remained low for the duration of the strike as parents and guardians chose to keep their kids at home or send them to strike schools. The District's own numbers corroborate this reality. The main leverage point of power that educators have (and the only one that ultimately matters) is halting the educational process. When viewed from this perspective, our strike was a success. 
But that is not the main lesson we should draw. We should be very careful not to conclude we can pull off a similar strike in the future. Going out on an open-ended strike is a serious matter for everyone involved—educators, students, families—yet most OUSD parents, and many teachers, were caught off guard by our decision to ramp up to a strike so late in the school year. This is a problem for two reasons. The first is that relationships with families and communities are essential to our success, and the last-minute nature of the strike put stress on relationships that were already strained due to the pandemic. Yes, families, for the most part, were with us during this strike just like they were in 2019. But there was a level of under-the-radar grumbling from parents that, in my experience, simply did not exist in 2019.
In addition, many parents I know were big mad about our choice to strike at the end of the school year. The end of year timing made everyone uneasy about the prospect of graduations being disrupted, or even the year ending with teachers on strike. The timing of the strike may have increased our leverage in certain respects—disrupting graduation, AP testing, and other important end of the year activities and celebrations put pressure on the District—but when combined with the surprise nature of the strike, striking in May placed additional strain on educators relationships with families, and not solely to our advantage.
It may be that going on strike in May was ultimately necessary. But that only raises the question of how we got backed into a corner in the first place. There are a number of possible explanations for the strategic mistakes that put us up against the wall so late in the year. I won't explore them here because I don't know enough to make an informed judgment. All I know is that we should not have found ourselves in that corner or up against the wall with the clock ticking. In the future, we must ensure we have a long enough runway for members to prepare themselves and families, and not allow ourselves to be rushed into concerted action. The way to ensure this is simple: begin every contract campaign, from day one, with the assumption that a credible strike threat will be necessary to win. If we do that, the field aspect of the campaign will be in a much stronger position because educators will be talking to each other and to families about the possibility of a strike early on, which will give everyone sufficient lead up time to be prepared and, more importantly, fully on board. 
The Specifics of the TA
As far as the new contract itself, there are some substantial improvements, especially around compensation. On the specific issue of compensation, I would characterize it as a solid victory. One could argue that we could have gotten even more in compensation if we dropped certain things like our common good demands (more on this below), but let's set that aside for the moment. The reality is that most teachers will be getting a 13% to 15% raise in one year, which translates into a very large salary increase for everyone. I'll use myself as an example. Under the ratified agreement, my pay next year will be 14% higher than this year. When I factor in the step increase, I'll be making 17% more. All of which comes out to my pay going up $13,000 next year (11K in salary increase and another 2K from the step). 
The cost of living in the Bay Area is obviously very high, but an additional 13K in pay feels massive to me. Some folks have pointed out that UTLA got a 20% increase in their recent agreement. That's true, but theirs is a two-year deal, whereas ours is for one year, and we have a wage reopener next school year. It's worth noting that high school class sizes in LA are as high as 37, so we must be nuanced when making comparisons. 
I'm not saying this agreement fully solves the issue of teacher pay. It does not. More progress still needs to be made, especially in Oakland. But the agreement on compensation represents a real win that we should celebrate. Along with the modest gains made on staffing—4 new librarian positions, 2 new nurse positions, and 5 new counselor positions, all of which can be built upon in future rounds—the new agreement is one we as members can feel pretty good about. 
As far as our common good (CG) demands, I'll begin by saying I support bargaining for the common good. I think it's important for unions strategically and morally, and I think it should be part of our strategy moving forward. But it's difficult to win CG demands when most members and the larger community are not familiar with those demands. This was the unfortunate reality as we began the strike. The OEA bargaining updates during the Spring semester focused almost exclusively on compensation. Despite some lofty rhetoric, OUSD's initial compensation proposals were quite minimal. As a result, most communications from the bargaining team to members was focused on highlighting this fact. To be clear: I am not criticizing the bargaining team for this. In fact, I think our bargaining team was correct to focus so intensely on compensation as an issue. But the result is that the CG demands were lost in the shuffle and nowhere near the top of anyone's radar. And when we reached the point that disagreement over CG became part of the reason for going on strike, many members (myself included) were not informed. 
Again, timing and notice matter. We need to do a better job organizing members and the community around what we were fighting for beyond compensation. In terms of what we achieved on the CG, we established four different MOUs (each separate from the main CBA), with each one addressing a different part of the OEA CG platform. It is good these MOUs exist, but their value remains to be seen. What is indisputable is that we did not have the power to win our CG demands as part of our union contract. The reason for that is simple: the power was in the hands of OUSD Board members instead of in our own. 
In 2019, despite the bitterly divisive settlement, our power analysis was correct in that we understood that shutting down OUSD board meetings gave us leverage. We were the ones in the driver's seat. In 2023, we found ourselves in a position where we were asking the Board to meet, with no leverage to force them to do so. This gave the Board all the leverage around the CG demands, and no amount of personal political pressure was enough to change that dynamic. When Board President Mike Hutchinson canceled the Board meeting on Day 5 of the strike, it was obvious he was making a power play to deny OEA the opportunity to win on common good at the bargaining table. That is the only way to interpret what transpired. We needed the Board to meet and authorize the OUSD negotiating team to bargain over the CG demands. When Hutchinson refused, we were left with no choice but to agree to the CG demands through the considerably weaker MOU process.  
Thankfully, the school closure fight from 2019 provides a roadmap for the next two to three years. We didn't win on school closures in the 2019 fight, but we've had success in making it an organizing and electoral issue over the past few years. We should do the same for the common good demands moving forward. 
Towards a Statewide Campaign
Zooming out from the specifics, if we situate the new agreement in the context of local bargaining, it is clearly a solid win. It makes large and meaningful improvements to educator pay, and contains staffing improvements that, however small they might appear, can serve as building blocks moving forward. It also lays the groundwork for future progress on the common good demands. 
What it is not, however, is a transformative agreement. The kind of agreement that creates learning conditions that we truly want, the kind that educators wax wistfully—and ruefully—about when we talk amongst ourselves in copy rooms, hallways, parking lots, beer gardens, or wherever else we happen to meet. The current agreement undoubtedly contains real improvements. But class sizes are still far too large, and resources are still far too few for students to truly receive the education they deserve. 
So, what do we do? How, for example, do we fundamentally transform California public schools so we don't have some of the largest class sizes in the nation? The thing I've been privately grousing about since 2019—and others actually doing something about—is the lack of a statewide effort among local teacher unions to coordinate their bargaining to pressure California to massively increase funding for public schools. Statewide education funding is the barrier to the kind of schools we want, ones with small class sizes and more support and resources for students. We won't achieve this kind of transformational change without an intervention at the state level. 
I was hoping to see more coordination between local bargaining campaigns (in LA, SF, Oakland, Sacramento, etc.) during this round of negotiations. The contract expiration dates at some of the CACS (California Alliance for Community Schools) locals were aligned, so I assumed there would be a level of coordination that would have, at minimum, highlighted the need for increased state funding. Although there were important struggles at the District level, the kind of statewide coordination needed never came to pass. This is not the fault of any one local. Coordination takes time and energy, and doing so is challenging within the highly developed, and highly bureaucratic legal structure that governs public sector collective bargaining. When coupled with the longstanding existence of local union structures and contracts that inevitably siphon attention from statewide organizing efforts and into District-specific struggles, statewide coordination moving forward will be difficult. Nonetheless, that must be a priority as we move towards 2025.
If the CACS locals manage to coordinate in the next round of negotiations (through public appearances, a media campaign, coordinated actions, up to and including a strike), we will have to think through the best ways such coordination can impact decision makers in Sacramento—from the California legislature to the Governor. Local unions bargain with their District employers, not the State.
Therefore, it may well be that any statewide campaign—and to be clear, there needs to be a statewide campaign—will also have to happen outside the normal collective bargaining process. Or at least help create the conditions for the big improvements we need in our schools to be prioritized. Whatever that campaign looks like when it takes shape, planning and organizing needs to start happening now to make it happen. Otherwise, we will be left fighting localized battles that lack the power to shift resources in the way that we ultimately want and need.
Heath Madom teaches English at a public high school in Oakland, California. Prior to teaching, he spent ten years working in the labor movement, mainly with SEIU and AFSCME. Originally from Long Island, NY, he now lives in Oakland with his wife and two kids.