Massachusetts Green Bank Is Created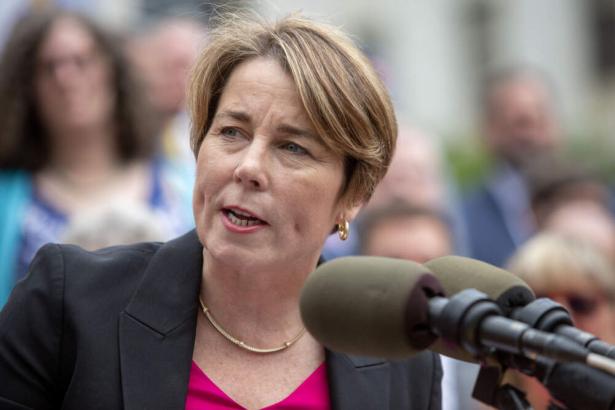 Massachusetts Gov. Maura Healey,Robin Lubbock/WBUR
Boston — Today, Governor Maura Healey announced the launch of the Massachusetts Community Climate Bank, the nation's first green bank dedicated to affordable housing. This landmark initiative, seeded with $50 million in state funds from the Department of Environmental Protection, is designed to maximize investment in the reduction of greenhouse gas emissions from the building sector.  
One of the Climate Bank's primary goals is to attract private sector capital and federal funds available under the Inflation Reduction Act to finance building retrofits aligned with the state's long-term climate objectives and new construction of decarbonized buildings. The bank will focus on the affordable housing market, where residents bear a disproportionate burden in energy costs and climate impacts, to promote an equitable energy transition and to meet the needs of environmental justice populations. Over time, the bank will diversify investments to include other decarbonization measures that benefit communities. 
The Massachusetts Community Climate Bank is located within MassHousing, the state's affordable housing finance and investment bank. Massachusetts is the first in the nation to locate its Climate Bank within its Housing Finance Agency and to focus its strategy on affordable housing. The Climate Bank will work in partnership with the Massachusetts Clean Energy Center (MassCEC) and MassDevelopment. This collaboration will ensure that each entity's capabilities are leveraged to support the identification, development, financing and execution of clean energy projects, beginning with the affordable housing sector. 

"The Massachusetts Community Climate Bank will be our financial engine for moving forward on our climate goals, relieving the pressure of high housing costs, and creating good jobs and healthier communities," said Governor Maura Healey. "This first-of-its kind initiative is going to make our state more competitive, affordable, and equitable – and it's going to show that in Massachusetts, we can lead the world by leading with our values and leaving no community behind. We're grateful to our partners at MassHousing, MassCEC, MassDevelopment, our Congressional delegation, the Legislature, the City of Boston and the Boston Green Ribbon Commission for their collaboration to make the Massachusetts Community Climate Bank a reality." 
"The Massachusetts Community Climate Bank has enormous potential," said Lieutenant Governor Kim Driscoll. "It can support deep energy retrofits and investments in energy efficiency technologies, eliminating emissions and cutting residents' energy costs for years to come. It can help nonprofit developers access capital that makes net-zero development possible, serving hundreds of families. It can help the state rehab and retrofit older affordable housing that's in need of repair by getting access to new federal climate funds. Each step of the way, it'll power our mission to make Massachusetts the world's climate leader by bringing all the benefits of a green and resilient economy to all the people of our state." 
"Decarbonizing the Commonwealth's housing stock is a critical component of our work to build cleaner, healthier communities, while meeting our ambitious climate goals," said MassHousing Executive Director Chrystal Kornegay. "The Massachusetts Community Climate Bank will allow us to pursue this important work at scale, accelerating our progress toward a net zero future, and centering equity for low- and moderate-income households and Environmental Justice communities." 
"The launch of the Massachusetts Community Climate Bank is a tremendous example of the Commonwealth's continued leadership in establishing ambitious climate policies that can serve as models for the nation. By using state funds to unlock substantial federal and private-sector resources, the Commonwealth is charting a novel form of public-private partnership to equitably address some of the most vexing challenges standing in the way of achieving its climate targets," said Ceres President and CEO Mindy Lubber.
Low- to moderate-income residents tend to pay a disproportionate share of their income on energy costs, have less control of their residences and have fewer resources to invest in measures that will reduce their emissions and control their energy bills. The Climate Bank expects to provide low-cost capital and innovative deal structures to integrate clean energy and efficient technologies into affordable housing development and preservation and mortgage products for home improvements.  
The Climate Bank will accelerate the pace and deepen the impact of building decarbonization projects by lending directly to building owners and by attracting and de-risking lending and investment by private lenders through innovative finance products. It expects to integrate clean energy into MassHousing's lending for affordable housing, create programs for similar affordable housing projects, and engage capital markets more broadly to invest in affordable housing decarbonization. 
The Climate Bank aims to take advantage of the periodic cycle of affordable housing refinance to finance heat pumps, building envelopes (i.e., efficiency upgrades to windows and walls), heat pump water heaters, high-efficiency appliances, and solar panels as a part of the same process as other affordable housing renovation measures. 
The Climate Bank will also position Massachusetts to compete for funding from the National Clean Investment Fund under the Inflation Reduction Act and to anchor engagement with other federal finance opportunities, such as the United States Department of Energy Loan Program Office, both key elements of the Biden Administration's initiative to advance a just energy transition focused on equity and environmental justice.   
In Massachusetts, the building sector is responsible for over a quarter of total greenhouse gas emissions. In Massachusetts cities, where many environmental justice populations live, buildings can be responsible for as much as 70 percent of total greenhouse gas emissions. Unlike cars, buildings last for decades, making the need to retrofit existing buildings especially important to achieve statewide decarbonization goals. According to the 2050 Massachusetts Roadmap report, over 80 percent of the buildings that will exist in 2050 are already built. 
Massachusetts' Clean Energy and Climate Plan calls for a 49% reduction in greenhouse gas emissions from residential heating by 2030, and a 95% reduction by 2050. The Massachusetts Community Climate Bank is an integral part of the strategy to achieve these emissions reductions. 
"This innovative initiative represents what is possible when we prioritize both our clean energy future and expanding access to truly affordable housing for the hard-working residents of our state. I applaud the Healey Administration for taking early action to address two of the most pressing issues we face and thank all of the legislators who have helped champion and shape this initiative, and I look forward to seeing the dividends of our green bank investments," said Senate President Karen Spilka.
"I thank Governor Healey for her leadership to create the Massachusetts Community Climate Bank to both encourage private spending and harness federal funding to further our investment into the creation of green affordable housing – and to make our affordable housing greener," said Boston Mayor Michelle Wu. "This work is critical and will complement our efforts in Boston to retrofit our housing stock and create opportunities for small property owners to build and renovate greener, healthier buildings for residents to thrive." 
On the first full day of her administration, Governor Maura Healey signed an Executive Order creating an Office of Climate Innovation and Resilience within the Governor's Office and establishing the position of Climate Chief. Governor Healey appointed Melissa Hoffer to this position, which is the first in the nation at the cabinet level. The office is charged with harnessing all of the resources and authority available to the Governor and the executive department to advance the Commonwealth's climate innovation, mitigation, adaptation and resilience policies. The Massachusetts Community Climate Bank is a signature accomplishment of the Office of Climate Innovation and Resilience, which worked collaboratively with all partners to advance this project. 
Statements of Support 
Bill McKibben 
"We need more homes, and we need efficient homes--here's a way of getting at two of our most important goals at once. It's the kind of innovative thinking and doing that sets the Healey Administration apart." 
Leah Stokes, Ph.D, Senior Policy Counsel, Rewiring America and Associate Professor, UC Santa Barbara 
"Massachusetts has a visionary plan to lead the country on electrifying affordable housing. The Massachusetts Community Climate Bank will be a model nationwide for making sure that climate action and equity go hand-in-hand. Today is just a beginning for this Climate Bank. I'm hopeful that the state will secure more funds to build on this first round of seed funding. Climate change requires action today. It's thrilling to see Massachusetts' leadership with this Climate Bank." 
Richard Kauffman, Chair, New York State Energy Research and Development Authority (NYSERDA) 
"Climate banks have demonstrated that they can unlock private capital to accelerate investments in sustainable infrastructure. The Massachusetts Community Climate Bank promises to focus the proven capacity of climate finance on the important challenge of affordable housing. We look forward to collaborating with them to build healthy communities." 
Amy Longsworth, Executive Director, Boston Green Ribbon Commission 
"The GRC is grateful to have been in a position to work with the City of Boston and the Massachusetts Clean Energy Center on the developmental stages of the Massachusetts Community Climate Bank and very pleased to see the Governor and leaders of key Commonwealth agencies now collaborating to make the Bank a reality, including pursuing serious funding opportunities at the federal level. It is a great demonstration of seamless cooperation between leaders in the Healey and Wu administrations and the private sector to build something very important that will really move the needle on climate resilience and carbon mitigation in hard-to-reach sectors of our built environment in Boston and across the state."  
Karen Kelleher, Executive Director, Local Initiatives Support Corporation (LISC) Boston 
"Today's investment in decarbonizing affordable housing in Massachusetts is climate forward and equity forward. Through creation of the Mass Climate Bank, the Healey-Driscoll Administration is positioning the Commonwealth to lead on the critical task of decarbonizing old and new buildings, by investing first in low-income people and environmental justice communities."   
Aaron Gornstein, President and CEO, Preservation of Affordable Housing (POAH) 
"We are grateful to Governor Healey and Lieutenant Governor Driscoll for addressing two of the most important issues facing our Commonwealth:  the need for greater housing affordability and tackling climate change.  We have great confidence that MassHousing can expand and deploy these funds effectively so more low- and moderate-income families can benefit from living in energy-efficient homes.  This new Green Bank, along with forthcoming federal funds from the Inflation Reduction Act, will have an unprecedented impact on the sustainability of our housing stock in every region of the state."  
Elizabeth Turnbull Henry, President, Environmental League of MA   
"Buildings account for over 30% of the Commonwealth's carbon emissions, and roughly three-quarters of today's built environment will still be standing in 2050. Establishing a statewide framework for financing building decarbonization will enable us to leverage private funding and federal dollars to make progress toward our 2030 climate goals and beyond. The Administration's continued focus on equity and affordability in both housing and climate justice remains essential to ensuring that all Massachusetts residents can share in the cost savings and health benefits that these improvements bring."  
Chrissy Lynch, Secretary-Treasurer, Massachusetts AFL-CIO 
"The Massachusetts Community Climate Bank will help our state tackle the dual crises of climate change and inequality, allowing us to harness federal investments under the Inflation Reduction Act to invest in our communities, cut pollution, and create high-quality union jobs throughout Massachusetts. We look forward to working with Governor Healey and our state leaders to ensure this critical new institution embraces a worker-centered and equity-focused approach to building the clean energy economy." 
Rebecca Davis, Chief Operating Officer, Massachusetts Competitive Partnership 
"As the urgency of climate action grows, so does the need for innovative financial mechanisms that facilitate the transition to a low-carbon economy. We applaud the Healey-Driscoll Administration for this important step of establishing a green bank, which will enable affordable housing providers to reduce their carbon footprint and enhance the quality of life for residents. We firmly believe that cross-sector collaboration is critical to drive innovation, scale up sustainable practices, and create a more resilient future." 
Ron O'Hanley, Chairman and Chief Executive Officer, State Street 
"The creation of the Massachusetts Community Climate Bank positions the state as a leader in the transition to a sustainable and clean economy, and we applaud the Healey-Driscoll Administration for this important step forward. This strategic move will facilitate focused and market-oriented clean energy investments within the state. The launch of a green bank focused on affordable housing sets a strong precedent for other regions and allows for collaboration that will drive impactful change for the environment while also addressing key housing needs."