A New Strategy To Take On AIPAC: Actually Take Them On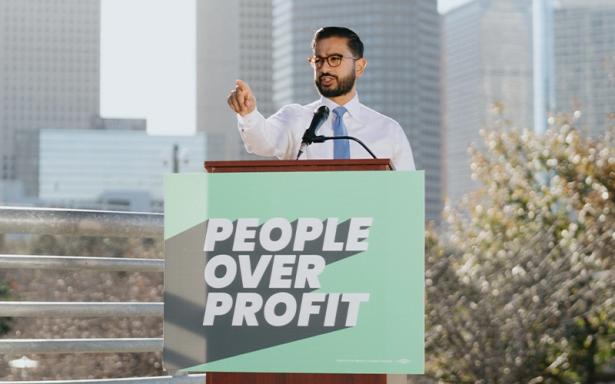 Pervez Agwan,
The week is young, but the House of Represents has already embarked on its semi-regular, bipartisan ritual of pausing legislative business to condemn critics of Israel and celebrate that nation's virtues. The only twist is that a congressional resolution put up for a vote on Tuesday does less to hail Israel's more benign qualities, this time focused on rebutting the reality that it is, in its present incarnation, a racist and apartheid state.
The resolution produced a lot of well-earned jokes along the lines of: "My 'I'm not a racist or apartheid state' t-shirt is raising a lot of questions already answered by my t-shirt.'"
The latest controversy began on Saturday evening in Chicago at the annual Netroots Nation convention, a gathering of progressive operatives and politicians. During a panel, protesters came for Rep. Jan Schakowsky, D-Ill., urging her to support legislation that bars Israel from using U.S. funds to detain children. Rep. Pramila Jayapal, D-Wash., stood up to respond to the protesters and in doing so agreed with their claim that Israel is a "racist state." 

As Jayapal later told the New York Times's Michelle Goldberg, she knew as she walked offstage that she'd stepped in it. The state may be stacked with proudly racist ministers, some of whom have previously been convicted of inciting racism and supporting terrorism against Arabs, and the state may legally treat different people under its control differently based on their religion and ethnicity — dubbed by Amnesty International to amount to apartheid — but bluntly calling it a "racist state" runs into a "thick lattice of taboos," Goldberg noted.
Jayapal quickly clarified her remarks, but a bipartisan group of her colleagues circulated a letter condemning her anyway and pushed for the resolution in response. The resolution is striking in its brevity: "Resolved by the House of Representatives, That it is the sense of Congress that the State of Israel is not a racist or apartheid state; Congress rejects all forms of antisemitism and xenophobia; and the United States will always be a staunch partner and supporter of Israel."
On Tuesday, nine Democrats voted no — Reps. Jamaal Bowman, Cori Bush, André Carson, Summer Lee, Alexandria Ocasio-Cortez, Ilhan Omar, Ayanna Pressley, Delia Ramirez, Rashida Tlaib — and one, Betty McCollum, voted present. Jayapal voted for the resolution.
The pushback against Jayapal is an escalation of a confrontation initially aimed at Reps. Omar and Tlaib by Israeli government defenders, which expanded into a full-blown war on progressive candidates in Democratic primaries in 2022. The American Israel Public Affairs Committee and its ally, Democratic Majority for Israel, spent millions targeting progressive challengers who spoke out about Israel for blue seats. And that cycle, a number of progressive candidates eased — or in some cases sprinted — away from previous support of causes associated with Palestinian human rights. 
But contra the chilling effect AIPAC may be having nationwide, one challenger to an incumbent Democrat in Houston is taking the polar opposite approach. Pervez Agwan is running against the AIPAC-endorsed Rep. Lizzie Fletcher as an "unapologetically progressive Dem" and criticizing Fletcher for taking money from AIPAC, hoping to turn any impending spending against him into a weakness for Fletcher.
"To take money from a lobbying group that dictates your foreign policy, I think it's completely unacceptable," Agwan told The Intercept in an interview. "I do not think it's OK to take money from a group that openly keeps an apartheid system and an open-air prison where people's rights are violated."
Agwan saw the influence of AIPAC in the response to Jayapal's remarks. "Representative Jayapal's remarks are clearly being taken out of context by Democrats and Republicans alike who refuse to allow criticism of Israel and its actions because of their ties with groups like AIPAC," he said. "In reality, Israel is an apartheid state that commits atrocities against native Palestinians on a daily basis. That is something that should absolutely be criticized but unfortunately, Republicans and establishment Democrats are too concerned with offending the Israel lobby who bankrolls their campaigns to be honest about what's going on."
Agwan, a graduate of MIT who made his career in the clean tech industry, is running on a progressive platform, supportive of an expanded Green New Deal and Medicare for All. But as a candidate challenging Fletcher from the left, and particularly a Muslim one, Agwan has an additional obstacle to get past.
In the 2022 cycle, AIPAC's super PAC spent some $40 million, nearly all of it directed at defeating progressive Democrats in primaries. Agwan, who has raised $300,000 with eight months of campaigning still to go (in the quarter ending June 30, he reported raising $221,000), is running toward them. "Most people want the United States not to be sending aid to countries that violate human rights. And it starts with electing people that aren't going to be bought off by any lobbying group. So I think Lizzie really needs to start shifting her stance, and she won't do it, because she's funded by AIPAC," he said. 
Fletcher has carved out a fairly standard pro-business, pro-Israel, socially liberal record as a Democrat. First elected to Congress in the 2018 blue wave, she beat a more progressive candidate in the primary, flipped a red seat blue, and quickly joined the New Democrat Coalition, the voice for the corporate wing of the party. A corporate attorney by training, she cast reliable Democratic votes in the House, and in 2020, she held onto her seat by a 3-point margin against her Republican opponent. 
In 2018, she faced organized labor opposition to her candidacy based on her work as a partner at AZA Law, which largely represents employers and won a major case against local janitorial workers represented by the SEIU, who were predominantly immigrants. AZA Law boasted, in its effort to attract future business from employers, that it won the case in part by studying the social media feeds of the jury pool to make sure the jury was stacked with Donald Trump supporters.
he case was ideologically motivated to destroy labor: PJS, the Fletcher firm's client, was involved with Empower Texans, a right-wing group working to undermine organized labor in Texas. She won her race regardless; union power remains weak in Texas.
In the 2022 cycle, her Texas district was redrawn to be deep blue; it now runs from the middle of Houston west, through the wealthy suburb of Bellaire and out to the increasingly diverse areas of Alief and Sugar Land. The new district is now the most diverse in Texas, with nearly three-quarters of the population nonwhite, according to Census data from 2020, which may in fact undercount the diversity. Three in 10 residents are Hispanic, 21 percent Black, and 22 percent Asian. She carried the deep-blue seat by nearly 30 points. In 2023, she was named chair of the New Democrat Coalition Trade Task Force. But while the redrawn seat may be safer for Democrats, it may not be safer for Fletcher.
Agwan is Fletcher's first primary challenger since winning office, and, with family spread from India to Pakistan, he shares a background with many of his potential constituents. Agwan said that his campaign is speaking for a broad base in the district that doesn't feel represented.
"This campaign isn't about me going out there, it's about a collective movement of people here in Houston, that are from these communities, that are from Arab American and Muslim American, and from Middle Eastern and from Palestinian communities. And we recognize the atrocities that are happening there that are funded by the American taxpayer dollar, but also being pushed on us by lobby groups like the ones you just mentioned," he said, in response to a question about whether he's nervous about spending from AIPAC or Democratic Majority for Israel. "So we're not scared. We have to stand up because their presence in our democracy — for that matter any foreign lobby or corporate lobby's presence in our democracy — is really diluting the power of the average American person."
The large Pakistani community, he said, is also concerned about democratic backsliding there amid the ongoing repression of the party of former Prime Minister Imran Khan. Rep. Greg Casar of Austin recently introduced legislation to pressure the State Department on the unfolding turmoil, and Rep. Sheila Jackson Lee, who is running for mayor of Houston, is a founder of the Congressional Pakistan Caucus. "It's very important that Pakistanis hold open, free and fair elections, and let the public decide, but [the military establishment] won't," said Agwan. "They won't let Imran Khan even participate in an election. So as a congressman, I'd be the first to fight for that."
Fletcher, meanwhile, has been a consistent defender of Israel, even as it has come in for criticism among many of her rank-and-file colleagues. During the Israeli bombing campaign during the Gaza war of spring 2021, Fletcher's statement condemned only Hamas and offered the requisite, "Israel has a right to defend itself against these attacks."
In her first year in Congress, Fletcher was faced with the choice of going on a delegation to Israel with AIPAC; going with J Street, which takes a more critical line toward the Israeli government and includes dissident voices in its trip; or to not go at all. She went on the AIPAC-sponsored trip.
The vote on the congressional resolution comes as the House prepares to welcome Israel President Isaac Herzog for an address. Only a handful of members — including Reps. Omar, Tlaib, Bush, Ocasio-Cortez, and Bowman — have vowed to boycott.
Among the most controversial questions facing candidates is BDS: a strategy of boycotts, sanctions, and pressure to divest either from Israel generally or companies doing business in the occupied territories. "I support ending all aid to and implementing economic sanctions on any foreign country that egregiously violates human rights," Agwan said.
Badnews Substack is a politics newsletter, written by Ryan Grim, DC bureau chief for The Intercept, co-host of Counter Points and Deconstructed, and author of the book "We've Got People."