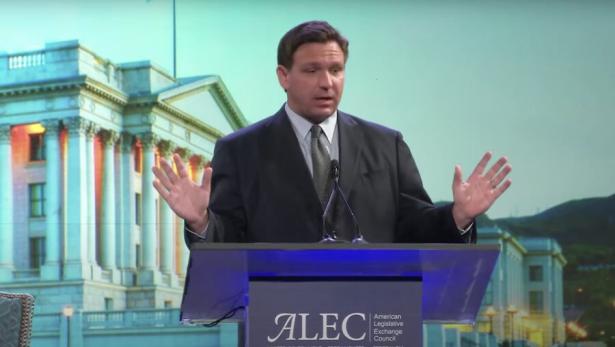 Photo credit: YouTube/ALEC
For years, the American Legislative Exchange Council (ALEC) has claimed to be "committed to transparency"—yet it refuses to disclose its donors on its website. 
When asked about this, ALEC's CEO Lisa Nelson told the press that donor information is available in tax filings published on its website. But a review of those filings shows that although the organization's Schedule B does include donation amounts, all donors' names are redacted.
So who funds ALEC?
A review of hundreds of tax filings by the Center for Media and Democracy (CMD) has uncovered 39%—or $16.4 million—of the $41.7 million ALEC received in contributions between 2017 and 2021. Most 2022 IRS filings are not yet publicly available.
This investigation into ALEC's funding builds on a 2021 CMD report that identified over $15 million—roughly one-third of its revenue from contributions—raised between 2014 and 2019.
Once again, the Milwaukee-based Bradley Foundation proved to be the top contributor to ALEC between 2017 and 2021, providing $3.4 million in grants. The family foundation with over $1.1 billion in net assets bankrolls ALEC CARE, the organization's controversial voter management campaign software, and since 2018 has been sponsoring Bradley "forums" at ALEC meetings that feature other Bradley grant recipients.
In December 2021, Bradley forum speakers at the ALEC States and Nation Policy Summit promoted the GOP's manufactured culture war complaint about the supposed teaching of critical race theory in public schools and pushed for model legislation to address it, as CMD reported.
The second largest known donor to ALEC is Charles Koch, who gave just over $2 million between 2017 and 2021 through his personal foundation and Stand Together Fellowships, formerly known as the Charles Koch Institute.
Koch Industries' Mike Morgan has held a seat on ALEC's corporate Private Enterprise Advisory Council since at least the late 1990s.
Koch Industries' recent funding of ALEC is unknown. Documents CMD reported on in 2014 showed $504,700 in donations to the pay-to-play group between 1995 and 1998. The amounts of any personal checks Charles Koch may have written to ALEC are also unknown.
Rounding out the top three known contributors to ALEC is Searle Freedom Trust, which contributed $1.7 million between 2017 and 2021. The trust's wealth stems from the G.D. Searle pharmaceutical company known for producing the artificial sweetener aspartame, more commonly marketed as NutraSweet. 
Kimberly Dennis, the Searle Freedom Trust's president and CEO, also serves as chairman of the board of DonorsTrust, which she co-founded in 1999 with the late libertarian activist Whitney Ball.
DonorsTrust, the preferred donor conduit of the Koch political network, topped all known donor advised funds (DAFs) funneling money to ALEC, contributing $2.2 million between 2017 and 2021. National Philanthropic Trust ($876,000) and the little-known Dallas Foundation ($500,000) ranked second and third among DAFs supporting ALEC during that five-year period.
The Pharmaceutical Research and Manufacturers of America (PhRMA), the industry's primary trade association, topped all trade group contributions to ALEC with $504,000 (2017–21) in funding. Like Koch Industries, PhRMA has held a seat on ALEC's Private Enterprise Advisory Council for decades.
The roughly 60%—or $25.4 million—of contributions to ALEC that CMD has been unable to trace likely came from corporate and/or individual donations. The Center for Political Accountability has identified $112,000 in funding from Pinnacle West Capital Corp. and Celgene Corporation during this five-year period.
ALEC's 2022 IRS filing is not yet public, but according to its 2022 Annual Report the organization raised $10.1 million, with a 55% increase in new donors and a 45% increase in funding from individual supporters.
Even though ALEC openly describes itself as a "membership organization," its 2021 IRS filing shows that it brought in $74,335 in membership dues, which accounts for less than 1% of its total revenue of $9.8 million that year. ALEC routinely inflates its legislative membership numbers and, as CMD reported late last year, actually has only half of the "nearly one-quarter of the country's state legislators" it claims as members.

David Armiak is research director with the Center for Media and Democracy. David joined CMD in 2015, has conducted extensive investigations on dark money, corporate corruption, and right-wing networks, and is responsible for filing and analyzing hundreds of public records requests every year. David has a strong research interest in social movements and political power, and has delivered many talks on the subject. He has a Bachelor's degree in philosophy and anthropology from Boston University and a Master's degree in Anthropology from the University of Wisconsin-Madison.
The Center for Media and Democracy (CMD) is a nationally recognized watchdog that leads in-depth, award-winning investigations into the corruption that undermines our democracy, environment, and economic prosperity.
CMD's investigations, public information requests, and lawsuits have ignited national conversations on money in politics and the distortion of U.S. law and democracy — at every level of government and in every region of the country. We believe in the public's right to know how government operates and how corporations influence our democracy — and the true motivations for their actions. When necessary, CMD litigates to defend that right and ensure those in power follow the law.