labor
Hollywood Guilds Team Up With LA Labor Unions for a 'Hot Strike Summer'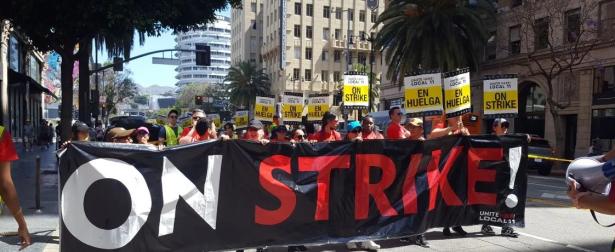 Members of Unite Here Local 11 march with Hollywood labor unions down Vine St. in Los Angeles,
Hollywood writers and actors aren't the only unionized workers picketing in Los Angeles right now. In a show of force for the labor movement, the WGA and SAG-AFTRA are teaming up with workers across the city to march in solidarity for better wages and working conditions.
Hospitality workers union Unite Here 11, which has been on strike since June 30, staged a solidarity rally in Hollywood Friday that saw hundreds of its members join up with entertainment industry workers to march from the W Hotel on Hollywood Boulevard past the famous intersection of Hollywood and Vine and on to the Netflix offices at Sunset Bronson Studios, where they were met with cheers by writers and actors on the daily picket lines.
"Unite Here Local 11, we are so happy to have you here!" yelled a WGA picket chant leader into a bullhorn. "L.A. is a union town, and this is going to be a hot strike summer!"

Lily Tomlin, Jane Fonda say they're 'striking for 'All Laborers' across industries:  'We used to be a caring nation ....but no more' ....   
As the strike began, UH11 members led the march and were joined by members of the WGA and IATSE Local B-192, which represents employees at Universal Studios Hollywood. On the way to the Netflix offices, the march passed by a SAG-AFTRA picket line at the nearby Sunset Gower Studios, where some of the actors union members joined the march while others swapped signs with Unite Here members.
Susan Minato, co-president of Unite Here 11, noted that her union is connected to Hollywood labor by more than just their simultaneous strikes, as some members of UH11 are also members of WGA and SAG-AFTRA
"We have all heard the story of the waiter or the bartender who got discovered by talent agencies," she said. "It is true that our relationship with entertainment labor has deep roots because many people have been members of both unions."
Succession star Alan Ruck says he'd 'feel funny' working on an Indie film during SAG-AFTRA strike
One person who personally knows that connection is Ben Keller, a production assistant, COVID compliance officer and SAG-AFTRA member who noted in a rally speech to attendees that he was a UH11 member for four years.
"Anybody that thinks that WGA and SAG-AFTRA have nothing in common with Unite Here knows nothing about how many of us have worked in hospitality to stay in this city," he said. "We work the front desk. We check your car in. We fold your bedspreads. We deliver your food. We deserve fair wages, we deserve better benefits and working conditions in every place that we work."
Unite Here 11 is pushing for a significant increase in the minimum hourly wage for its members, calling in its proposal for an immediate $5/hour increase along with additional $3/hour annual increases for each of the three years of its contract. Minato says that the union estimates that more than half of its members have been forced to move farther from where they work due to the lack of affordable housing in Los Angeles County, with some members facing work commutes as long as three hours.
UH11 and Hollywood unions have been marching in solidarity since the WGA strike began at the start of May, including at a citywide labor rally on May 26 outside of the California State Democratic Party's annual meeting in downtown Los Angeles where they were joined by members of SEIU, AFSCME and other unions.
WGA and other Hollywood union members also appeared earlier this week at a rally held by Teamsters Local 396, which represents UPS drivers and which is resuming talks with the package delivery company with its own potential strike on the line. Teamsters 396 is pushing for higher wages — particularly for experienced part-time workers — as well as an end to company surveillance systems that check on worker productivity and protections from extreme heat, as temperatures in the back of UPS trucks can reach 120 degrees during the summer months.
Members of WGA and SAG-AFTRA at the rally told TheWrap that they learned about the solidarity march through social media posts and memos sent from their guild leaders. The two unions have been in close contact with UH11 and other unions through the Los Angeles County Federation of Labor and plan to organize more solidarity marches for as long as the strikes continue.